What to Look at When Buying a Curling Wand or Curling Iron?
Don't you simply love the look of all those girls with perfectly curled hair? Aren't those waves just to die for? Well, you'll be very happy to know that you too can style your hair like this! How?
Allow us to elaborate!
A curling iron or a curling wand can help you create those perfect waves, in whatever way you want. Whether you want to create thick, bouncy, waves or thinner curls, these babies can do it all!
So let's dive deeper into the world of curling irons and curling wands, shall we?
What's the Difference Between Curling Iron & Curling Wand?
We bet you probably didn't know the difference between these two hair-styling tools.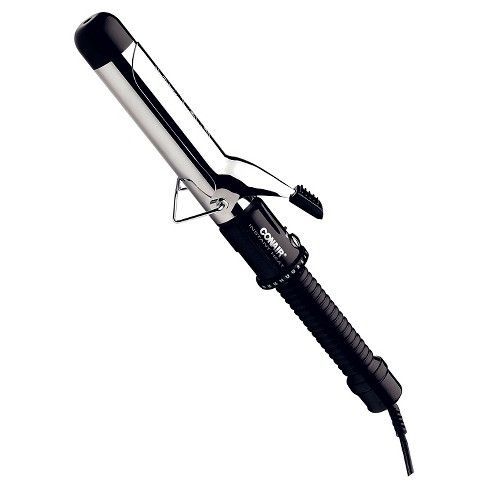 A curling iron comes with a clip to hold the hair and a curling wand is clip-less. This means that the look created using a wand doesn't have that clip-mark on every other strand.
Coming to the efficiency, a curling wand heats up much faster. This means that you can start curling your hair more quickly than you would with an iron.
To keep things simple, lets refer to both of them as curlers.
So to answer what should you be looking at when shopping for curlers, continue reading this article.
Types of Curling Irons/Wands
The first thing you want to consider are the various types of curlers and the kind of look each one creates.
Spring Curling Iron
These are your common curlers that come with a thumb-controlled clamp that you can use to open and close the clip. Th clip gives you more control over factors like shape of the curls, heat, etc.
Click on the image to buy!
Clip-less Curling Wand
As discussed before, these are pretty much similar to your regular curlers except that they don't have a clip. So you can simply wrap your hair around the barrel without worrying about any creases or crimps.
Click on the image to buy!
Cordless Curler
As the name suggests, a cordless curler is wireless. It runs on Thermacell cartridges and is perfect for people who want to use their hair-styling tool on-the-go.
Click on the image to buy!
Double and Triple Barrel Curlers
These come under professional models that hairstylists use to give that bouncy look and extra waves.
Click on the image to buy!
Features to Consider
Hair Type
You need a curler with high heat setting to curl thicker hair but for finer hair, lower settings would be better to avoid causing damage to your hair.
Barrel-Heating Speed
There isn't always enough time to wait for ten minutes before a curlers heats up. So the faster a curler heats up, the easier it is for you to achieve those professional curls and waves!
Barrel Material
Curling barrels are made of various types of materials. The professional ones are usually made of ceramic or tourmaline heating plate. Barrels made of these materials heat up quickly and cause minimal hair damage.
Barrel Size
You can create various types of curls with different sized barrels. So if you want to go for longer and thicker waves, then a thicker one-inch or two-inch barrel is recommended. But for tighter curls, a 3/8 or 5/8- inch barrel would be best.
Interchangeable Barrels
Some curlers also come with interchangeable barrels to help create a variety of unique looks.
Click on the image to buy!
Heat Setting
You may want to go for curlers that come with variable heat setting. This will give you control over how hot you want the rod to be, thus keeping hair damage to minimum.
Browse through Daraz's online collection of curlers at excellent prices, and order your favorite pick today!