World's Largest Telescope Takes the Most Detailed Picture of Sun
We've all wondered how the mighty Sun looks up close and now, the Daniel K. Inouye Solar Telescope has captured one of the most detailed images of the sun's surface ever!
The Daniel K. Inouye Solar Telescope is a telescope funded by The National Science's Foundation and is present at a scientific facility situated at Haleakala Observatory on the Hawaiian island of Maui that studies the sun specifically.
The astronomers turned on the Daniel K. Inouye Solar Telescope in Maui that allowed that to capture this up-close and an incredible view of the sun and more is expected to be released.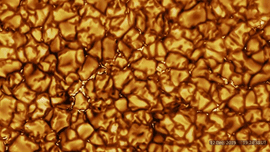 The Daniel K. Inouye Solar Telescope (DKIST) revealed how the Sun's surface channels the energy from its interior atmosphere called the Corona and onto the atmosphere around. It shows the drastic power the sun beholds as you can see the heat being released from the Sun.
According to the scientists, the Sun in this image shows off its surface that is divided up into intricate cracked cells on the Sun's desert-like soil that are almost the size of Texas. These "cells" ooze plasma off the surface.
Thomas Rimmele, the director of DKIST commented on the magnificent image released and said, "We have now seen the smallest details on the largest object in our solar system."
The image was captured last month and was released at the end of January and more close-up images of the sun are set to be released as well. This will prove to be groundbreaking as it will allow astronauts to study the Sun better.
The DKIST is the world's most powerful telescope that has a 13-foot mirror and a 4-meter aperture.