Xiaomi Redmi 10x: The Best Budget Phone of 2020? Here's What We Know So Far!
The Chinese smartphone company Xiaomi has been a huge hit since they first rolled out Mi and Redmi phone series in 2011. Each year, the Redmi series never fails to impress with a new and upgraded mobile and this year the Vice President of Xiaomi and Redmi's General Manager teased the launch of a new best budget phone which is now officially called the Redmi 10x or Redmi Note 9! Read on to find out more about Xiaomi Redmi 10x price in Pakistan, launch date and specs!
According to some media reports, this will be the Chinese variant and the Redmi 10x in Pakistan will be released as Redmi Note 9 or Redmi Note 9 Pro in Pakistan.
So far, the Redmi 10x price in Pakistan will be set as that of a decent mid-ranged phone and is said to provide a super fast performance as it is the first-ever phone to feature the new and powerful MediaTek Dimensity 820 chip!
The MediaTek's upcoming Dimensity 820 processor is said to be more powerful than the Snapdragon 765! AnTuTu, the Chinese software benchmarking tool for Android phones have ranked the Redmi 10x right at the top for budget phones of 2020 with a score of 415,672 points in AnTuTu benchmarks!
Here what we know about the Redmi 10x price in Pakistan, it's specification and it's launch date!
Xiaomi Redmi 10x Features and Specifications
The Redmi 10x is said to have two variants. A 5G variant and a 4G variant. In Pakistan, the Redmi 10x will have the 4g variant available and is expected till now to have the following specifications.
---
Display
The phone is sized at 6.53 inches with a super AMOLED display so you can ensure a great display that is smooth and vibrant. The Redmi 10x, however, comes with the old U shaped notch that many people are not a fan of.
You get an IPS LCD capacitive touch screen with a resolution of 1080 x 2340 pixels which guarantees a great option if you like watching videos on your phone!
The Redmi 10x has three colors, Sky Blue, Green and White which gives it a sophisticated and sleek look.
Camera
Redmi phones have no doubt outperformed with their cameras within the price the phone offers. Just like that, the Redmi 10x has a brilliant three cameras with a 48-megapixel primary camera with 1.8 aperture which means you get great in-depth photography and great performance in low light as well.
More over, 8MP ultrawide camera for those who love taking landscape pictures and 2MP for macro photography.
Performance and Processor
The Redmi 10x has been all the talks about being one the greatest performing budget phones with the much-hyped MediaTek Dimensity 820 chipset featured in the phone along with the latest Android 10, MIUI 11.
The MediaTek Dimensity 820 chipset is bound to attract many tech enthusiasts as it is considered to be better than the Snapdragon 765 that many latest high-end Android phones have.
With the MDT 820 processor and an octa-core processor with Mali G52 MC2 the graphics on this phone will be spectacular and a treat for young people who have a less budget are looking for a great gaming smartphone!
Battery
Xiaomi phones always have a great battery life that makes it ideal for long gaming hours and video playback time. The Redmi 10x is speculated to have the Non-removable 5020 mA battery and features a fast charging as well.
Storage
The storage for the Redmi 10x for the 5G Pro variant has a 6GB to 8GB RAM with 256 GB storage making it a superior performing phone that will be smooth and fast.
In Pakistan, the 5G variant might not be released but, with the Pakistani variant expected to be called Redmi Note 9, you can still enjoy a 4GB and 6GB RAM with a 256 GB storage.
Is the Redmi 10x's Camera Worth it?
Currently, the Redmi 10x's key features and points are on its performance and processor. The camera is still expected to outperform many other high-end phones as it is confirmed to feature a matrix quad-camera setup on the back panel of the phone and promises more gradient color options.
It also features 4K video recording so if you're a Tik Tok enthusiast, this phone promises storage, smooth performance and a good quality camera hands down!
When is the Redmi 10x Release Date in Pakistan?
Redmi 10x will be available for preorder in Pakistan starting in June. It will first be launched in China on the 26th of May at 2pm local time.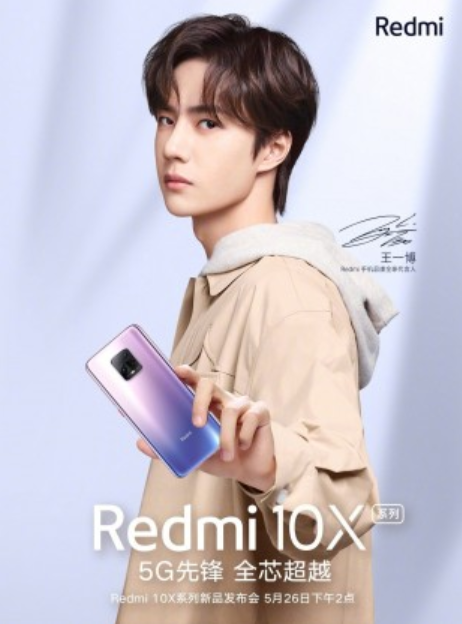 What Will Redmi 10x Price in Pakistan Be?
Redmi 10x phone price in Pakistan is expected to be about Rs. 30,000 or above. The main focus for the Redmi 10x is the price and it has been confirmed that this phone will be a mid-range budget phone with a great processor.
Stay tuned for more updates of the Redmi 10x price in Pakistan and it's release date or look up the best Mi and Redmi phones from our blog below!
---
Looking for more phone options? Check out the these 5 Best Phones for Photography in Pakistan in 2020!
---
Download the Daraz App for exclusive in-app discounts and updates!