Everything You Need to Know About Daraz's 11.11 Sale!
You've probably heard the hype around the 11.11 sale, maybe even seen some people calling it #GyaaraGyaara. But what do these two numbers signify exactly? This post is going to (hopefully) sort out those questions and leave you a total expert before the biggest sale of the year rolls around!
What is the Daraz 11.11 Sale?
11.11, or Gyaara Gyaara as it is fondly refereed to in Pakistan, is the world's biggest 24 hour sale. It initially began in China as a sale to celebrate single folks which is why it was originally titled Singles Day Sale. Since then however, the sale has evolved to simply be known as the 11.11 sale across Asia.
When is the 11.11 Sale?
The 11.11 sale takes place on 11th November each year (hence, the title). It starts at midnight and lasts a full 24 hours. So that means you should be completely prepared beforehand if you want to make sure you grab the best deals!
What's on Sale During 11.11?
Simply put – everything! This is a complete site wide sale that's going to give you the chance to shop discounted products from every category on Daraz! We're talking sales on electronics, fashion, beauty, home decor, kitchen appliances, mobile phones, accessories – you name it! Really, there's no better sale out there.
What Kinds of Discounts Are Available During the 11.11 Sale?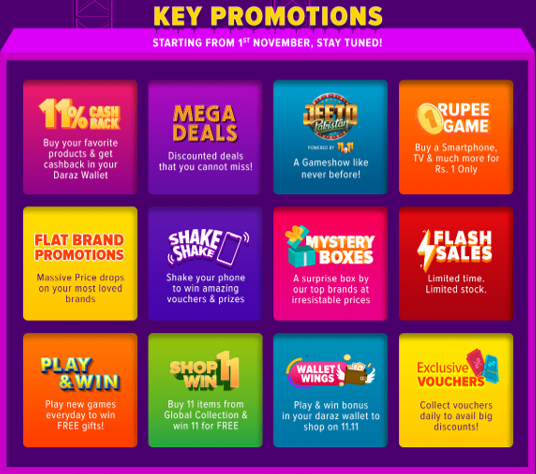 Flat discounts
Of course the most basic type of discount you will see during this 11.11 is a flat discount across the board. This varies from seller to seller but you can expect anything from 10% off to even 50%, 60%, and 70% off.
Coupons and Vouchers
In addition to flat discounts, you can also expect to get additional exclusive coupons and vouchers to make your purchase an even better deal.
Flash Sales
Flash sales go up for a specific time period. You have to be super quick to make sure you grab the best deal but when you do – trust us, it's going to feel worth it!
Mystery Boxes
Get a mystery box from one of your favorite brands this 11.11. These boxes hold a number of surprise products from the brand at a discounted value. There's always an element of surprise awaiting you when you order but regardless, you're sure to get an amazing deal no matter what!
Play to Win Games
This 11.11 sale is even more exciting because winning prizes and discounts is as easy as playing games! Put all your gaming skills to good use and make the most of all the prizes that await you!
What Should I Buy During the 11.11 Sale?
That is a question not easily answered. The deals are just so great, you'll probably be jumping at the chance to buy as much as you can!
But if you're still confused about where to begin, we have a bunch of curated buying guides to help you get started. Find products you love from every category or learn about what might be the best product for you before you start adding them to cart!
So? What are you waiting for? Get shopping!
Follow our page to stay updated with Daraz 11.11 news and updates!