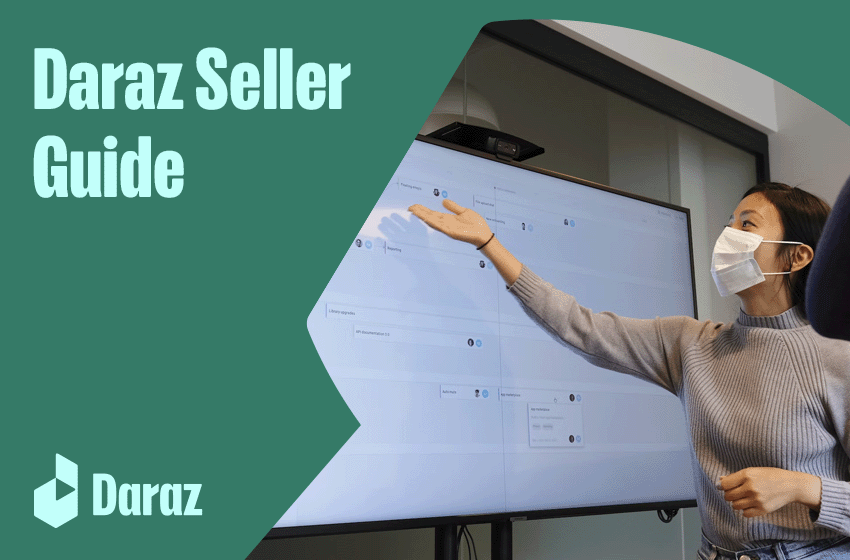 How to Sell on Daraz – A Comprehensive Daraz Seller Guide 2022
Do you run a small or medium enterprise business and want to make the most of it by earning more from home? Daraz brings you an excellent opportunity to sell online in Pakistan & get your business back on track by becoming a seller on Daraz!
Daraz is South Asia's leading virtual marketplace that has more than 20 million products in 100+ categories on its website and App. In this leading age of technology, the aim of Daraz is to enable and empower tens of thousands of sellers to connect with millions of customer!
Want to become a pro Daraz Seller? Go to Daraz University and get exclusive guides and trainings from Experts!
So, become a part of Pakistan's biggest online shopping website and expand your business online to make the most of this transition in facilitation with Daraz!
Why Become a Seller on Daraz?
As the world keeps progressing into digital reliance, it is no doubt that online businesses are the future of Pakistan!
With Daraz's acquisition by the e-commerce giant of the world, Alibaba Group, you can experience how it's like to work with the globally leading online commerce technology and logistics making it easy to expand your business from the comfort of your home!
Are you a digital influencer or content creator? Learn affiliate marketing in Pakistan with Daraz Affiliate Program and earn extra cash on your online page!
Become a Seller on Daraz with Humqadam Program and Enjoy the Following Perks:
Here's how Daraz wants to make setting up your online marketplace an easy and simple task for all those who wish to start their small business!
Business Support:
Various small to medium scale businesses across the country can set up their shops on Daraz with dedicated one-on-one support where sellers can access free business consultation 24/7! Moreover, sellers will have access to free analytics tools which will help them optimize their digital venture.
Financial Assistance:
Daraz has initiatives that provide financial ease by offering 0% commission. All registered and new sellers will be waived off all commission charges from 1st May to 30th June! Plus, you get absolutely free pick-up and storage facility, obtain promotional credits, and subsidized packaging.
Onboarding and Training:
If you're just kickstarting your online business then Daraz offers free training and online seller education through learning webinars and education material by its exclusive Daraz University!
Express sign-ups:
Daraz brings express sign ups for all new sellers from which you can start your new business on Daraz and starting selling in less than just 2 days!
Free marketing promotions:
Get more traffic on your online Daraz store with free On App promotions! And that too without any charges so our sellers on Daraz can get more visitors on their Daraz shops!
Daraz assures that with its Humqadam initiative, thousands of SMEs can promote their ventures and get back on their feet by benefiting from reaching millions of customers all over the country and expand their business with increased e-commerce with Daraz!
How Do I Become a Seller on Daraz?
If you're wondering how to open your shop on Daraz then worry not. It is simple and hassle-free!
All you need to do is pick your phone and message the following: "Daraz" space "Name" to 7575 now!

Alternatively, you can also register on the platform's seller sign up page.
Becoming a Seller on Daraz and selling your products through Daraz Seller Center is easy. The process is done in these 3 easy steps!
Step 1:
REGISTER AND LIST YOUR PRODUCTS
Head over to the Daraz website and register while listing your products
Provide your personal and business details
Provide information about the products you want to sell on Daraz
Step 2:
RECEIVE ORDERS & SELL ACROSS PAKISTAN
Once you've listed your products and all your details, you can start selling
Visit Daraz's "Seller Center" through the app or website and receive and manage your orders
Once you've received an order, package the product and leave the worries or shipping and transit to Daraz!
Step 3:
GET PAYMENTS & GROW YOUR BUSINESS
Receive the payment of your order directly in your account
Finally, start expanding your business with more sales!
So, sign-up through Daraz Seller Program and expand your business now!
FAQs
---
How Do I Open My Shop on Daraz?

To register with Daraz as Seller, SMS "Daraz" space "Name" to 7575 now! Or head over to Daraz Seller Sign Up page on Daraz's website.
How Does Daraz Seller Work?
Daraz Seller Center is a platform made specifically for Daraz Sellers where you can receive orders and sell across Pakistan by registering your products and uploading them on Daraz's online marketplace from where you receive the payment of your order directly in your account
What is Daraz Commission?

Daraz deducts a small percentage of commission from the payment of your orders. Each product commission depends on the type of category it falls under.
How Can I Check My Daraz Commission?
You can check how much commission will be charged on your product by going to Daraz University from your Daraz Seller Account. From there scroll down and click on "Marketplace Commission Structure" where you'll find a whole list commission percentages on charges.
How Can I Upload My Product on Daraz?
Log in to your Daraz Seller Center account and from the homepage, click on "Products" then select "Add Products." Enter all details of your products and description that need to be added and enter "Submit" on the bottom of the page and your product will be uploaded!
Becoming a seller on Daraz has many benefits, so get on board with Daraz download the Seller App now!
For more information, Head out to Daraz Customer Education Page for information regarding similar topics.