6 Styling Ideas and Tips for Maahru's "Mera Andaaz" Unstitched Collection!
When it comes to fashion in Pakistan during the Summer and Spring season, Lawn is always something that is on top of every womens' shopping checklist. With a new collection of lawn by top fashion brands being launched annually by many top Pakistani fashion stores, what is trending and how to stitch your Lawn attire is always the most thought of and often a dreaded question that comes to every fashion-concious women!
From the ever-changing fashion trends for lawn that keep changing from tulip shalwars, low-cut necks, or lace linings on the borders you see most Summers, another question that comes in mind is how to carry your lawn while mixing and matching different accessories to not look boring and repetitive
Which is why, Maahru for this Spring and Summer season brings you the "Mera Andaaz" lawn unstitched collection that combines a variety of intricate designs, elegant patterns and colorful prints that adorn and personalize your Lawn wear according to the latest trends while giving you the freedom to mix and match with different accessories for the perfect style that fits your preference the best!
So, if you're on the lookout to be on top of your styling game while wearing the new Maahru Lawn collection, then we've got you covered. We've listed 6 fashion accessories and complete-the-look ideas with which you can stand out in the crowd and look fashionable for all occasions
---
Maahru Mera Andaaz Styling Guide
1) Add white lace for extra definition on soft rosy shades of lawn Kurtis and match it with similar white accessories
Lace always lifts the look of any lawn wear and gives it that semi-formal look. To look trendy, we recommend aiming for an elegant look with this gorgeous soft pink lawn shirt and dupatta by Maahru with white shaded accessories. Shop this look below and get ready for those semi-formal dinner gatherings!
---
2) Go all out on every Pakistani's favorite traditional accessories when wearing a short kurti with bright contrasted colors!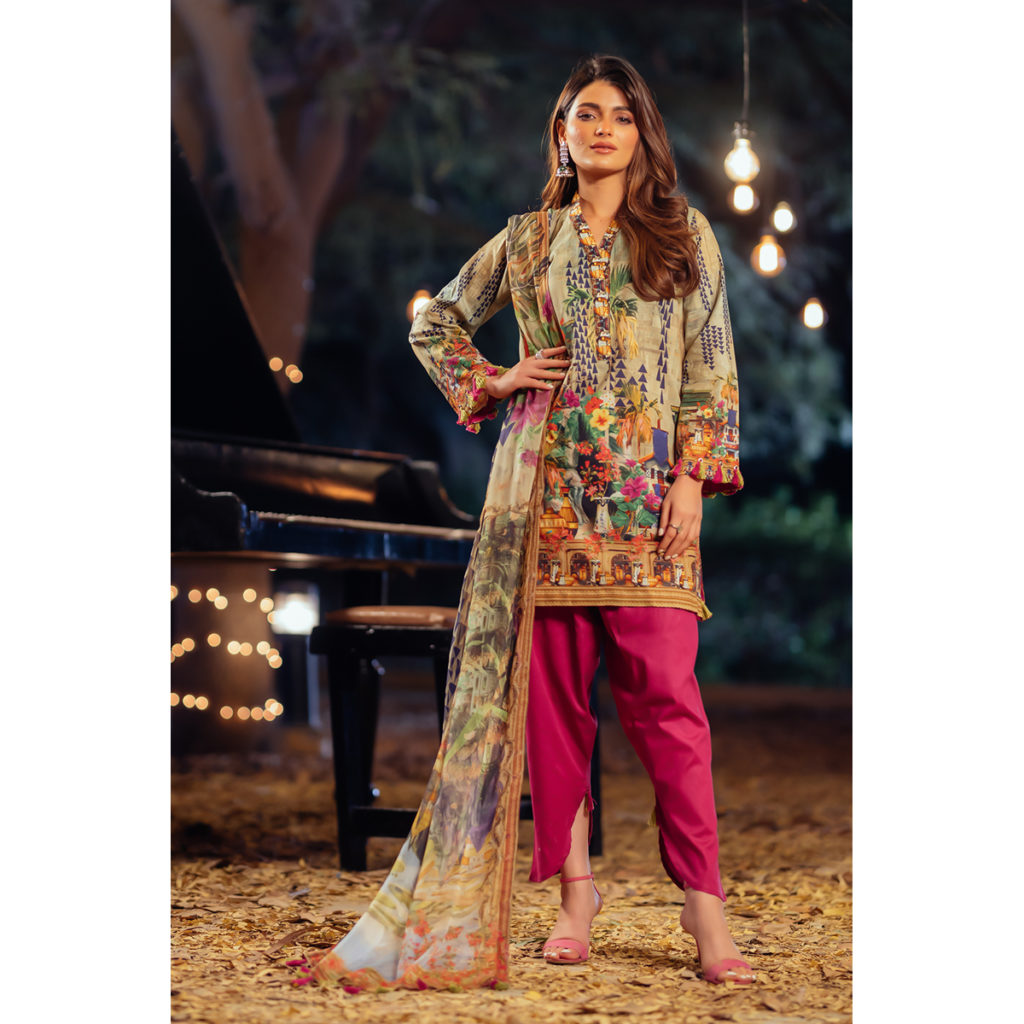 This look is all about feeling festive with bright pink contrasts and floral designs. If you're planning to stitch your lawn shirt with a short length and bright bottoms, then to look trendy for 2021 Spring/Summer look, we suggest a mix and match of traditional accessories like bangles, jhumkis and kohlapuris to balance the look!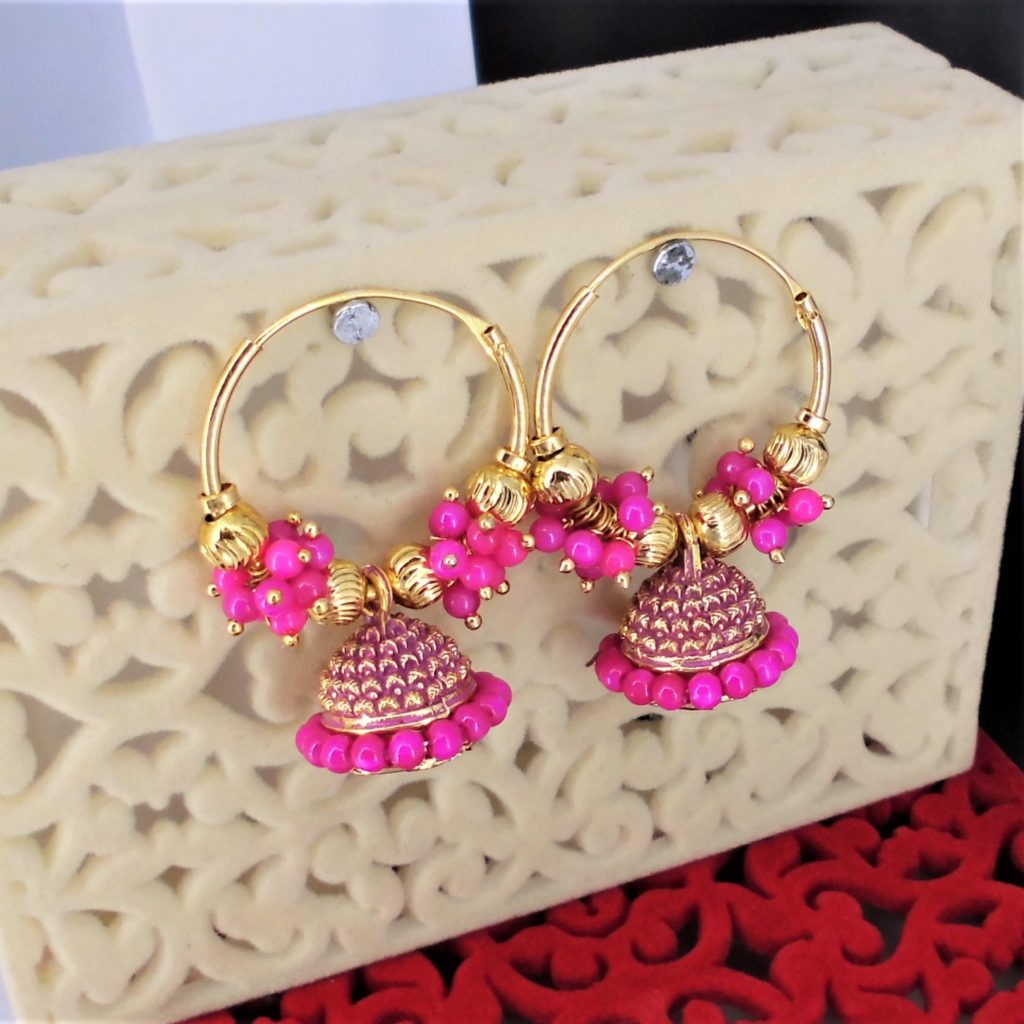 ---
3) Pair high-neck and sherwani collars with classic and geometrical accessories!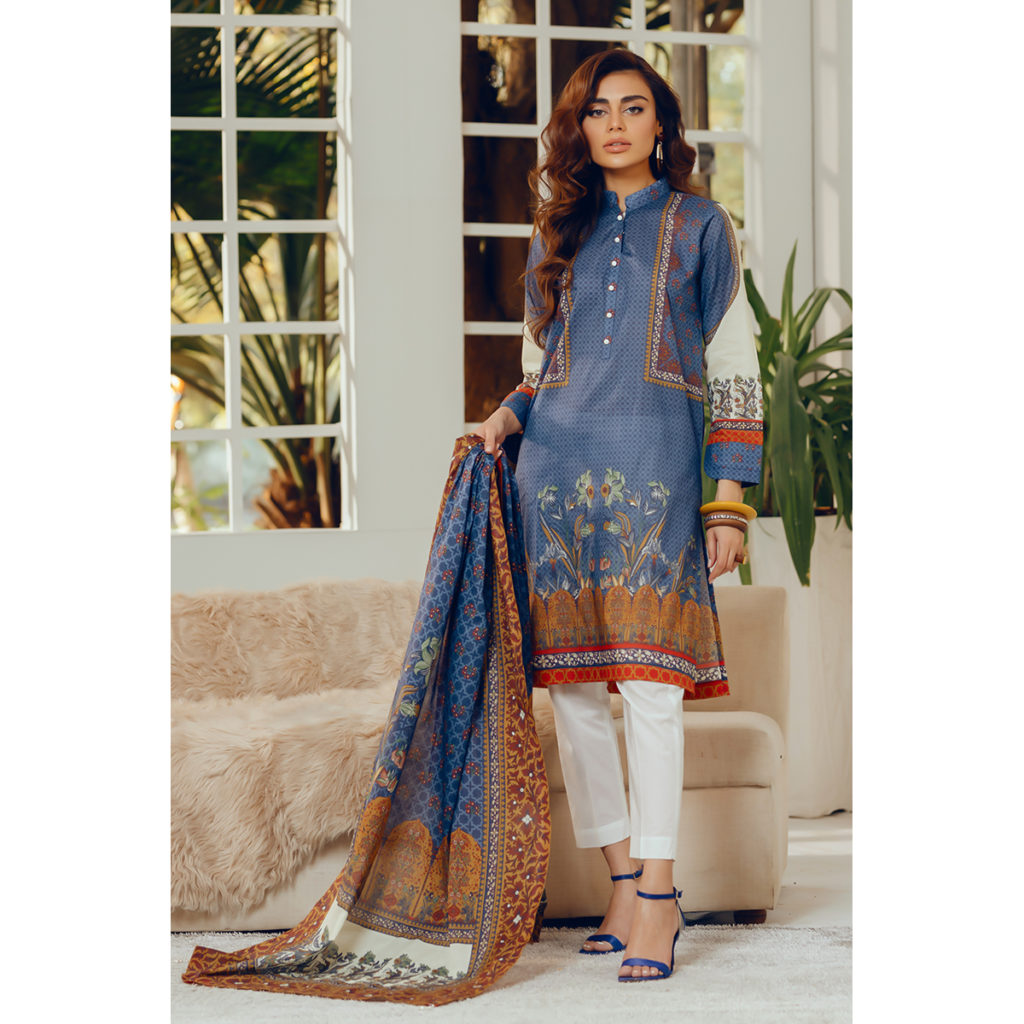 This beautiful shade of blue kurta with a matching lawn dupatta is a perfect look for any daylight casual events where you want to look as sophisticated as possible and what represents sophistication more than an elegant sherwani collar! So make sure to stock up on accessories that are the perfect definition of classic so you match the overall look
---
4) Play with the colors on your lawn attire and match your accessories with the contrast!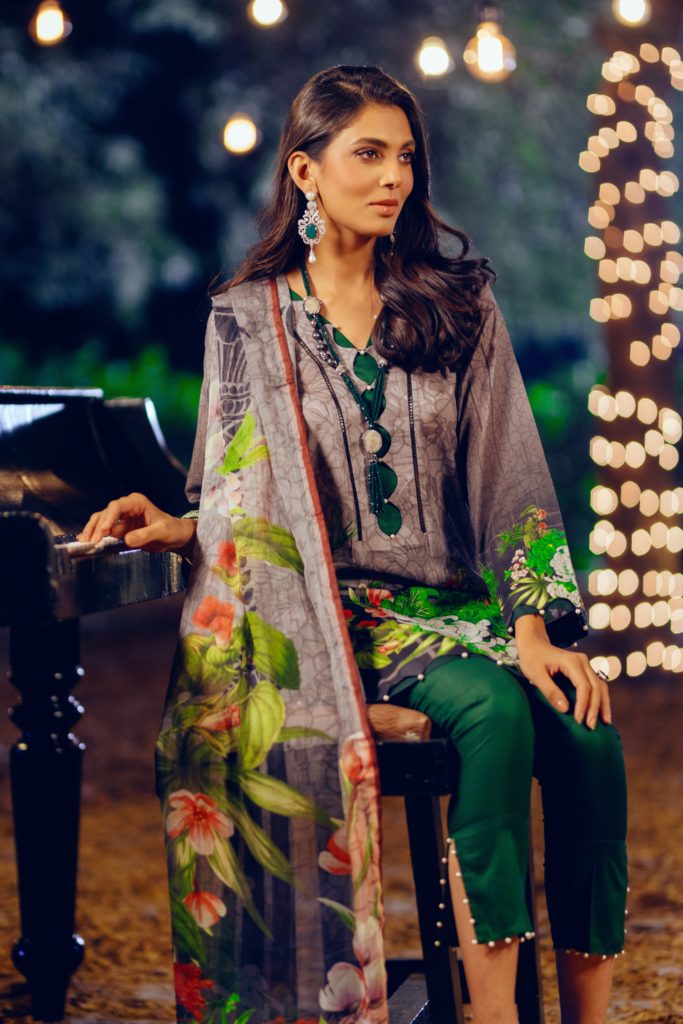 The gorgeous deep Emerald contrast on this Maahru three-piece lawn suit is enough to give you an ethereal look. To complete your look, we recommend aiming for bringing out more elegance with your accessories by matching the dark hues!
---
5) Style your culotte trousers with an anklet and high stilettos for a chic and classy look!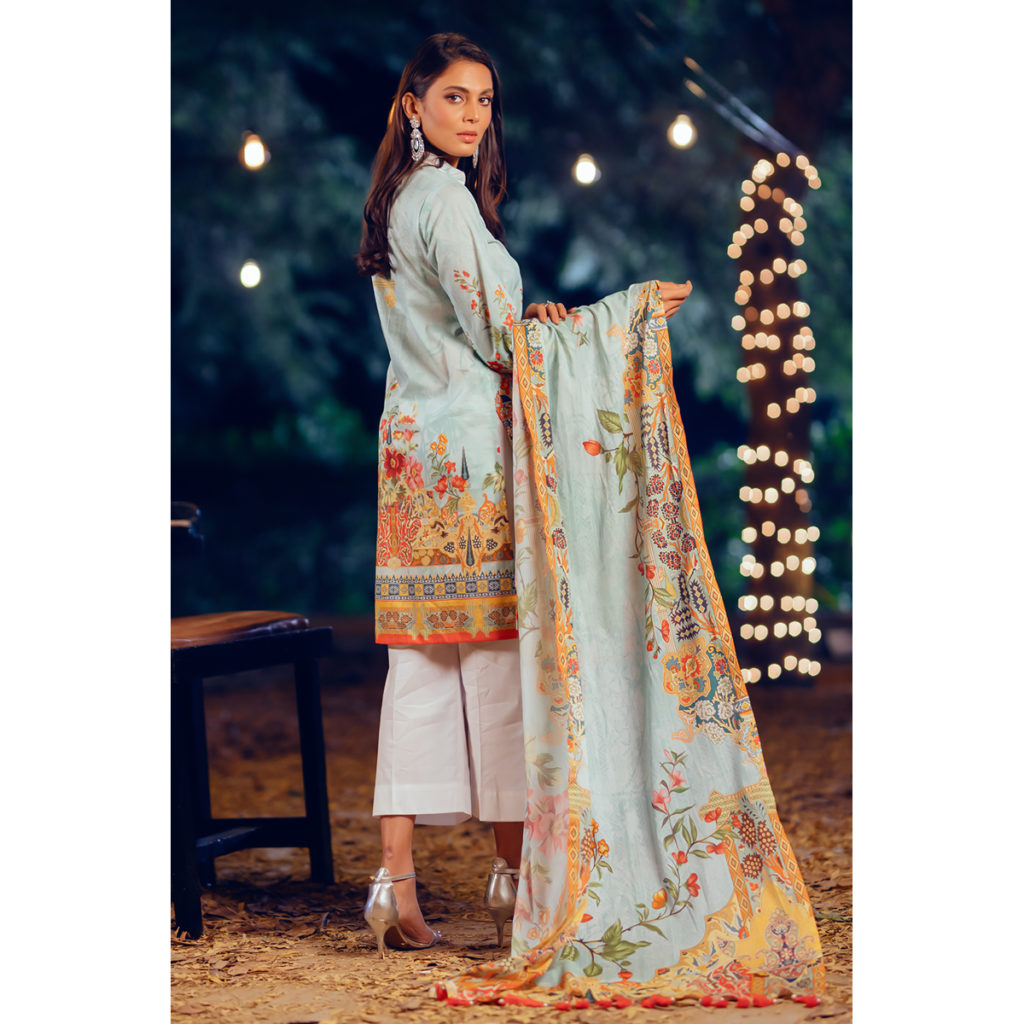 Culotte trousers are something that gives your lawn suits that stylish and trendy look instantly no matter how minimalist or light the pattern and colors are on your lawn suit. To add more definition to your look when wearing wide-cut pants, it is a great idea to wear anklets with modern stilettos. Also, don't be shy to wear long dangly earrings to add length to your look for a complete look!
---
6) When wearing bright colors or bold patterns, stick with light beige and white contrasts and minimalist jewelry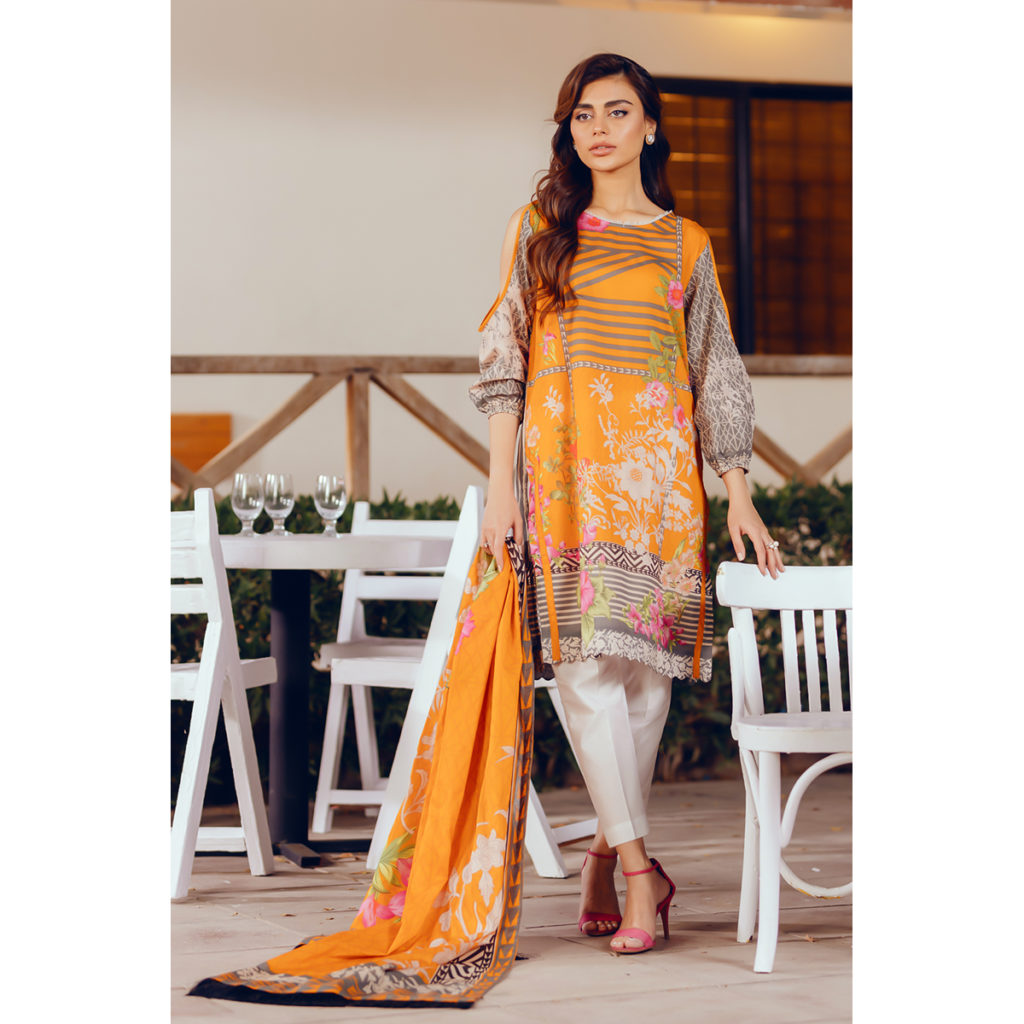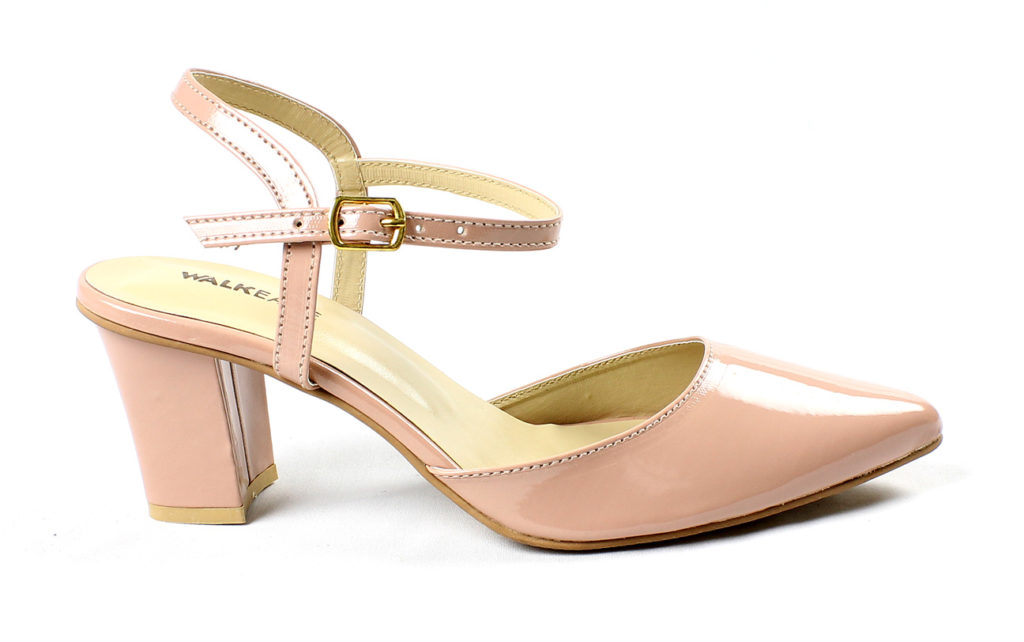 Bold and bright colors are predicted to be the top trend for 2021 Summers and while most people have been waiting to go all out with colors, make sure to keep your accessories with minimal designs and soft colors to balance the look. Stock up on pearl earrings and delicate statement pieces!
---