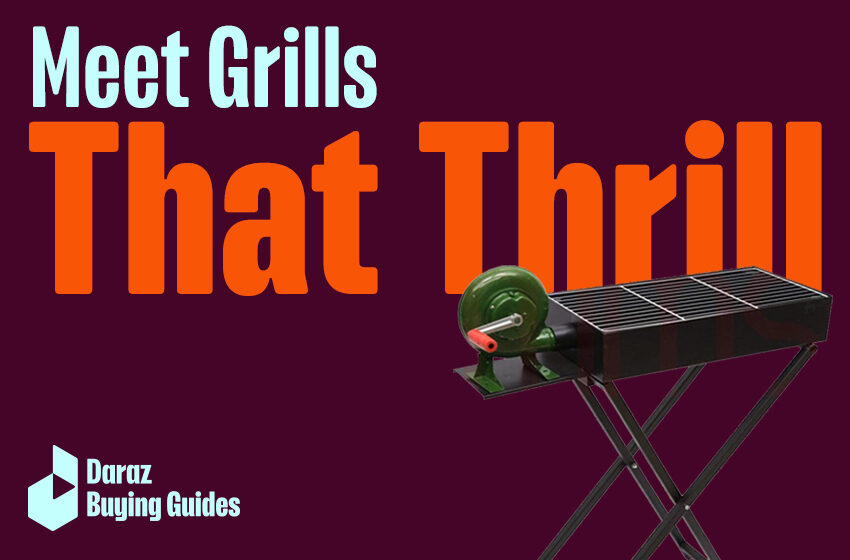 Barbecue Grills that Suit Your Style!
One of the best feelings about the weeks after Eid ul Adha is the aroma of juicy cuts of meat sizzling on a grill filling the evening air. Who doesn't enjoy a good barbecue, especially when you're making it yourself.  Barbecue enthusiasts might think that their choice of grill is the best, but everyone's got their own preferences, considering features like needs, lifestyles and budget.  Here is a break-down of the types of grills that may fit your lifestyle.
Charcoal Grill
This grill is the most commonly preferred choice for a full-blown barbecue event. Using coal to fuel up the cooking, it's the perfect way of getting the charry smoky grilled flavor. Though it might be a hassle getting the coals burning, with the temperatures a charcoal grill is able to achieve, it makes it easier to sear meat to the perfect glaze (yum). However, cleaning up the grill might be a cumbersome task to some. I would rate the charcoal grill.
Ease of Use                ★★★★☆
Time Convenience     ★★★☆☆
Flavor                          ★★★★★
Cleanliness                ★★★☆☆
Gas Grill
Though not as competitively famous as the charcoal counterpart, the gas grill does have its perks. They're made to work with either the natural gas supply, or with a propane tank, and hence don't require the same "warm-up" time that the charcoal grill requires. They are made available in multiple designs, even portable ones for convenience. They're the best choice for chefs who don't like waiting for the grill to warm up and don't want to get their hands dirty cleaning the coal out. But won't give you the authentic barbecue flavor. I would rate the gas grill
Ease of Use                ★★★☆☆
Time Convenience    ★★★★☆
Flavor                         ★★☆☆☆
Cleanliness                ★★★★★
Electric Grill
The electric grill is a multipurpose grill that is operated easily (just plug and play). It's the best choice for people who like to use indoor grills or live in apartments where it's difficult to have an open-air barbecue. They're the fastest to heat up and cook food, using 120 to 220-volt power sources. These grills come in different shapes and sizes and even have additional features like Timers, Different Cooking Modes & Temperature control. But they're not as popular because of the lack of traditional barbecuing experience that charcoal and gas grills provide. And since they require a continuous power source, you have be near a socket whenever using it. I would rate the electric grill
Ease of Use                  ★★★★★
Time Convenience       ★★☆☆☆
Flavor                            ★★☆☆☆
Cleanliness                   ★★★★★
When choosing a grill, there are a lot of things that have to speculated before getting one. Each is designed for a specific method of cooking that has it becoming a popular choice among people. You can even get different types of grills as long as the main purpose is to have fun.
————————————————————————————————————————————————————————-
Liked this post? Then Check out the list of 12 Best BBQ Grills in Pakistan Available on Daraz!