All the Products Reccomended on Be Beautiful with Alleesha & Zeba! | Daraz Live
Looking for all the products recommended on Be Beautiful with Alleesha and Zeba! Well, you've come to the right place! Find episode by episode product recommendations below!
Unless you've been living under a rock, you must know that Daraz has introduced a new shoppertainment platform to make online shopping a completely new, invigorating experience for you! With tons of exclusive content, shoppable products, and new episodes every day, all week, Daraz Live is the place to tune in!
Be Beautiful is the show to turn to when you want to look at self improvement, looking and feeling your best, and glean some expert advice from our talented hosts Alleesha and Zeba! Catch them live Monday – Friday at 8pm!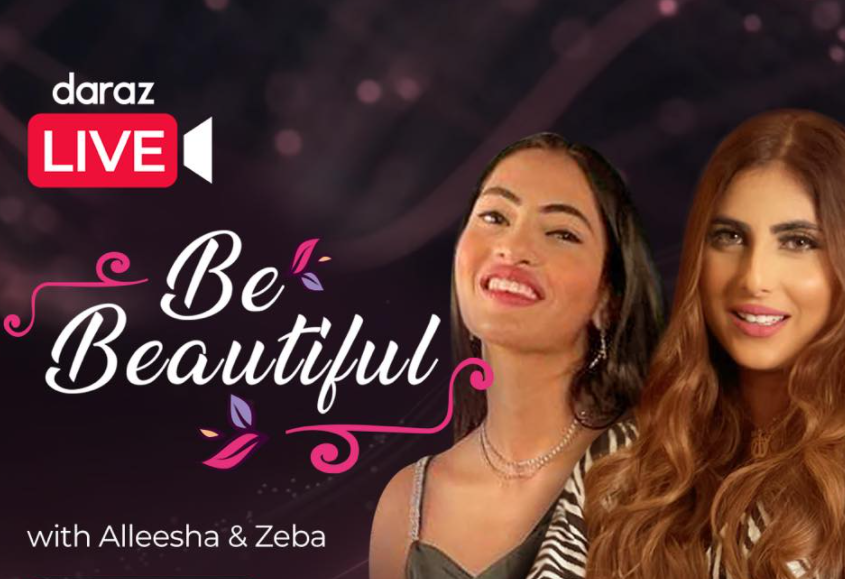 Get to Know Aleesha and Zeba!
Dr. Alleesha Rahu is a general and Aesthetic Physician specializing in beauty enhancing procedures such as chemical peels, botox, dermal fillers, Profhilo, IV cocktails, PRP and much more. Her primary focus is on helping you make a personalized regimen for your specific skin type, and helping you achieve healthy glowing skin! And secondly on aesthetic procedures to help get the desired results. She believes in loving and investing in one's self, to look and feel their absolute best, and wants to help everyone do the same.
Zeba Rahu is a lawyer but her passion for makeup and experimenting with different looks and styles made her change her career paths and explore the beauty world. She is an internationally trained make up artist and beauty educator working at one of the only international beauty schools in Pakistan. She believes in spreading her knowledge and helping everyone feel and look beautiful, confident, and apart from make up, her interests lie in styling, home decor, experimenting with different cuisines, spending time with her family, and looking after her children, Zaviyar and a mini pug named Ms. Pugsy.

If you haven't been able to keep up with all the amazing products these two ladies have been recommending, don't worry! Here's a roundup of all the things we love every week!
Top Picks from Week One: 6th – 9th September
Click on the text below your favorite product to buy!
Top Picks from Week Two: 13th – 17th September
Check out the complete Daraz Live Schedule for a list of showing and timings!