Daraz Live Complete Show Schedule (2021)
Gear up and mark your calendars as Daraz Live brings you a one-of-its-kind watch & buy experience that combines entertainment, shopping, and discounts every day!
Daraz Live has some fun-filled shows on exciting topics to bring you the best virtual shopping experience. Simply log on to the Daraz App and watch the shows, there's something to tune into for everyone!
Are you a workout buff looking for a fitness expert to kickstart your day? Or are you a fashionista looking for all the latest trends and discounts on the high-end fashion brands in Pakistan? Or just want to start your mornings with a dose of what's happening all around? Daraz Live is here to add some fun to your online shopping with a new and immersive shopping experience.
Don't wanna miss out on what shows Daraz Live has in store for you? Avoid the FOMO as we're here to round up all the videos and hosts Daraz Live brings. So, hop on to the Daraz App, watch interact, and shop all at once!
List of All the Daraz Live Shows and Hosts!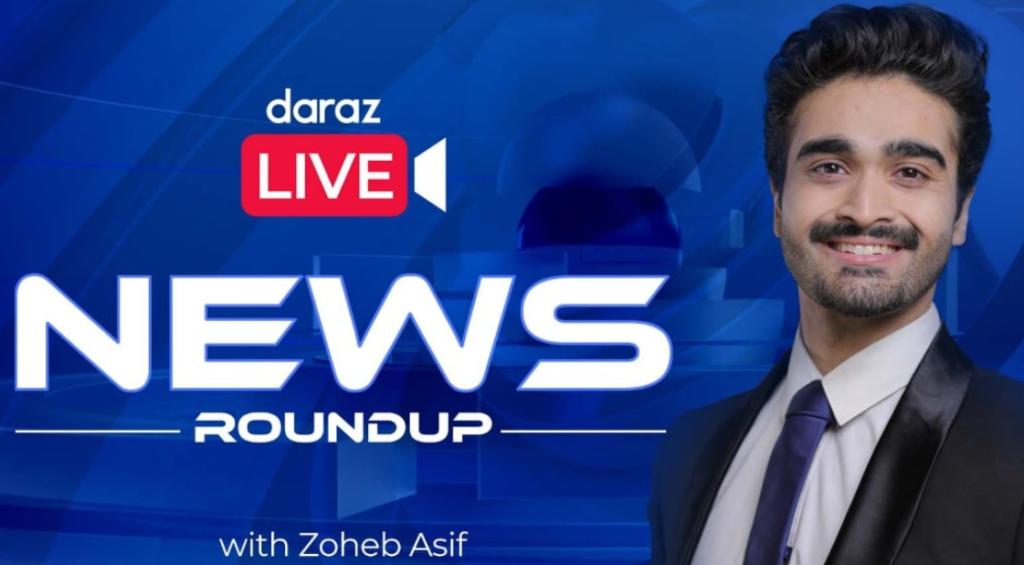 News Roundup with Zoheb Asif
Rise and shine with a round-up of all that is new and happening with Zoheb. Get your early morning Fix on Daraz Live and catch Zoheb talk about all the popular topics, Daraz News, fashion trends, what's hot and what's not, and about all that's happening! It's all about staying up to date with all the buzz!
When: Mondays to Friday 9:00 AM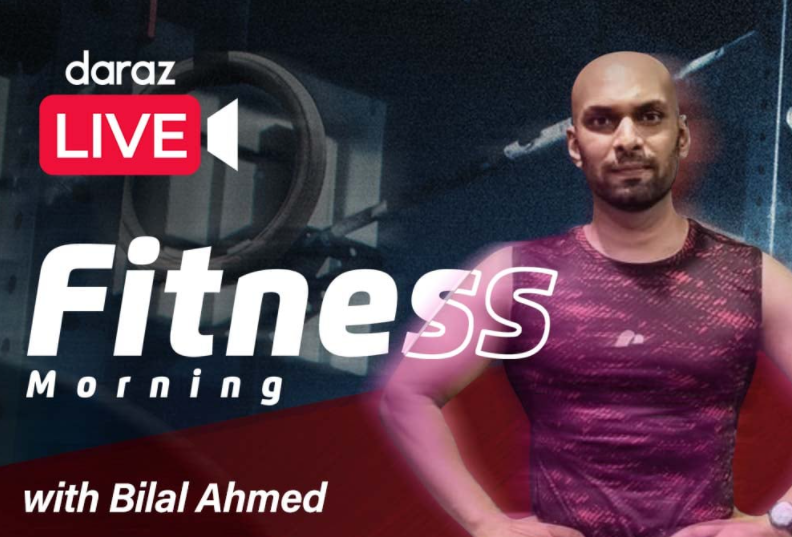 Fitness Morning with Bilal Ahmed
Looking to find your early morning motivation to kick start those workouts? Daraz Live with Bilal energizes you with his super easy workout plan, healthy meal ideas, and fitness routines that you can pace up even if you're a beginner. And that too right at your home! Get healthy meal ingredients and workout wear Daraz on discounts with the show!
When: Mondays to Friday 10:00 AM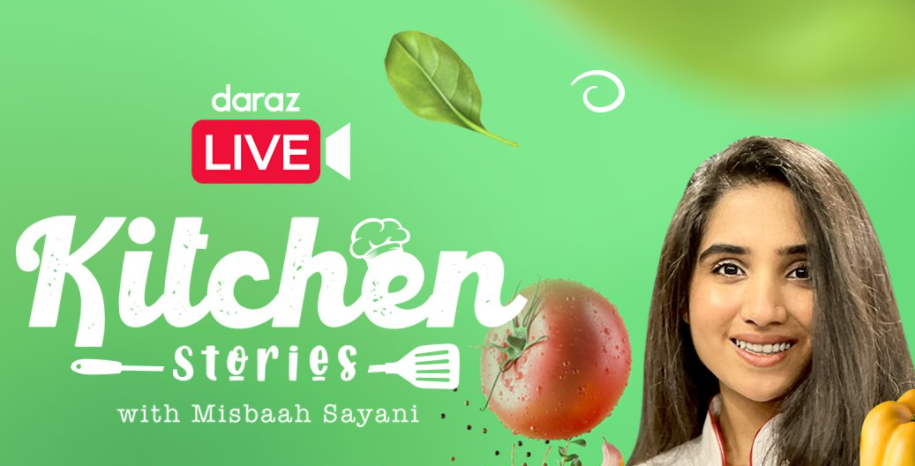 Kitchen Stories with Misbaah Sayani
Foodies rejoice! Watch Misbah stir up delicious recipes and snack ideas that everyone is bound to love. Plus, you can skip the hassle of not finding the products you need as with Daraz Kitchen Stories you can buy the products mentioned as you watch and that too at discounted prices!
When: Mondays to Friday 12:00 PM
Want to create the EXACT recipe like the kitchen expert herself? Find all the products used and recommendations on Kitchen Stories with Misbaah Sayaani here!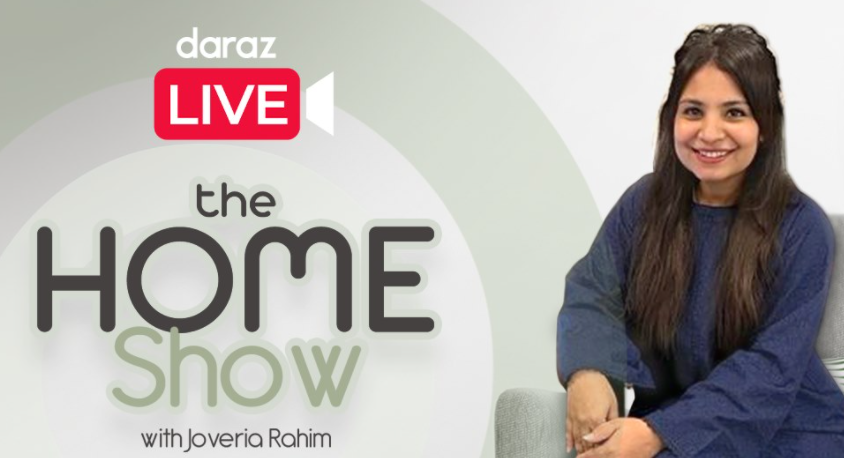 The Home Show with Joveria Rahim
Home decor inspo is something we all are looking forward to. From budget home-makeovers, hacks to make the most of your closet space to contemporary living room design ideas, we got the fix for all. Joveria is your guide to revamp your home and also here to help you find discounts!
When: Mondays to Friday 3:00 PM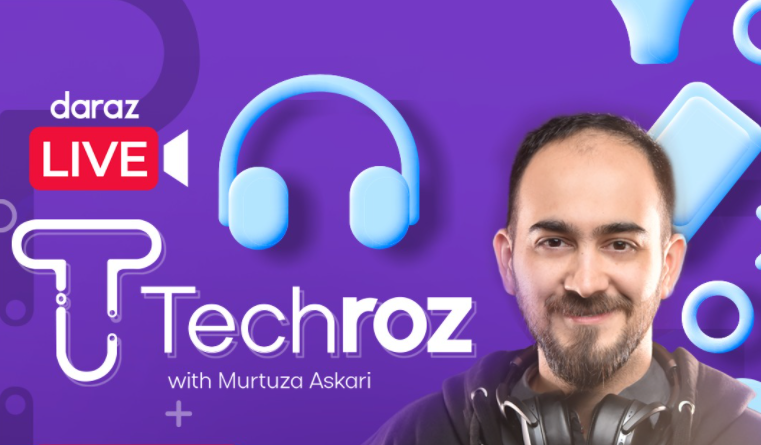 TechRoz with Murtaza Askari
It's the age of tech and with tons of new gadgets rolling out with high frequency, you're bound to want to know what's the hype about. And that's where Murtaza steps in with detailed reviews about all the new devices that you might be curious about. That's not all, with Techroz learn first about all the new phone launches and discounts you find on Daraz!
When: Mondays to Friday 7:00 PM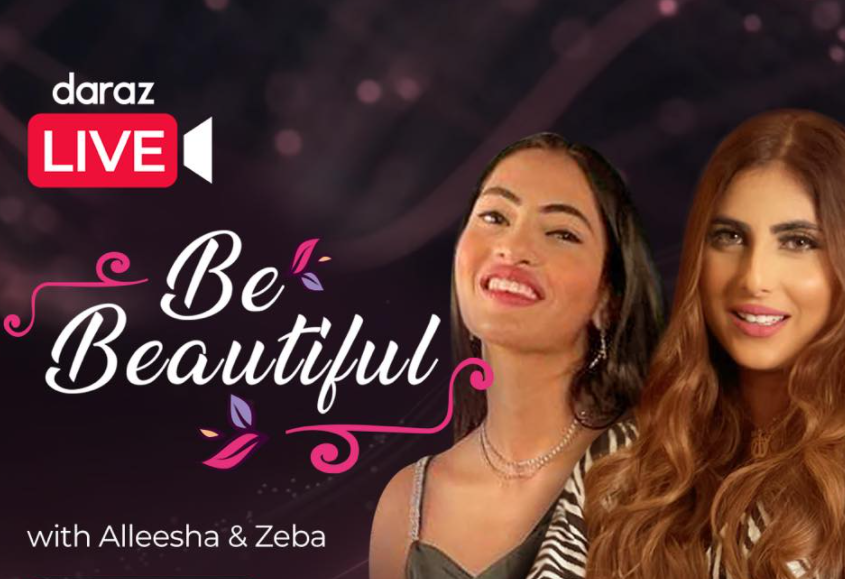 Be Beautiful with Alleesha & Zeba
Revitalize yourself with some self-pampering with Alleesha and Zeba! Get up and close with all things beauty and skincare related from all the popular makeup brands, new beauty product launches, effective DIY tips, and how to look perfect for any occasion. And the best part? Get live discounts on the products mentioned!
When: Mondays to Friday 8:00 PM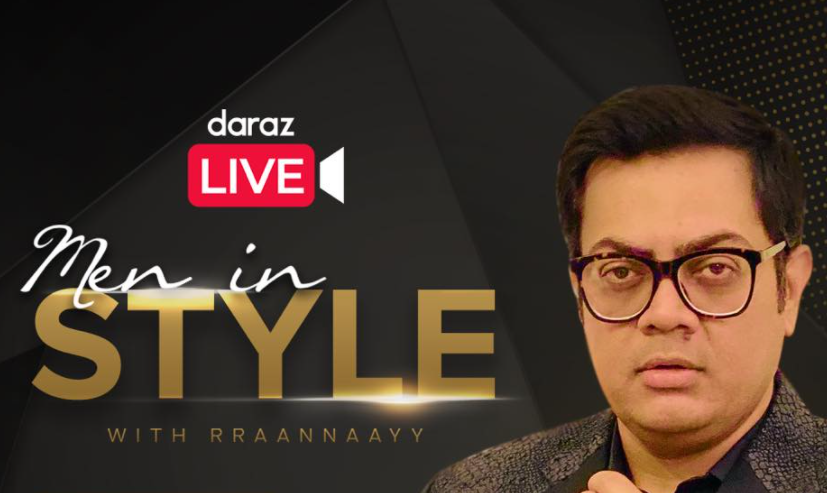 Men in Style with Rraannaayy
Is staying in style your top priority or are you a dress to impress type of guy? No matter what's your pick, Rraannaayy is here to make your fashion game strong! He's a men's fashion guru and he's coming to Daraz Live with all the grooming tips, styling guides, and fashion tips for men and so much more. It's something you don't wanna miss!
When: Mondays to Friday 9:00 PM
Daraz Live Shows Schedule and Timings
Catch all these hosts and your favorite hosts every Monday to Friday. Here's the Daraz Live schedule list to help you keep track!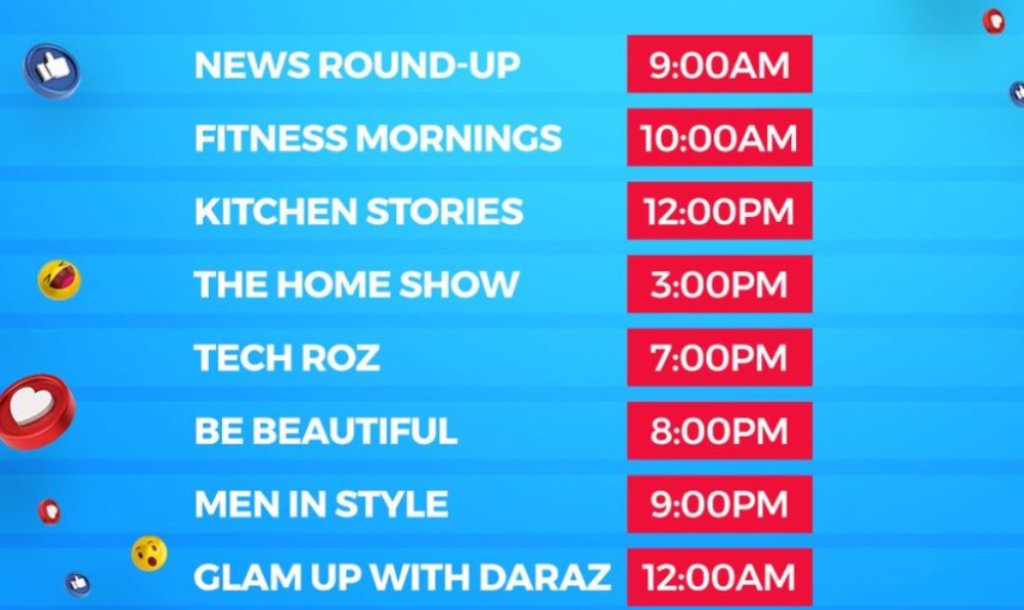 And the show doesn't stop here! Daraz Live also has your fix for those boring weekends. Every Saturday and Sunday catch exclusive Daraz Live Shows where you can get a dose of late night entertainment, dig deep into what's it like to be a part of Daraz, and be a part of a Live game show to win exciting gifts with Daraz!
Daraz Live Weekend Show Schedule
Super Seller Show with Umer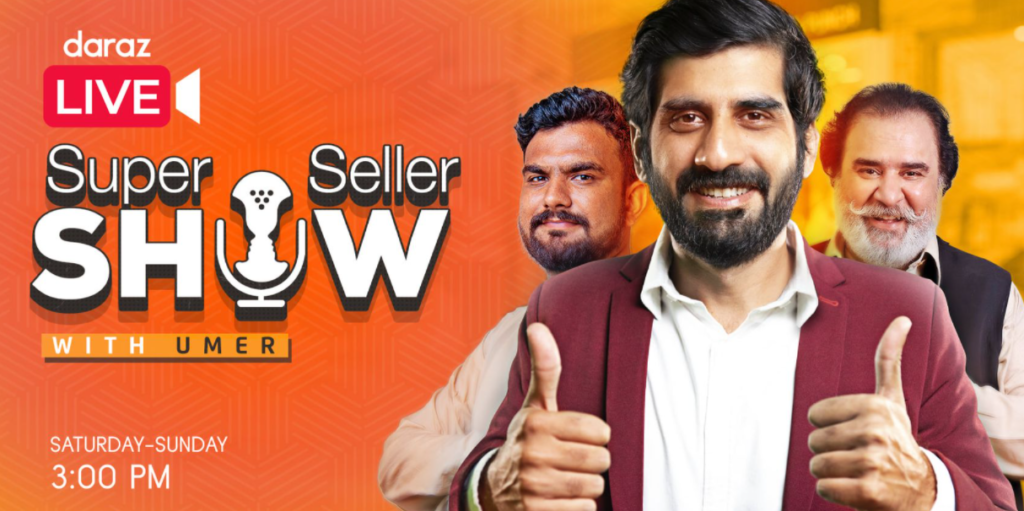 Jeeto Daraz Say with Ali Kamran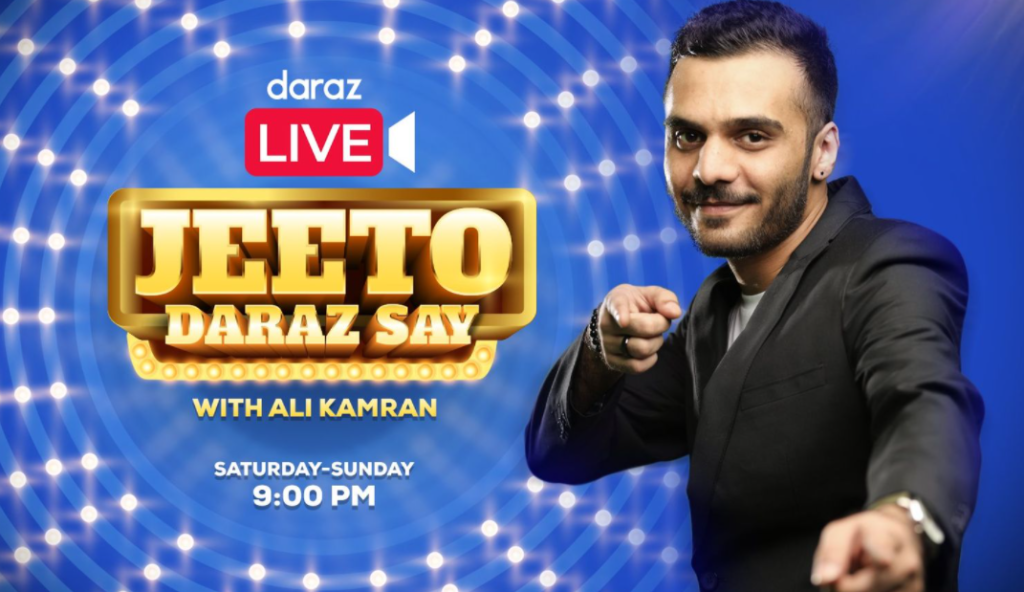 Lait Night Show with Tariq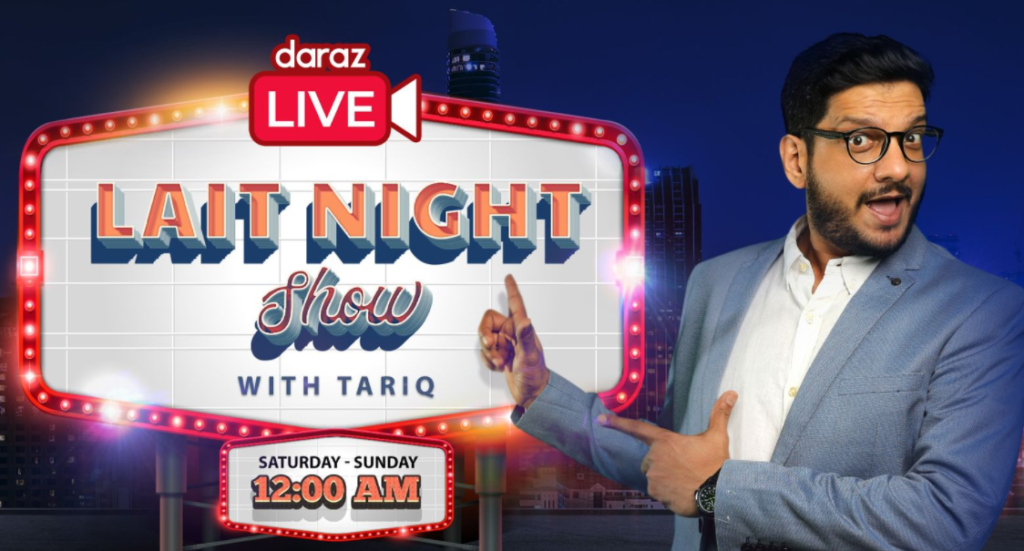 Wondering how to watch and make the most of Daraz Live? Head over to our Daraz Blog and find more!
Daraz brings exciting news for all cricket lovers! Now watch Pakistan cricket matches on Daraz Live absolutely free and without ads with Daraz Cricket Live Streaming!