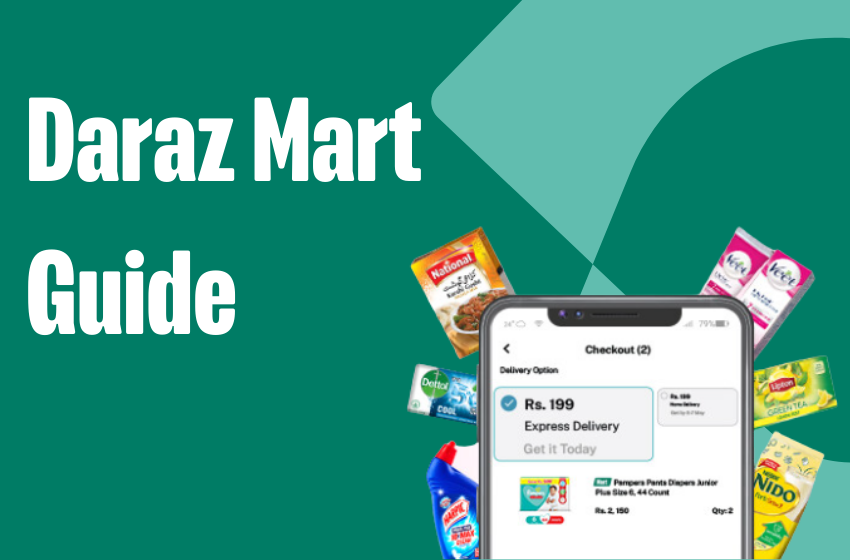 Daraz Mart – Guidelines to Shop (2023)
Grocery shopping can be a mundane task and a chore that we often leave to the last minute. It is only when it is too late we realize that we have run out of the most essential product. But worry not! This is why Daraz Mart makes shopping for your monthly groceries incredibly hassle-free!
Daraz Mart brings you all your grocery products and staples in one place right at the tip of your fingertips. Have a specific favorite item without which your breakfast is incomplete or if you're worried about finding dupes of your go-to shampoo brand, Daraz has something for all. With Mart, you can find a large assortment of Food Staples, Breakfast items, Baby Products, Personal Care, Beauty Products, or Hygiene Essentials at incredibly discounted rates from official stores of consumer goods brands like Unilever, Nestle, P&G, DayFresh, CP, Reckitt, and more online!
With these brands, you can enjoy huge discounts during Daraz's biggest sales as they are co-sponsors and brand partners as well. You can also make the most of saving up on groceries with exciting bundle deals and brand discounts. Moreover, you can even buy fresh fruits and vegetables delivered to you in neat packing and top quality, so head over to Mart and enjoy huge savings on your monthly groceries!

Shop Your Categories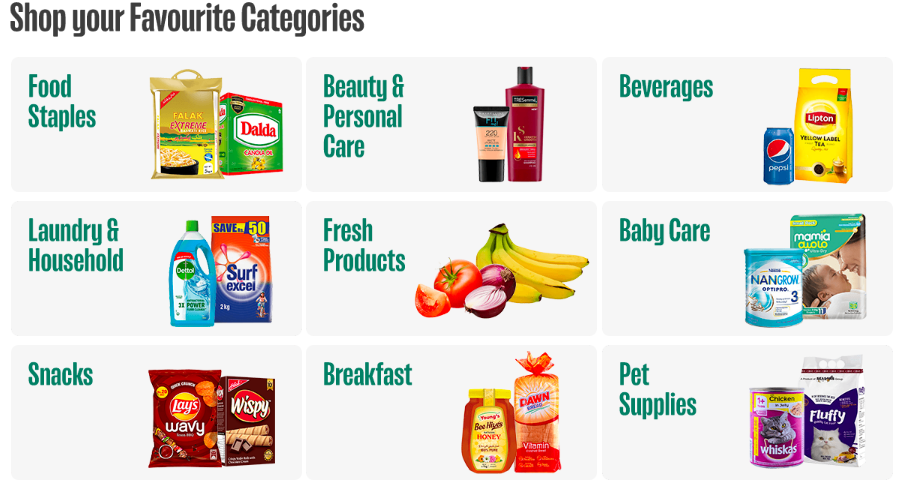 Now you can shop according to your favorite categories with different brands of your choice and avail massive discounts on 11.11 only on Daraz!
Daraz Brings New Daraz Mart Offers and Discounts!
Daraz has revamped Mart to make online grocery shopping an even more convenient task in Pakistan! Shopping for your monthly groceries has never been this easier. Stock up on all your essentials ranging from food, beauty, and personal care with Mart with these two new exciting features that have been introduced to improve our valued users' journey online.
1) Now, automatically get the BEST deals available exclusively for your own city. With this new update, now get an automatic selection of the best products from your city. Moreover, in Karachi Daraz Mart now offers same-day delivery on orders placed before 2pm!
2) With the more enhanced search feature, you can find Mart on Daraz right away and find the best bundle offers and discounts!
So, save more and shop more with mart and get the ultimate shopping solution for your monthly groceries, and thanks to these amazing offers, you can shop with the utmost convenience. Here's why:
Daraz Mart brings you top-quality products from reliable and trusted brands in Pakistan
You can enjoy super-low prices with exclusive offers and bundle-deals
Shop for ALL your essentials in one place as Daraz Mart offers a wide assortment
Avail a fixed shipping rate of Rs. 199 on all your orders no matter what you buy!
Express Delivery
Seems exciting no? Your goods will be delivered on the same day that's the concept of express delivery. If you live in Karachi, Lahore, and Islamabad then you have to pay Rs. 199 on a minimum of 5 items. For other cities, you have to pay Rs. 499 on a minimum of 5 items.
So what are you waiting for? Shop Now!
How to Find Daraz Mart on Daraz?
Are you ready to find a fix for your monthly grocery shopping worries? Here's how you can shop from mart on Daraz.
Head over to the Daraz website or Daraz App
Log in to your Daraz Account
Hover over to the Daraz Search Bar
Type "Daraz mart" and click on the search
You will be directed to the Daraz Mart page where you can shop for groceries with ease!
Now you're all set to simply shop for all your favorite products by adding them to your cart
Conclusion
Want to learn about more ways to get discounts and save up on your grocery shopping from Daraz Mart? Find How to use Daraz Bank Discounts and How to Collect Daraz Vouchers. Head over to our Daraz Blog and find all the new offers, new deals, and upcoming sales so you're on top of all Daraz hacks and make the most of online shopping in Pakistan with Daraz!