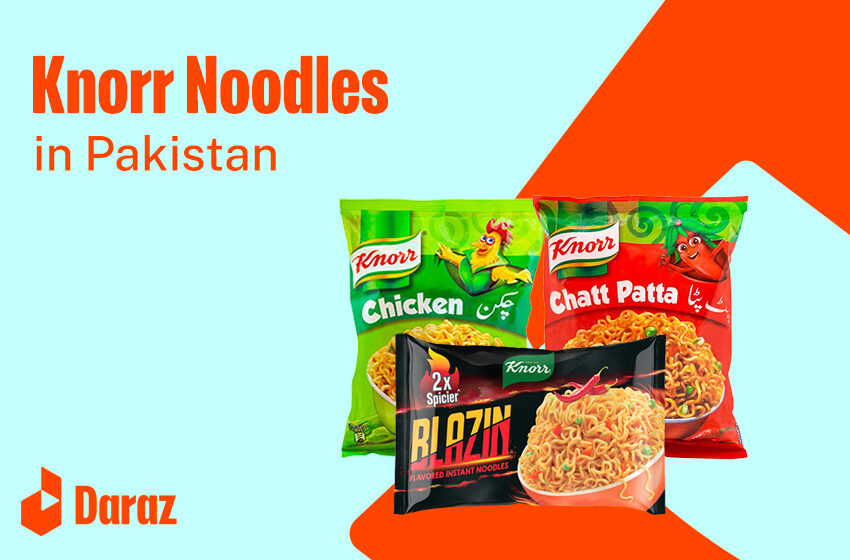 Knorr Noodles Price in Pakistan with Amazing Flavours
In a world where time is of the essence, convenience often takes center stage in our daily lives, especially when it comes to satisfying our hunger. Knorr Noodles, a popular and trusted brand, has been a go-to choice for delicious instant meals that are ready in minutes. In this article, we'll dive into knorr noodles price in Pakistan, explore the diverse flavors they offer, and provide you with a comprehensive guide to their prices in Pakistan.
1. The Knorr Noodles Experience
Knorr Noodles have earned a special place in the hearts and kitchens of countless individuals who seek a quick and delightful meal solution. These instant noodles are renowned for their ease of preparation and mouthwatering taste, making them a beloved choice among individuals of all ages. Whether it's a satisfying snack or a light meal, Knorr Noodles have consistently delivered flavor and convenience.
1.1. Why Choose Knorr Noodles?
Variety of Flavors: Knorr Noodles offers an impressive array of flavors that cater to diverse palates, ensuring there's something for everyone.
Quick and Easy: With a cooking time of just a few minutes, Knorr Noodles are the ultimate solution for busy schedules.
Satisfying Taste: Despite their instant nature, these noodles don't compromise on taste, delivering a flavorful and fulfilling experience.
2. Top Knorr Noodles Prices in Pakistan
Here's a curated list of top Knorr Noodles flavors available in Pakistan, along with their respective prices:
| S# | Flavor | Features and Benefits | Price (PKR) |
| --- | --- | --- | --- |
| 1. | Chicken | Classic chicken flavor, rich broth, savory goodness | 50 |
| 2. | Masala | A blend of aromatic spices, a favorite among spice lovers | 50 |
| 3. | Chatpata | Tangy and spicy tomato flavor, a burst of bold taste | 50 |
| 4. | Spicy Tikka | Irresistible chicken taste, loved by kids and adults alike | 50 |
| 5. | Cheese | Cheese flavor with a hint of Oriental spices | 50 |
2.1. Creating a satisfying Knorr Noodles dish is as easy as 1-2-3:
Boil Water: Boil water in a pot and add the noodles. Cook until they're tender.
Add Seasoning: Drain the water and mix in the flavor seasoning for a burst of taste.
Enjoy: Your delicious Knorr Noodles are ready to be savored!
2.2. A Noodle for Every Mood
Whether you're craving a comforting classic or an adventurous explosion of flavors, Knorr Noodles has got you covered. Here's a glimpse of when each flavor shines:
Chicken: Perfect for a satisfying meal that feels like a warm embrace.
Masala: When you're in the mood for a bold and spicy delight.
Chatpata Tomato: For a zesty and tangy culinary escapade.
Yummy Chicken: A favorite among kids for its delectable taste.
Chinese Schezwan: When you're ready to spice things up with an Oriental twist.
2.3. Inexpensive Indulgence
Knorr Noodles are not only delicious but also budget-friendly, making them an ideal choice for those seeking value without compromising on taste. At just 50 PKR per pack, you can enjoy a delightful and satisfying meal without breaking the bank.
Conclusion
Knorr Noodles have redefined the concept of instant meals, delivering a fusion of convenience and taste that continues to win hearts across Pakistan. With a range of flavors to suit every palate and an affordable price point, Knorr Noodles provide a delicious solution for quick and tasty treats. Whether you're a fan of classic chicken, crave the heat of spices, or long for a tangy adventure, Knorr Noodles have a flavor that's sure to delight. Embrace the joy of effortless cooking and indulge in the delightful world of Knorr Noodles.
Also Read: Portable AC in Pakistan | Best Waffle Maker | The Significance of Sacrifice in Eid ul Azha | Eid ul Azha Recipes | Best Deep Freezer in Pakistan | Best Stabilizer in Pakistan | Best Geyser in Pakistan | Best Washing Machine in Pakistan | Best Air Cooler in Pakistan | Best Inverter AC in Pakistan | Best Deep Freezer Price in Pakistan | Best Water Dispenser in Pakistan | Best Mattress in Pakistan | Best LED TV in Pakistan