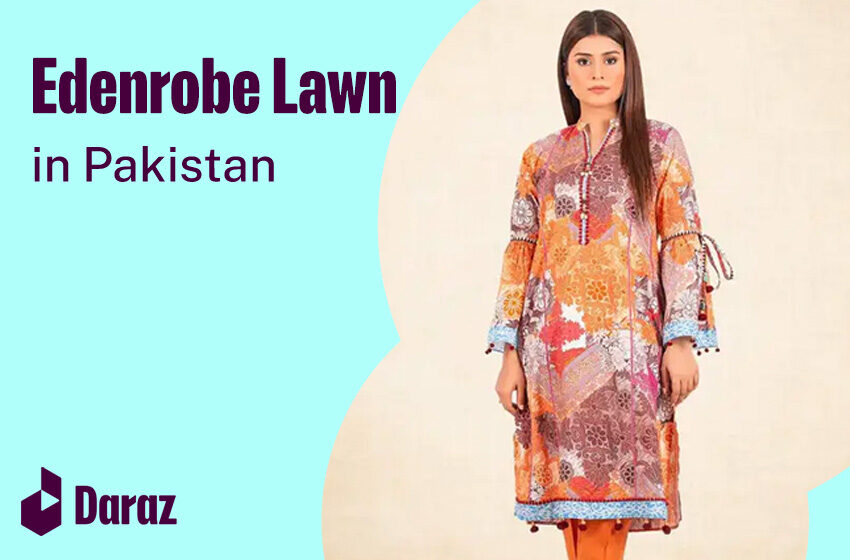 Edenrobe Lawn Prices in Pakistan for Summer Outfits – A Complete Review
As the summer sun graces us with its warmth, fashion enthusiasts across Pakistan are turning to their wardrobes for light, breathable, and stylish attire. In this pursuit of comfort and elegance, Edenrobe's lawn collections have gained significant attention. Renowned for its timeless designs and quality fabrics, Edenrobe offers a wide range of lawn outfits that perfectly blend fashion and comfort. In this article, we'll delve into the world of Edenrobe lawn price in Pakistan, exploring its price range, latest collections, and why it's the go-to choice for stylish summers.
Edenrobe Lawn: Where Elegance Meets Comfort
Edenrobe has established itself as a prominent player in the Pakistani fashion industry, known for crafting ensembles that capture the essence of elegance. The brand's lawn collections, in particular, have become synonymous with sophistication and style. Edenrobe's lawn fabrics are carefully chosen to provide the utmost comfort in the sweltering heat, making them a popular choice for women seeking both fashion and relief.
The Variety of Edenrobe Lawn Collections
Edenrobe's dedication to diversity is evident in its wide array of lawn collections. From vibrant prints to delicate embroideries, there's something for everyone. Let's explore some of the latest collections that have captivated fashion enthusiasts:
Floral Symphony Collection
With an abundance of floral motifs and soothing pastel hues, the Floral Symphony Collection encapsulates the beauty of nature. This collection is perfect for those who appreciate a touch of femininity in their summer wardrobe.
Ethnic Fusion Collection
Blending traditional and contemporary elements, the Ethnic Fusion Collection is a celebration of cultural diversity. Intricate embellishments and rich colors make these outfits a striking choice for festive occasions.
Monochrome Chic Collection
For those who lean towards minimalism, the Monochrome Chic Collection offers a range of elegant black and white ensembles. These pieces are versatile, allowing for effortless styling for both formal and casual settings.
Edenrobe Lawn Price in Pakistan: Affordable Luxury Price Range
Edenrobe's commitment to making fashion accessible is reflected in its reasonable pricing. The brand understands the importance of offering luxury without breaking the bank. Here's a glimpse of the price range for Edenrobe lawn outfits:
Affordable Luxury at Your Fingertips
The affordability of Edenrobe's lawn collections doesn't compromise on quality or style. Each outfit is meticulously crafted to meet the brand's high standards, ensuring that customers experience luxury without the extravagant price tag. Whether you're a student, a working professional, or a homemaker, Edenrobe's lawn ensembles allow you to embrace fashion without straining your budget.
How to Choose the Perfect Edenrobe Lawn Outfit: Finding Your Style
Selecting the ideal Edenrobe lawn outfit involves understanding your personal style and preferences. Consider the following tips to make a confident choice:
Color Palette: Choose colors that resonate with your personality and complement your skin tone. Edenrobe offers a spectrum of hues to cater to various preferences.
Prints and Embroidery: Decide whether you prefer intricate embroidery or bold prints. Each collection offers distinct design elements to suit different occasions.
Comfort and Fit: Opt for sizes and styles that provide comfort and a flattering fit. Edenrobe's lawn fabrics are known for their breathability and ease of wear.
Conclusion
As the temperatures rise, fashion-conscious individuals in Pakistan are turning to Edenrobe lawn collections to stay stylish and comfortable. The brand's commitment to accessible luxury and diverse designs ensures that there's an outfit for every taste and occasion. With prices that won't break the bank, you can indulge in the elegance of Edenrobe lawn without compromising on quality. So, why not infuse your summer wardrobe with timeless pieces that exude both sophistication and comfort? Explore the world of Edenrobe Lawn and embrace the essence of timeless elegance.
Also read: Women Clothing Brands | Mens Kurta in Pakistan | Bonanza Satrangi Lawn Price | Best Grooming Products for Men | Bridal Dresses in Pakistan | 10 Best Shirt Brands for men in Pakistan | Best furniture brands in Pakistan | Best UPS battery in Pakistan | Best UPS inverter in Pakistan | Best Electric Stove in Pakistan | Best Roti Maker in Pakistan | Best LED TV in Pakistan | Best Mattress in Pakistan | Best Jacket Brands in Pakistan | Best Mens Wallets Brands