How to Pay Through Easypaisa on Daraz?
Finding the exact amount of cash when your online order arrives is a huge hassle that makes us go into panic mode when our order arrives and no matter how often you track your order on Daraz, most people still forget to keep cash with them handy which is why Daraz brings you easy payment solution where you can pay through Easypaisa on Daraz and make your online shopping payments easier than ever!
It is no doubt that cashless transactions have made our lives easier especially when it comes to online shopping. Easypaisa is the most popular platform that has revolutionized the medium of making payments and transferring money by providing a convenient digital solution for people all across Pakistan.
Paying through Easypaisa is a convenient way to get exciting discounts with Daraz Easypaisa offers available that make your shopping spree worthwhile. So, if you're not sure how to pay on Daraz through Easypaisa account then we've got you covered and listed the easy steps of paying on Daraz with Easypaisa online below!
How do I pay through Easypaisa online on Daraz?
Paying on Daraz with your Easypaisa account is simple and convenient just follow the steps mentioned and wait for your order to be delivered on your door step!
Add your selected product to cart on Daraz
Select Proceed to Pay
Selection Easypaisa as your option to pay
Make sure your Easypaisa account is active and has sufficient balance
Enter your Easypaisa Account number
Click on Pay now
If Easypaisa is not your default payment option on Daraz then open your Easypaisa App and click on My Account
Tap on My Approvals and approve the payment
Once your payment is successful your order on Daraz will be confirmed!
---
How to Deposit Easypaisa in Daraz Wallet
You can even avail Daraz wallet discounts with Easypaisa with which you can conveniently deposit amount into your Daraz wallet with Easypaisa.
Activate your Daraz wallet (Read how to Activate Daraz Wallet here)
Click on the "Deposit" button and enter the amount
Select Easypaisa as your payment method
Enter payment details and confirm payment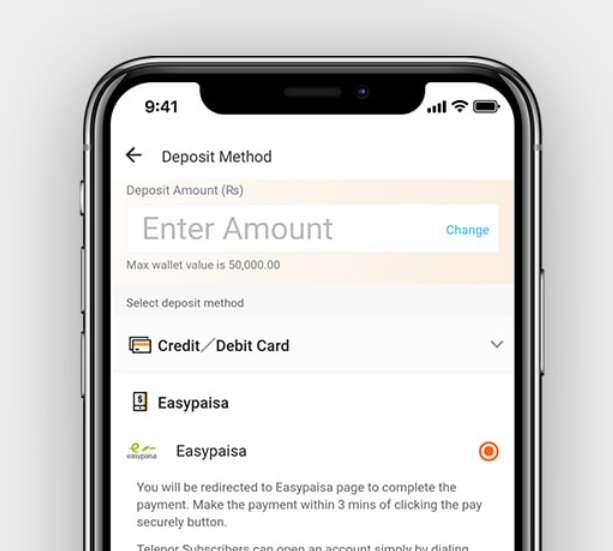 ---
Easypaisa Daraz Discounts and Offers
On top of bringing you an easy way to make payments, Daraz with Easypaisa brings you discounts like never before. On Daraz now you can get 10% on your orders when you pay with Easypaisa for your Daraz orders every Thursday!
Moreover, you can get exclusive offers with Easypaisa as well and if you're a traveling enthusiast then we've got some good news for you! Got now credit/debit card then no problem as Daraz Travel has integrated with Easypaisa with you can now pay for your tickets and book them with ease through Easypaisa super fast and conveniently!
dTravel Discount with Easypaisa!
Book your travels with Daraz and get 50% off on bus tickets with the code TRAVEL50 and pay directly with Easypaisa to enjoy this discount easily! So, what are you waiting for? Head over to Daraz now and start your travels!
Learn more about DTravel with the link below:
---
dTravel is available exclusively on the Daraz App so download the Daraz App now and start booking your tickets!