Najma Parveen (Athletics) Biography, Records, Career & Achievements
Najma Parveen is a Pakistani athletic who will be competing in the Olympics 2021 as a wild card. Parveen had also participated in the 1016 Rio Olympics.
Full name: Najma Parveen
Born: 20 Dec 1990 (30 years old)
Nationality: Pakistani
Representing: Pakistan
Najma Parveen Achievements
Set records in 2019 National Games in Peshawar
Gold medal in 13th South Asian Games in Nepal (400m hurdles)
2 Silver medal in 13th South Asian Games in Nepal
Bronze medal in 13th South Asian Games in Nepal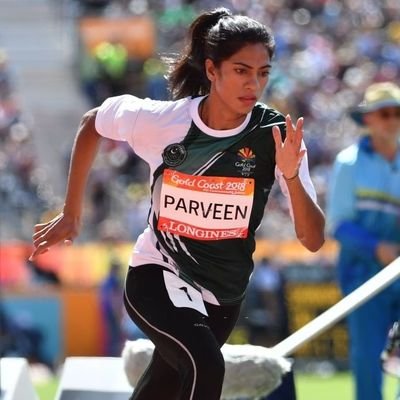 Najma Parveen is an experienced Pakistani athlete from Faisalabad, who is appearing in Olympics for the second time on the basis of wild card. Parveen's approach has been phenomenal and has been a winner of various national titles since 2010. She will be appearing in the 200 meter race. Her personal best in 200 meter so far is 23.69 seconds.
She had also competed in the 2016 Rio Olympics on wild card basis and since then, her graph has only been seeing an upward trajectory. She also set records in the 2019 National Games held in Peshawar. Then went on to carry this form into the 13th South Asian Games in Nepal, where she secured a gold medal in 400m hurdles, 2 silver medals and one bronze.
Najma's father was an elite level hockey plater. She then followed in her father sporty footprints and started her journey in athletics when she was in a 6th grade at a government school in Faisalabad, Pakistan.
"I have been training hard and InshaAllah will produce my personal best in Tokyo," said Najma to a The News. Najma is married to a National high jump champion, Ali Ashraf: "Before marriage, my father used to take care of me. He was especially careful about my food and after marriage my husband takes care of me. As he himself is a national athlete, so he knows what I need and is highly supportive," she said while speaking to the News.
Najma is competing in Tokyo Olympics 2021 along with javelin thrower – Arshad Nadeem, and we wish all our Pakistani athletes the very best!
Also read: Talha Talib (Weightlifting) Biography | Bisma Khan (Swimming) Biography | Pakistani Athletes Qualified for Tokyo 2021 Olympics