10 Best SUVs in Pakistan 2023 – Prices & Specs
As the automotive industry continues to evolve, SUVs have emerged as a preferred choice for Pakistani drivers, offering a perfect blend of performance, comfort, and practicality. In this article, we will delve into the 10 best SUVs in Pakistan, highlighting their unique features, specifications, and price ranges.
List of 10 best SUVs in Pakistan
| | | | |
| --- | --- | --- | --- |
| S# No | Name of the Car | Prices | Seating Capacity |
| 1. | Honda BR-V | PKR 6,529,000/- | 7-Seater |
| 2. | KIA Sportage | PKR 7,050,000/- | 5-Seater |
| 3. | Proton X70 | PKR 6,740,000/- | 5-Seater |
| 4. | Proton X50 | PKR 6,300,000/- | 5-Seater |
| 5. | Hyundai Tucson | PKR 8,030,000/- | 5-Seater |
| 6. | Toyota Rush | PKR 8,009,000/- | 7-Seater |
| 7. | MG HS | PKR 8,199,000/- | 5-Seater |
| 8. | Suzuki Vitara | PKR 3,650,000/- | 5-Seater |
| 9. | KIA Sorento | PKR 10,040,000/- | 7-Seater |
| 10. | Toyota Corolla Cross | PKR 12,249,000/- | 5-Seater |
1. Honda BR-V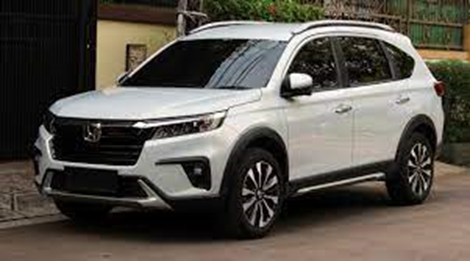 The Honda BR-V is undeniably one of the best SUVs in Pakistan, offering a luxurious, practical, and spacious driving experience. With a top speed of 180 KMH and a fuel efficiency of 11 to 15 KM/L, the Honda BR-V promises both power and efficiency on the road. The exterior boasts sporty front grills, unique styling, and project lamp headlights
Inside, the classic 7-seater layout provides ample room for passengers, and the vehicle comes equipped with driver-side airbags, digital climate control, rear air vents, a rearview camera, power windows, an infotainment system, and retractable side mirrors, ensuring a comfortable and connected ride for all.
2. KIA Sportage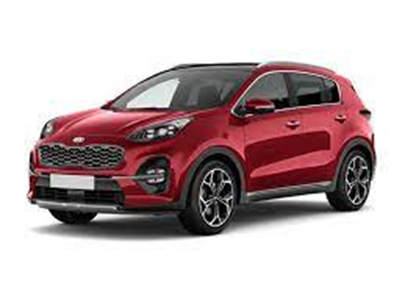 The immensely popular KIA Sportage is one of the best SUVS in Pakistan. Boasting a top speed of 180 KMH, the automatic KIA Sportage delivers an impressive fuel efficiency of 10 to 12 KM/L. This crowd-pleasing SUV is a sight to behold with its beautiful LED side indicators, bi-xenon headlights, and signature tiger nose grills.
Embodying a stylish, modern, and sporty design, the KIA Sportage also offers practical features such as fog lamps, roof rails, a shark fin antenna, and a roof spoiler. The interior is equally captivating, with a user-friendly layout that puts everything right before your eyes, including the speedometer, total drive, fuel average, and drive modes.
3. Proton X70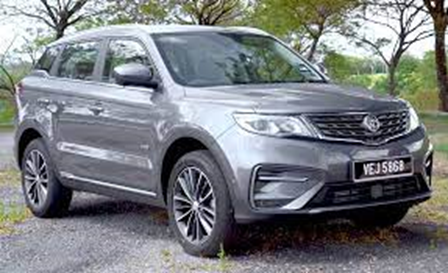 One of the best SUVs available in Pakistan, the Proton X70, Sets itself apart with its unique "infinite weave grill," this SUV exudes an aura of sophistication. Packed with premium features, the Proton X70 boasts sensor wipers, LED tail lights, a spoiler with a stop lamp, standard roof rails, and halogen headlights with DRL.
The interior further adds to its allure with a panoramic sunroof, plush leather upholstery, and the complete built-up model, embodying Malaysian elegance at its finest. Safety is prioritized with the inclusion of 6 SRS airbags and a tire pressure monitoring system. To top it all off, the Proton X70 comes equipped with a 360-degree camera, providing unparalleled views from all angles.
4. Proton X50
One of the finest SUVs on the market in Pakistan, the Proton comes equipped with a plethora of luxurious amenities, such as a dual-tone interior, sleek 18″ alloy wheels, front welcome lamps, an LCD meter combination, and a panoramic sunroof, adding a touch of elegance to its already impressive features.
Safety is a top priority, and the Proton excels in this aspect with features like four SRS airbags, electronic brake distribution, brake aid, anti-lock braking system, and auto brake hold, ensuring a secure and confident driving experience.
5. Hyundai Tucson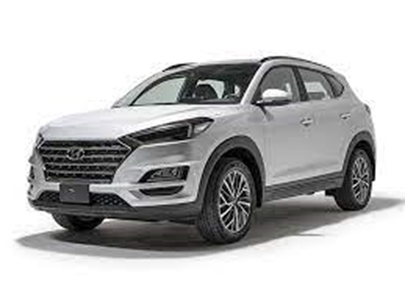 One of the most competitive SUVs in Pakistan, the Hyundai Tucson stands out with its sleek and elegant design, setting it apart from its rivals. The front end features distinctive elements like a small grille, trapezium air intake, narrow side swept headlights, and dual fog lights, giving it a unique and captivating appearance. At the rear, integrated brake lights, a standard case tailgate, and sharp side swept taillights add to its stylish appeal.
Inside the SUV, you'll find a user-friendly touchscreen display, comfortable fabric-finished seats, power and heated door mirrors, two airbags, stereo speakers, power windows, power steering, cruise control, and automatic climate control.
6. Toyota Rush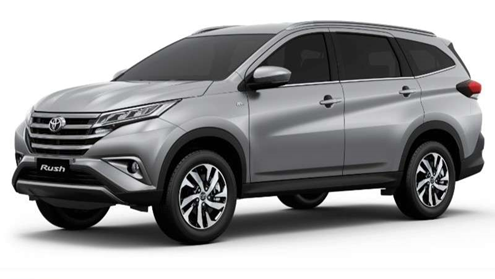 One of the best SUVs in Pakistan, the Toyota Rush boasts a luxurious on-the-road presence with its sleek and typical subcompact design. It effortlessly glides on all terrains, thanks to its impressive submersion height of 60cm.
The luxurious and stylish Rush is highly adaptable, equipped with LED daytime running lights, swept LED lamps, roof rails, rear spoiler, and chrome details on the rear bumper. Ensuring passenger safety, it comes with side shield airbags, and front, and front side airbags. Abundant features and versatility make the Toyota Rush a standout choice among flagship SUVs.
7. MG HS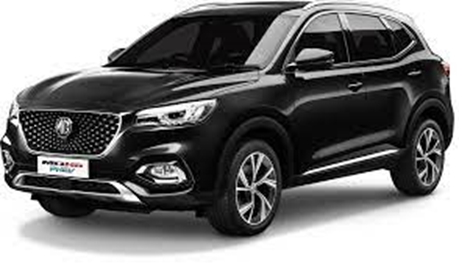 One of the best subcompact crossover SUVs available in Pakistan, the MG HS boasts a stylish interior and sporty design. With a top speed of 180 KM/H and a fuel efficiency of 10-12 KM per liter, it delivers both performance and economy. The front yield grill and sporty finish with twin tailpipes and an aluminum lower bumper at the rear add to its captivating appeal and legacy.
Packed with features like reverse parking sensors, a 360-degree camera, blind-spot detection, leather seats, and steering wheel, and Apple Carplay and Android Auto functionality, the MG HS offers a modern and convenient driving experience. The stylish daytime LED running lights and projector headlights further enhance its attractive appearance.
8. Suzuki Vitara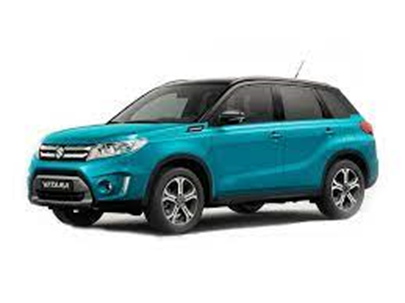 One of the best SUVs in Pakistan, rightly dubbed "The Game Changer," the Vitara boasts a rich history and 30 years of evolution, captivating with its sublime appearance. The front chrome grille, painted alloy rims, roof spoiler, silver side body molding, keyless entry, and other stylish features make it a true head-turner.
Inside, the Vitara offers ample luggage space, a spacious 10.1″ touchscreen infotainment system, an efficient airflow system for uniform temperature, and a panoramic sunroof. With cruise control, automatic wipers, telescopic steering wheel, and paddle shifters, it ensures a comfortable and convenient driving experience.
9. KIA Sorento
One of the best SUVs in Pakistan, the KIA Sorento exudes elegance, boldness, and athleticism with its sophisticated and premium appearance, showcasing LED headlamps, daytime running lamps, roof rails, chrome door handles, 18" alloy wheels, front and rear Aluminum diffuser, and power and heated folding side-view mirrors.
The interior matches the exterior's handsome and elegant design, offering power steering, power control, cruise control, airbags, and automatic climate control, ensuring both safety and comfort for a delightful driving experience.
10. Toyota Corolla Cross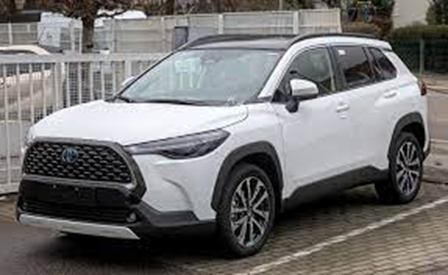 One of the best SUVs in Pakistan, the Toyota Corolla Cross stands out with its impressive fuel efficiency, covering a distance of 18 to 20 KM per liter. With its sophisticated, sleek, and powerful design, the Corolla Cross sets itself apart from its family members. The SUV is equipped with LED features in its projector headlights, fog lights, and taillights, adding to its allure.
The interior is available in both leather-touched high variants and fabric-finished low variants, and it offers essential infotainment features. Additional conveniences include AC vents for the rear seats, electronic locking, Single or dual-zone climate control, and much more.
Conclusion
As we conclude the article for the 10 best SUVs in Pakistan for 2023, one thing is abundantly clear: the SUV market is thriving, and there's a perfect ride out there for every driver's preferences and needs. These impressive vehicles offer a harmonious combination of power, comfort, safety, and cutting-edge technology, catering to both city dwellers and adventure seekers alike. Don't forget to visit Daraz!
Also Read: Best Car Chargers | Juicer Blenders | Office Chairs | Rado Watches | Study Table | Best Generators | Mobile Covers | Luggage Bags | Philips Air Fryers | Pampers in Pakistan | Pak Fan | Super Asia Washing Machine | PlayStation in Pakistan | Pedestal Fans | Best Inverter UPS in Pakistan | Best Electric Geyser in Pakistan | Best Refrigerator in Pakistan | Best UPS Battery in Pakistan | Car Batteries in Pakistan | How to Buy Refrigerator on Installments in Pakistan | Portable AC in Pakistan | Haier Washing Machine