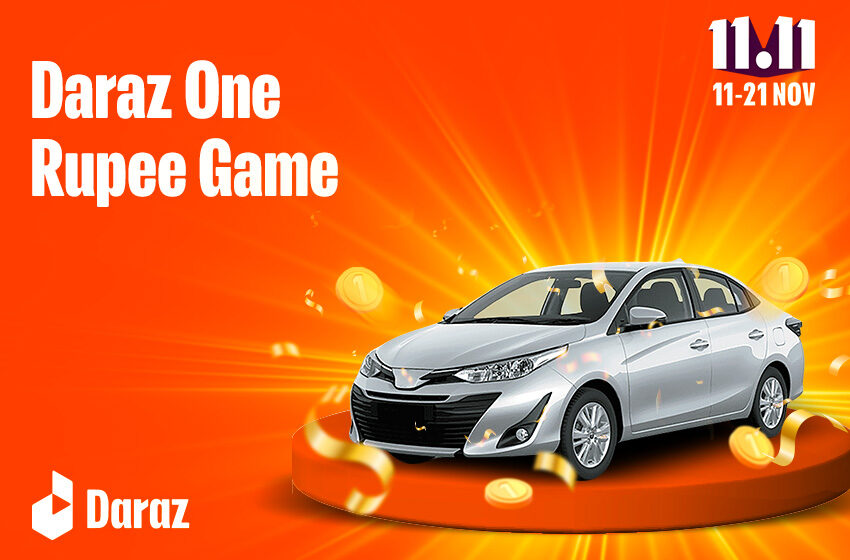 Daraz One Rupee Game – Win 1300 CC Car on Daraz 11.11 Sale!
Wondering what is the One Rupee Game on Daraz and How To Play Daraz One Rupee Game? Read Our Blog Below and Learn How!
One Rupee might have been obsolete when it comes to making purchases but at Daraz, the power of the rupee brings you an amazing offer! While getting a brand new car for Re 1 might seem like a dream at Daraz, this dream becomes the reality!
One Rupee Game on Daraz is an exciting way to win it all in just One Rupee and for this 11.11 sale, you can win a 1000 CC car for just One Rupee! With this Daraz 1 Rupee Game, winnings are endless!
What is Daraz's One Rupee Game?
Daraz 1 Rupee Game is the in-app exclusive Daraz mega campaign offer that you can play on Daraz. You can try your luck and "add to cart", and pay Re 1 through your Daraz Wallet. With One Rupee Game, you can win amazing prizes through a lucky draw.
[Read: How to Active Daraz Wallet]
The Re 1 gets refunded back to users in case they don't win and moreover, the Daraz 1 Rupee game winner list can be found through announcements or push notifications so make sure you have the Daraz App downloaded and follow Daraz's social channels!
How to Play One Rupee Game on Daraz?
To play one rupee game on Daraz, all you've to do is choose one of the listed products on the given day and pay only 1 Rupee from your Daraz Wallet for a chance to win big! You can only participate once per day.
Head over to the app and select a product that is available to buy
Pay Re 1 for the product through your Daraz Wallet
Get a chance to win!
You can play the One Rupee game once a day and the winners will be announced the next day! That's not all, there's more! On popular demand, we're bringing back the chance to win new prizes every day till the 23 March sale lasts. So try your luck and get a chance to win a Toyota Yaris 1300 CC car and many more exciting prizes for this 11.11 sale!
So, download the Daraz App now and make the most of the biggest online sale in Pakistan!
---
Want to stay ahead of all the discounts and Daraz 11.11 Voucher details? Check out our Daraz 11.11 page for all the shopping hacks to be on top of discount shopping!