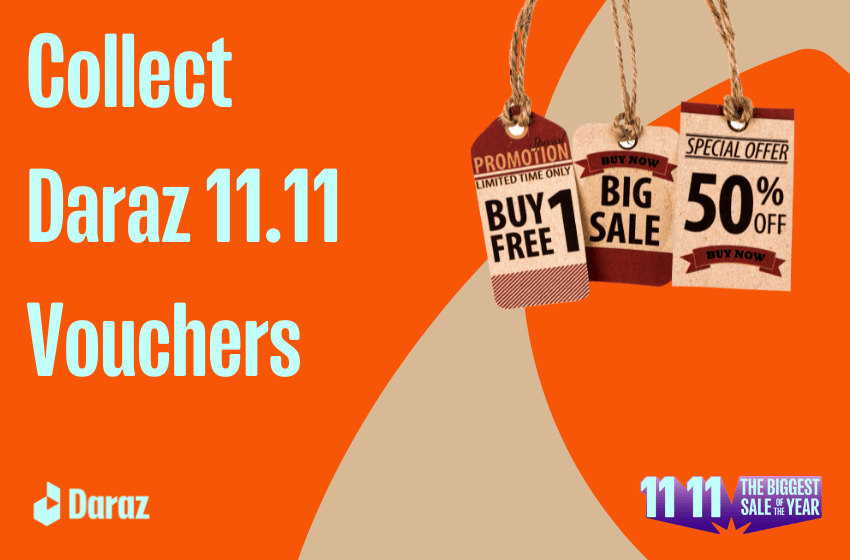 Avail Daraz 11.11 vouchers this year in this mega 11.11 sale which is around the corner and the preparations to bring mega savings and discounts to online shoppers in Pakistan are at an all-time high! Gear up for the most anticipated Daraz 11.11 sale with us and get to know about all the mind-blowing deals and exciting events that are happening.
Daraz 11.11 sale isn't just another online sale but a mega shopping festival where you can get discounts, coin discounts earn rewards, Daraz 11.11 vouchers, participate in giveaways and so much more. It is all about saving immensely and making the most of it.
So, for this year's 11.11, we're here with better-than-ever offers, check them out below!
Daraz 11.11 Dhamaka offers
Starting at 12 am on the 11th of November this year, you can get exclusive 11.11 Dhamaka Offers on the Daraz App and websites. From super low rates on brands and price slashes on assorted categories, it's an offer you can't miss. So what are you waiting for? Don't miss these exciting Daraz 11.11 vouchers.
Golden Hour Flash Sale
Daraz is back with its most anticipated Golden Hour flash sale where on the 11th, you can witness a huge one-hour sale where you can get a chance to buy products like TV, washing machine, bike, AC, dispensers, geysers, and more for just Rs. 11!
Just head over to the Daraz App and stay tuned for the flash sale between 12AM to 1Am and start saving like never before!
Daraz Vouchers Galore for 11.11!
Wondering how to use Daraz Vouchers? We've got you covered! Click here for a full guide on how to use Daraz Vouchers when you shop this 11.11!
New User Voucher
First-time shopper? Check out Daraz New User Voucher and get some extra money off your purchase!
Mega Vouchers for Ultimate Savings!

Save big this 11.11 with Daraz vouchers! Collect them on the product page and watch as the discount is applied on checkout!
Apart from that, with multiple Daraz bank discounts available like HBL, Standard Chartered, Easypaisa, and Askari, you get double savings on your purchase when you pay with your debit or credit card.
Win Missions with Daraz Coins
Earning rewards while shopping seems like a treat! Now with every purchase that you make, you get to earn points in the form of Daraz coins which are redeemable against discount vouchers. With Daraz coins you get to claim rewards every day. So shop all you want and earn fun and exciting rewards from Daraz!
With every new purchase, you will get Daraz Coins and which will automatically add to your Daraz app, and a chance to earn massive discounts.

Daraz One Rupee Game
The Daraz One Rupee Game has always been a favorite during mega sales on Daraz. This time try your luck and get a chance to win a 1300 CC car or an iPhone 12 for just Re. 1. All you have to do is buy the deal available for RE. 1 by paying from your Daraz wallet.
Don't believe it? Try it on your own and avail yourself of the chance to get a brand-new Car for yourself.
Add to Cart & Win
Adding to the cart doesn't just save your products; this 11.11, you can win an exciting prize simply by adding 5 items to your cart and automatically get selected to be a part of a lucky draw!
You can win all the products by just adding them to your cart.
11.11 Super Brand Discounts

Find amazing deals with up to 75% off on your favorite brands like Unilever, P&G, Dawlance, Haier, TCL, Infinix, Xiaomi, Realme, Sapphire, and plenty more!
Free Shipping with TCS
Who doesn't like free shipping? For this 11.11 sale, Daraz has partnered up with TCS to bring you free shipping on selected products. Simply head to the 11.11 main page and select the free shipping icon to view the products available!
Moreover, you can win every day and stay updated with discounts and exciting shows on Daraz Live on the App. And also catch the Daraz Gala show, Jeeto Pakistan exclusively on Geo TV and Daraz Live app!
It's the biggest online sale in Pakistan and we're looking forward to helping you make the most of it!
Use code and win a bike
All you have to do is to Buy Now! Buy Now for Rs 1100 and above purchases or items using coupon code GYARAGYARAORDER and enter this in your voucher code space.
And get a chance to win a 70 CC bike! 10 winners will be selected in total.
Review and Earn
Do you know you can earn from Daraz by giving reviews after your every purchase?
Open your Daraz App or website.
Click on "My Account" and select the "To Review" icon at top of the page.
You'll now see your previous orders that you have to review.
Select an honest rating and give reviews on Daraz products.
You can even post pictures of the product you have received.
When you're done, click on Share Review to make it public.
See how simple was this! Get an amazing chance to win discounts and gift vouchers on this 11.11.
EMI Giveaway
Daraz offers interest-free installments with an EMI Plan for up to 36 months. Now, you can pay in installments and even win exciting prizes via lucky just by making a purchase over Rs. 10,000.
All you have to do is to purchase items above 10K on installment and get a chance to win a Rs 1000 voucher. Daily 5 Winners will be selected for additional giveaways and vouchers.
Now making it even more interesting purchase items above 10K on installment and get a chance to win a 32″ inches LED TV. Daily one winner will be selected for giveaways and gifts.
On the 11.11 campaign day purchase items above 10K on installment and get a chance to win a 65″ inches LED TV. One winner will be selected by the Daraz team!
Conclusion
Now, what are you waiting for? Go Grab yours and make this 11.11 memorable! Also, check out Daraz Like New blog, that'll allow you to purchase your favorite tablets and laptops in slightly used condition with up to months of Daraz warranty at absolute steal prices!
Also, read Make the most of 11.11! | How to create Easypaisa account | Join Daraz Club and win a phone | Daraz Bazaar | How to make easypaisa account