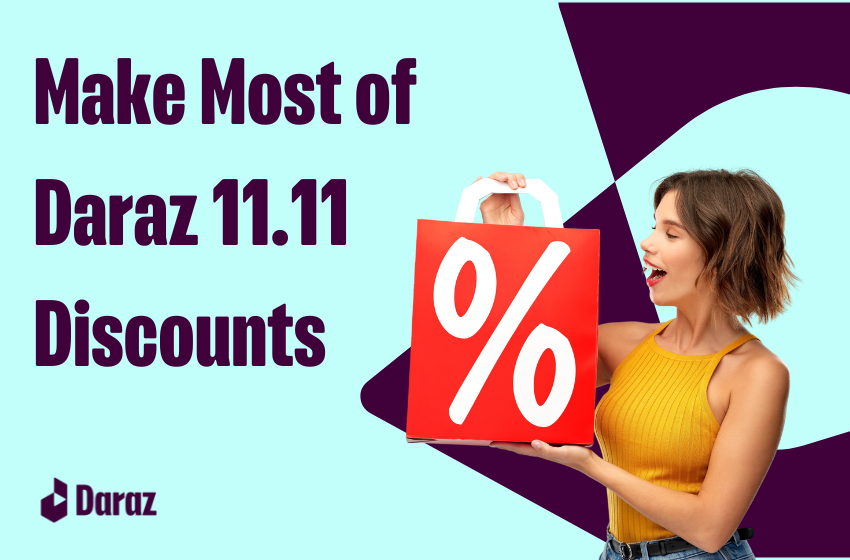 Here's How You Can Make the Most of Daraz 11.11 Discounts This Year!
Hello everyone! If you're here, then you know Daraz 11.11 discounts are coming right up in a few days! it's one of the biggest sales in Pakistan where you can shop your heart out. This means that you should gear up already because it is time to go on a shopping spree!
So, are you excited?
But hey! We want you to make the most of this amazing 11 11 sale on Daraz – and that's why we at Daraz blog bring to you all these hacks!
Now, let's get started, shall we?
Download Your Daraz App!
This one is SUPER important! The Daraz app is your gateway to so many exclusive sales, deals, rewards, and whatnot! The app will also improve your experience with its user-friendly experience.
So, download your app now!
Play Mission 11.11
Mission 11.11 is an exciting game on the Daraz app that you can play to win exciting rewards! During the time the game goes live, you'll have to complete a number of missions within specified deadlines. On completing all missions, you'll get to win some super exciting rewards!
Keep Track of All the Mega Deals!
There are going to be a lot of deals and flash sales going on throughout the span of the Daraz 11.11 sale. The best way to stay on top of your 11.11 deals and discounts game is to check your app frequently. Daraz has millions of products that will go on amazing sales and discounts – so make sure you don't miss out on these!
Become a member of Daraz Club
A loyalty club where members will be able to get exclusive benefits for being loyal shoppers on Daraz.
You can purchase an order to earn coins after July 2022. You need to earn 1500 coins to become a member and avail yourself of the amazing benefits. You can place a minimum of 2 orders worth 750 or more.
You need to collect the required number of coins mentioned below within a particular period. There are two periods each year (1st Jan-30th June) & (1st July-31st December).
It means you can make a purchase starting from July 1st to December 31st. After December, your status will expire. So become a member of Daraz Club and get a chance to win multiple discounts and giveaways.
Learn How to Become a Member of Daraz Club Daraz Club!
Don't Forget About the Vouchers
Daraz 11 11 vouchers are our way of telling you that we're so glad you're here and we definitely don't want you to return without buying anything!
You should keep an eye out for voucher codes that different sellers offer. And more importantly, you must absolutely check out the 11.11 vouchers that you can win through games, various purchases, and so on! For this, we must emphasize, you need to get on with the Daraz 11 11 app download.
Learn How to Use Daraz Voucher Code!
Daraz New User Voucher
Daraz's new user voucher is now Daraz's new user discount! Instead of applying the new user voucher code, you only have to download the Daraz app now. The new user voucher will be automatically applied at checkout of your first-ever purchase.
Daraz's new user discount is only applicable on first-time orders only. It's not a collectible voucher that you'll have to collect in order to redeem. The new user discount will be applied automatically! All you need to do is download your Daraz app and place your very first order now!
Learn How to Use a New User Voucher!
Take Full Advantage of Payment Promotions
Keep your bank cards ready because you're going to get some jaw-dropping discounts with Daraz's 11.11 payment partners. Just check what Daraz 11.11 offers are we giving on your card and shop without any tension!
Fill Your Shopping Cart
Whatever you like, just add it to your cart right away! Even if it's out of stock, add them. This way, you can order right away when the 11.11 sale kicks in. And in case your items are out of stock, your Daraz app will notify you when it's restocked and you can place your order then! Just remember to turn on your notifications so you don't miss out on Daraz.
Check Out Daraz Buying Guides
If you want to make sure you're selecting just the right products, then Daraz buying Guides can totally help you! Daraz Buying Guides is your personal shopping guide with handpicked products by the Daraz Blog to help you shop smarter and better! If you want to read more about this, check out our blog to know what you need with Daraz Buying Guides!
Keep Revisiting the App

Do you know why you need to keep coming back to us? Because we have a lot of surprises for you – mystery boxes, flash sales, and much more! And the only way to find out what new surprise has popped up on Daraz is to go and check out Daraz!
With all these tips, you should be good to go for our upcoming 11 11 sales in 2022! In case you want to learn things like how to buy authentic products from Daraz or how to return products on Daraz, then visit our Help Center page to get the best customer experience on Daraz during the 11.11 discount and deals!
---
Check out our Daraz 11.11 page to learn more about the deals, discounts, and how to shop safely on Daraz 11.11!