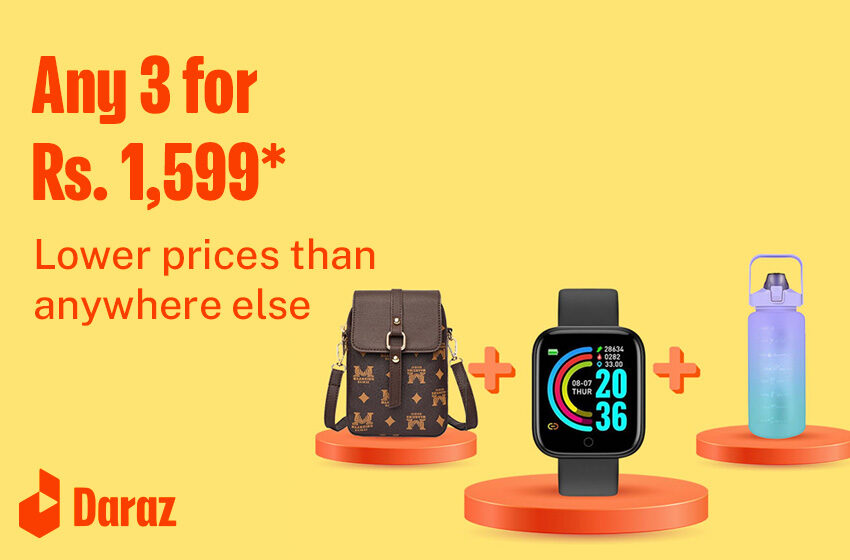 CHOICE: THAT'S ALL YOU NEED
Welcome to Daraz's exclusive shopping experience, "Choice." In a world of choices, we understand how finding the perfect product can be overwhelming. That's why we've crafted Choice, a unique way to simplify your shopping, bring you the latest and greatest, and offer exclusive bundle deals.
This comprehensive guide will walk you through how Choice works, and the benefits it offers, and answer a couple of frequently asked questions.
Table of Contents
Introduction
How does it work?
Benefits
FAQs
Conclusion
How does it work?
Here's a simple step-by-step breakdown of how to use this innovative feature: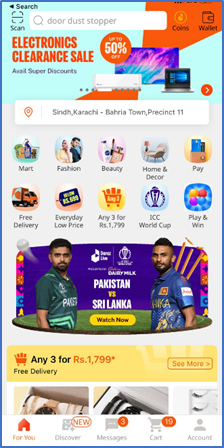 Access the Daraz App: Start by opening the Daraz app on your device. If you're not already using the app, it's easy to download from your app or Play Store.
Browse and Choose: Once you're in the app, you'll see the Choice option, or you can search for choice at the search option. This is where the magic begins. You can select three products from four categories: electronics, fashion, beauty, and lifestyle. Take your time to explore and pick the products that best suit your needs and preferences.
Fill Your Cart: Add your chosen products to your cart. The products you choose should belong to at least one of the specified categories, and you must select exactly three items.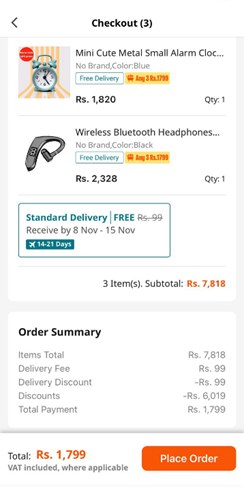 Payment: Once you have your three selected items in your cart, proceed to payment. The good news is that you can also enjoy exclusive bundle deals. For all new Daraz users, the special price is just Rs. 1,599. If you're a returning buyer, you'll still get an excellent deal at Rs. 1,799. Plus, all orders include free delivery.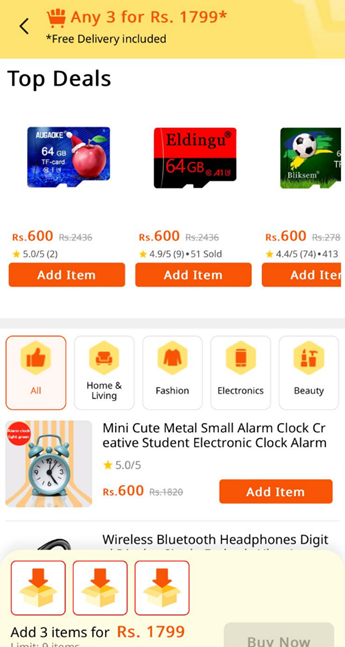 Top Deals: You can also see Top Deals at the top of the page. So, check out your favorites and order using the above instructions.
Please note that the current delivery duration is 10–12 days, but keep in mind that this may change towards the end of November. It's important to make sure your selections are available on the list, as this offer applies only to products in that category.
Benefits
Now that you know how Daraz Choice works, let's look at the benefits:
Simplified Shopping: The most significant advantage of Daraz Choice is the simplicity it brings to your shopping experience. No more endless scrolling through product listings; you can confidently choose from selections in four major categories.
Exclusive Deals: As a new user, you get an incredible offer at just Rs. 1,599 for three quality products, and returning buyers are not left out with the attractive price of Rs. 1,799. These exclusive bundle deals offer excellent value for your money.
Free Delivery: Say goodbye to those extra delivery charges. All orders through Daraz Choice come with free delivery, ensuring you save even more.
Time Efficiency: By streamlining your options and offering a clear purchase structure, Daraz Choice helps you save time and make better choices.
FAQs
1. Can I choose products from different categories in Daraz Choice?
Yes, you have the flexibility to pick products from the electronics, fashion, beauty, and lifestyle categories. However, ensure that you select three products, and they must belong to at least one of these categories.
2. Is there a limit to how many times I can use Daraz Choice?
There is no set limit to how many times you can use Daraz Choice. It's available to all users, whether you're new to Daraz or a returning customer. Feel free to make the most of this fantastic shopping feature whenever you need it.
Conclusion
Daraz Choice offers a refreshing approach to online shopping, making it simpler, more affordable, and more efficient. With its exclusive bundle deals and free delivery, it's designed to enhance your shopping experience and help you discover the best products in a hassle-free manner. So, go ahead, explore, and take advantage of this remarkable offer on the Daraz app today. Happy shopping!
Also, read Make the most of 11.11! | How to create Easypaisa account | Join Daraz Club and win a phone | Daraz Bazaar | How to make Easypaisa account