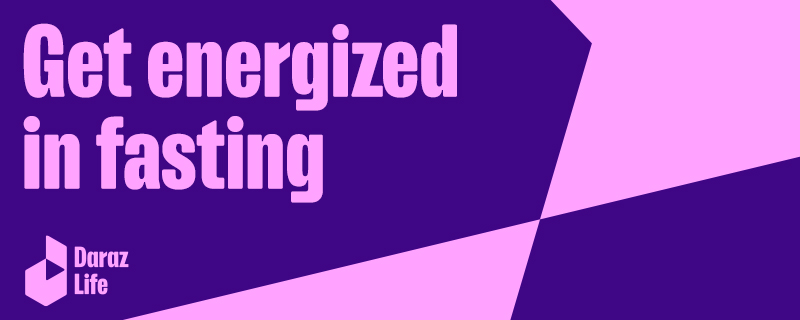 Fasting Mistakes You're Making That Make Your Energy Levels Low!
As the most blessed time of the year approaches, we can already feel the excitement around us!
Ramadan for Muslims is a month full of spiritual awakening that brings us all closer. From the early hours of Sehri and till the hustle and bustle in the wee minutes before Iftari, it is something that always makes us smile later on!
With Ramadan, our schedules and lifestyle see a drastic change and adjusting to it takes time. However, as this year's Ramadan will slightly be tougher due to the quarantine and the scorching heat of Pakistani summers, fasting can bring you down with fatigue!
Most people don't know it, but, they tend to follow certain habits that make them feel tired and low on energy throughout the month!
If you're one of those people or know someone who goes through the Fasting blues, then you could be making some mistakes that make you feel low.
Here's what you should do to make sure you stay energized throughout the day while Fasting!
1) Avoid taking too much caffeine in Sehri!
It might be true that caffeine is the ultimate source of energy for some, but, when you're fasting for the whole day ahead, the caffeine crash is likely to affect you!
When the coffee or the chai effect wears offs, our bodies tend to feel tired as it creates a need for dependency. It can also cause you to feel jittery and feel thirsty more. So, avoid taking your strong dose of Chai and Coffee in Sehri every day!
2) Sleep well and on time!
While many of us currently have a messed up routine, (thank you lockdown), it is no surprise that most of us would be up till Sehri time and sleep after it past till noon. This is the perfect recipe to feel lethargic and tired throughout the day!
So, make sure you're tucked in bed and have nice, quality sleep.
3) In Sehri, eat foods that keep you hydrated!
Even though we all love spicy and flavourful food, it is better it to avoid spicy and salty foods and instead have fresh fruits, whole wheat foods, yogurt, and vegetables in your diet. This will make us feel fuller for longer and keep us from feeling tired quick.
4) Going overboard with Water/Juice during Iftari!
Remember how you once almost fell asleep during the Maghrib prayer? We've all been there. Water might seem like a blessing during Iftari but going overboard with it at the sound of the Maghrib azan is a terrible way to feel sick and dizzy post iftari.
Take it moderate amounts and having that chai or coffee post Iftari is the perfect way to feel active.
5) Power Naps are always a good idea!
A power nap has never hurt anyone (unless you're a driver). If you're tired or feel like the fatigue is getting to you, a power nap is definitely a great way to kick back into feeling fresh and energetic again!
6) Being too idle makes you lethargic
If you're one of those people that avoid doing too much work in the month of Ramadan so you feel less tired, well, we hate to break this up to you. According to research, the idler you are while fasting, the hungrier you might get soon. Of course, this is why when you're bored our first instinct is to eat. So, make sure you keep yourself distracted!
7) Incorporate nuts and dried fruits in your diet!
Instead of consuming oily and fried snacks, opt for a more healthy diet.
Dry fruits and nuts are blessings in disguise! Nuts such as almonds, walnuts, raisins and most importantly, dates are full of vitamins and minerals that you would need to feel energetic throughout the day!
Are you ready to boost those energy levels and be at your best this Ramadan?
---
Want to make an online donation this Ramadan? Check out Daraz Ramadan initiatives to meet all your charitable requirements.
Follow our blog Daraz Life for more Ramadan tips and ideas, click on discover more!
---
Download the Daraz App and make your shopping experience hassle-free!