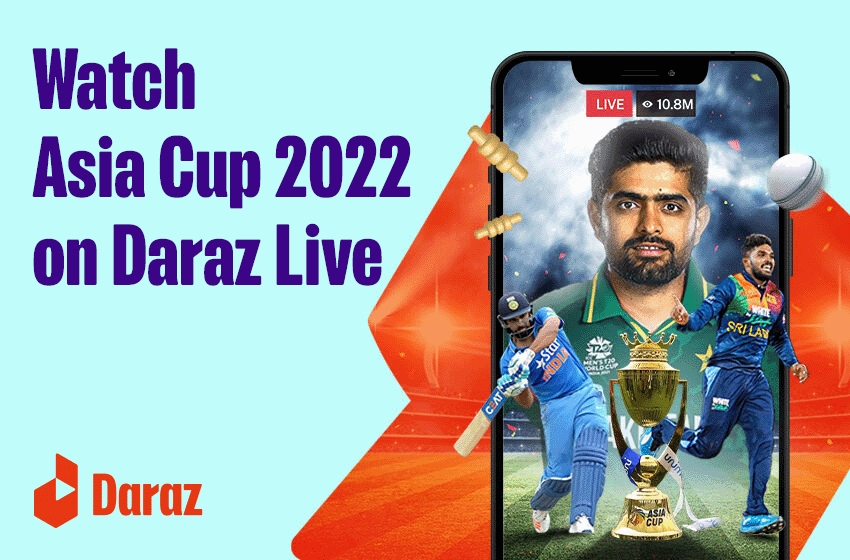 Asia Cup 2022 Live Cricket Streaming In Pakistan
Daraz Live Cricket Streaming In Pakistan. Watch Asia Cup 2022 Live Streaming In Pakistan And Enjoy Live Cricket Match on 27th August 2022 Online.
Watch it on Daraz live with us! If you have the Daraz app, then you can watch the live tournament of the Asia cup on live streaming. The Asia Cup 2022 Live Streaming will be starting at the end of August so it's important for you to know where to watch it live.
All cricket lovers MUST watch live cricket in Pakistan. There are multiple options for the coverage of live sports but with Daraz live you can enjoy it without any lags and hassle. Daraz live streaming app will give you access to watch live streaming matches wherever, whenever!
According to the ACC (Asian Cricket Council), the Asia Cup 2022 schedule is going to last till the 11th of September. Cricket enthusiasts are going to find their days packed with non-stop excitement as they'll be occupied watching live cricket matches. Make the most of Daraz live cricket streaming app and watch cricket online without signing in!
How Many Team will Participate in Asia Cup 2022?
A total of six teams will play to compete for the crown of Asian Champion of cricket. Here is the list of teams playing in the Asia Cup 2022:
Pakistan
India
Bangladesh
Sir Lanka
Afghanistan
Hong Kong
Asia Cup 2022 Groups
The six teams are divided into two groups:
Group A: India, Pakistan, Hong Kong
Group B: Afghanistan, Sri Lanka, Bangladesh
Top two team from each group will qualify for Super Four.
FAQs
Can I watch Asia Cup 2022 on Daraz app for free?
Yes, absolutely you can watch the Asia Cup live streaming only on Daraz Live.
Do I have to sign up for Daraz app to catch Asia Cup 2022 live streaming?
No, that's the fun part! you can now watch online streaming without signing in.
Who will broadcast Asia Cup 2022?
Click here to watch the live broadcast and stream.
How can I watch Asia Cup 2022 for free without cable?
Watch the Asia cup 2022 for free without cable on the Daraz app! With the Daraz Live app download, you will get to watch Ban vs Afg live cricket matches streaming for free without any cable!
---
Enjoy T20 World Cup Live Streaming Today!
[ Also Read: T20 World Cup 2022 Schedule | Watch Pakistan vs India World T20 Match ]