Catch Pakistan vs India Match this ICC t20 World Cup 2021 And Find the Pak vs India Match Time And Full Details of Pak VS India t20 Match Schedule And Live Streaming!
Pakistan vs India first match for the ICC T20 World Cup 2021 will be played today and there's no doubt the Pak vs India T20 match is one of the most hyped-up and anticipated cricket matches to take place. The ongoing rivals have fans from their respective country passionately support the teams and this Pak vs Ind World Cup 2021 will be played at 7:00pm and is expected to have a huge crowd in the Dubai International Stadium.
The Pakistan vs India t20 match tickets for the game were sold out within hours after being put on sale so if you're looking to watch the match for free without any interruptions, you watch India vs Pakistan match live streaming on Daraz!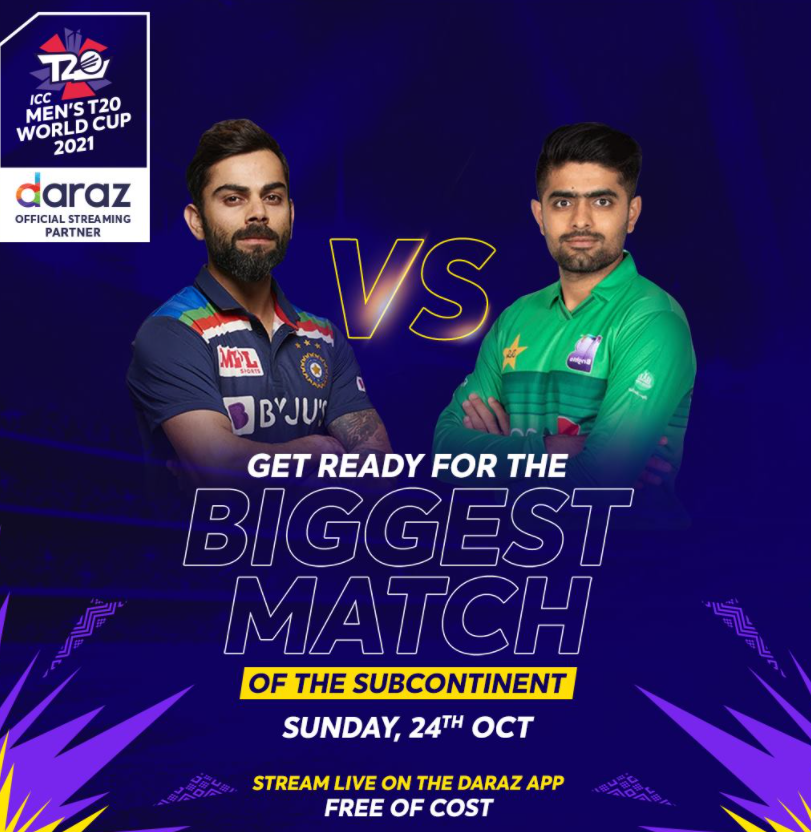 Watch PAK vs IND T20 Match 2021 Live Streaming: How to Watch Match on Daraz?
The Pakistan vs India match live streaming will be aired on the Daraz App at Daraz Live where you can watch all the ICC T20 Matches for free! All you have to do is download the Daraz App and click on "ICC T20 Live" icon on the banner! The T20 2021 India vs Pak t20 match will be a full-fledged and exciting match as both the teams are the top favorites in the top 5 super 12 teams. So, make sure you have the Daraz App downloaded to enjoy the IND vs Pak t20 2021 match for free with ease anywhere!
[Also Check: ICC T20 Matches 2021 Schedule]
The ICC T20 World Cup 2021 is the first tournament to be played after the pandemic. The matches started earlier this week with the first matches played among the qualifier teams where Scotland and Sri Lanka are standing with top points in Group A and Group B. Where as among the Super 12 stage, the first match was played between South Africa and Australia where Australia won the match with 5 wickets and the match was played between England and the defending champions West Indies where England won by 6 wickets.
Whereas, the second set will be played among the South Asian super teams. At 3pm you can watch Sri Lanka vs Bangladesh t20 match and at 7pm the home team with India with Pakistanis have their hopes high for the win. The Pakistan cricket captain, Babar Azam made a statement in a press conference on Saturday where he mentioned that batting will be the main strength for the team.
"I think this time our main strength is batting. The way our batters have been performing over the last couple of months, I am very hopeful that we will produce some good results due to our batting and also do better in the field," Babar Azam, as reported by the ICC.
You can catch the Pak vs India match schedule and Pak vs India t20 fixtures, highlights, and scores on this page: Pak vs India T20 Schedule
ICC T20 World Cup 2021 Pak vs Inda Match Details
Pakistan vs India Schedule:

Date: October 24 (Sunday), 2021
Time: 7:00 PM Pakistan Standard Time
Venue: Dubai International Stadium, Dubai.
Pakistan vs India T20 2021 Match Squad:
Pakistan Cricket Team Squad:
Babar Azam(c), Asif Ali, Azam Khan, Haris Rauf, Hasan Ali, Imad Wasim, Khushdil Shah, Mohammad Hafeez, Mohammad Hasnain, Mohammad Nawaz, Mohammad Rizwan(wk), Mohammad Wasim, Shadab Khan, Shaheen Afridi, Sohaib Maqsood
India Cricket Team Squad:
Virat Kohli (c), Ravichandran Ashwin, Jasprit Bumbrah, Rahul Chahar, Ishan Kishan, Ravindra Jadeja, Bhuvenshwar Kumar, Mohammad Shami, Hardik Pandya, Rishabh Pant (wk), Axar Patel, KL Rahul, Rohit Sharma, Varun Chakaravarthy, Suryakumar Yadav

T20 World Cup 2021 Matches: Where to Watch in Pakistan
Watch the t20 world cup matches live streaming on Daraz Live. So, Download the Daraz App now and catch all the t20 matches live stream in Pakistan!