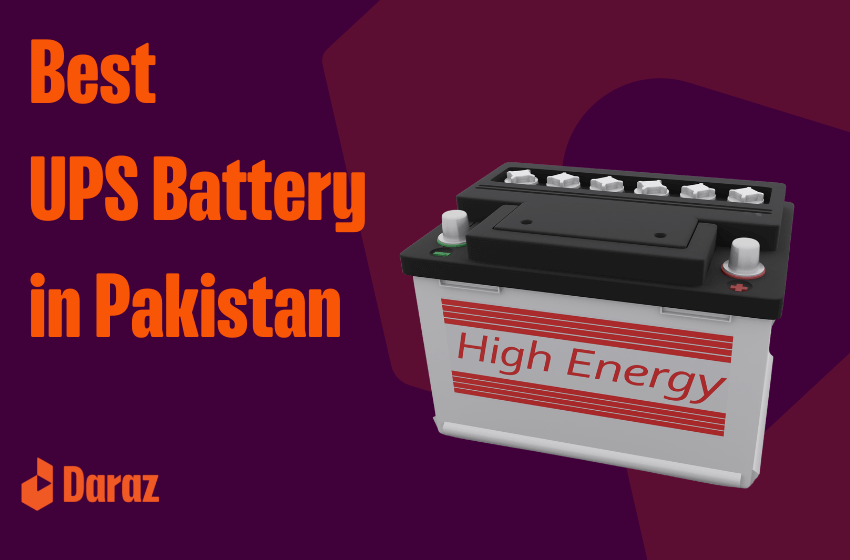 Best Battery for UPS in Pakistan with Prices
Due to a rise in load-shedding in Pakistan, UPS has become a constant fixture in households, workplaces, retail establishments, etc. Get the Best Battery for UPS in Pakistan only on Daraz!
Pakistan is a country that is highly prone to power outages. In fact, power outages are so common that they have become a way of life for many Pakistanis. A UPS can be a lifesaver during a power outage, but only if it has a good battery.
There are many different types and brands of batteries available on the market, so it can be difficult to know which one to choose. To help you make the best decision, we have compiled a list of the 10 Best Battery for UPS in Pakistan.
Best UPS Battery Price in Pakistan
The cost of an Osaka battery in Pakistan ranges from Rs. 7,400 to Rs. 56,200.
Phoenix batteries cost Rs. 7,800 and Rs. 61,500 in Pakistan.
Homage Battery's best price in Pakistan is Rs. 18,834, and its cheapest price is 8,449.
Volta batteries work best in the Rs. 4500 to Rs. 25,000 range.
AGS In Pakistan, batteries cost between Rs. 11,200 to Rs. 46,600.
Bridge Power Batteries can be purchased in Pakistan for as little as Rs. 2,000 or for as much as Rs. 15,240.
The cost of a Fujika battery ranges from Rs. 4000 to Rs. 15000.
List of 7 Best Battery in Pakistan 2022
1) Osaka Battery
The best manufacturer of this new product to find success is Pakistan's Osaka Battery. A well-known company called Osaka is known for its budget-friendly batteries. Lead acid batteries of many shapes and sizes, including tubular, dry-charged, maintenance-free (no water loss/evaporation protection), and valve-regulated batteries, are offered under this trademark.
Osaka batteries range in capacity from 40 to 260 AH for UPS. The Osaka battery is a high-performance battery that features tubular positive plates and thick negative plates for increased longevity. Low internal resistance and good electrical performance make this an ideal choice for solar applications where high battery cycle life is desired, as well as for UPS and inverter systems and telecom power supplies. Plus, easy-carrying handles and low self-discharge make the Osaka battery wanted in homes.
2) Phoenix battery
Phoenix is one of the leading UPS battery brands in Pakistan! This company sells a wide variety of batteries with various applications, including UPS. Phoenix offers a wide selection of batteries, even for UPS. Although the business also offers a line of tubular batteries, the majority of them are straightforward lead-acid batteries. For UPS, its battery capacity is between 40 and 280 AH.
The Phoenix UGS175 is a great battery mostly because of its adaptability. At 12 volts, it boasts a whooping 140Ah ampere rating. In addition to generators, it can be utilized for solar panels and UPS systems. This battery includes a free six-month replacement warranty. It's a fantastic addition to any house, especially if your neighborhood has electricity problems – you'll be the envy of the block!
Comparing tubular batteries to conventional lead-acid flat plate batteries, there are certain differences that make the former a much better option! Both employ the same materials, but their designs and performances differ. The positive plate is concealed behind a tube that houses the electrodes' power. Tubular batteries outperform conventional batteries in terms of performance and lifespan. The 70Ah tubular battery known as the TX700 is an ideal choice for inverters and UPS systems.
3) Homage Battery
One of Pakistan's most popular and well-known battery brands is Homage. With a steady power supply, these batteries are suited for all environmental circumstances. Made specifically for UPS systems and inverters, they can also be used in solar panels to prevent power problems. Homage batteries are ideal for power backup equipment because they require no maintenance and have an expected lifespan of 18 to 20 months.
Below are the homage batteries specifically designed for UPS:
It has thicker plates and employs deep discharge to retain a lot of energy. It features a higher active material ratio and a large cycling capacity. Comparatively speaking, it is better than A.G.M. batteries. HB-146G, HB-196G, HB-210G, HB-50G, HB-70G, HB-150G, and HB-200G are among the models included.
Absorbed Glass Mat (A.G.M.) batteries were created specifically for glass mat separators. These have minimal self-discharge and are non-spillable. It contains House Bills 45, 65, 145, 165, and 195.
4) Volta Battery
For the past 20 years, Volta has been actively electrifying Pakistan and has been the market leader with an unrivaled product line of exceptional build quality. In the development of 12V tubular flooded lead acid batteries, Volta is a pioneer. These Deep Cycle batteries were created especially for Solar & UPS applications. In comparison to current SLI (Starting, Lighting & Ignition) and conventional UPS batteries, this battery's production design is unique.
It increases battery life by having a thick negative plate for heavy discharge and a tubular plate for positive charging. With its tubular positive plate and thick negative plate, this battery can handle more than 1500 cycles at 60% DoD. Plus, its low internal resistance and easy carrying handles make it a great choice for solar applications, UPS & inverter systems, and telecom power supplies.
5) AGS Battery
AGS is a well-known battery manufacturer not just in the nation, but across the globe. They have received international certification for maintaining quality standards. Their batteries are known to be reliable and have a huge variety with amazing backups. AGS batteries are available in a huge selection. For UPS, their battery capacity can reach 220 AH and start at 45 AH.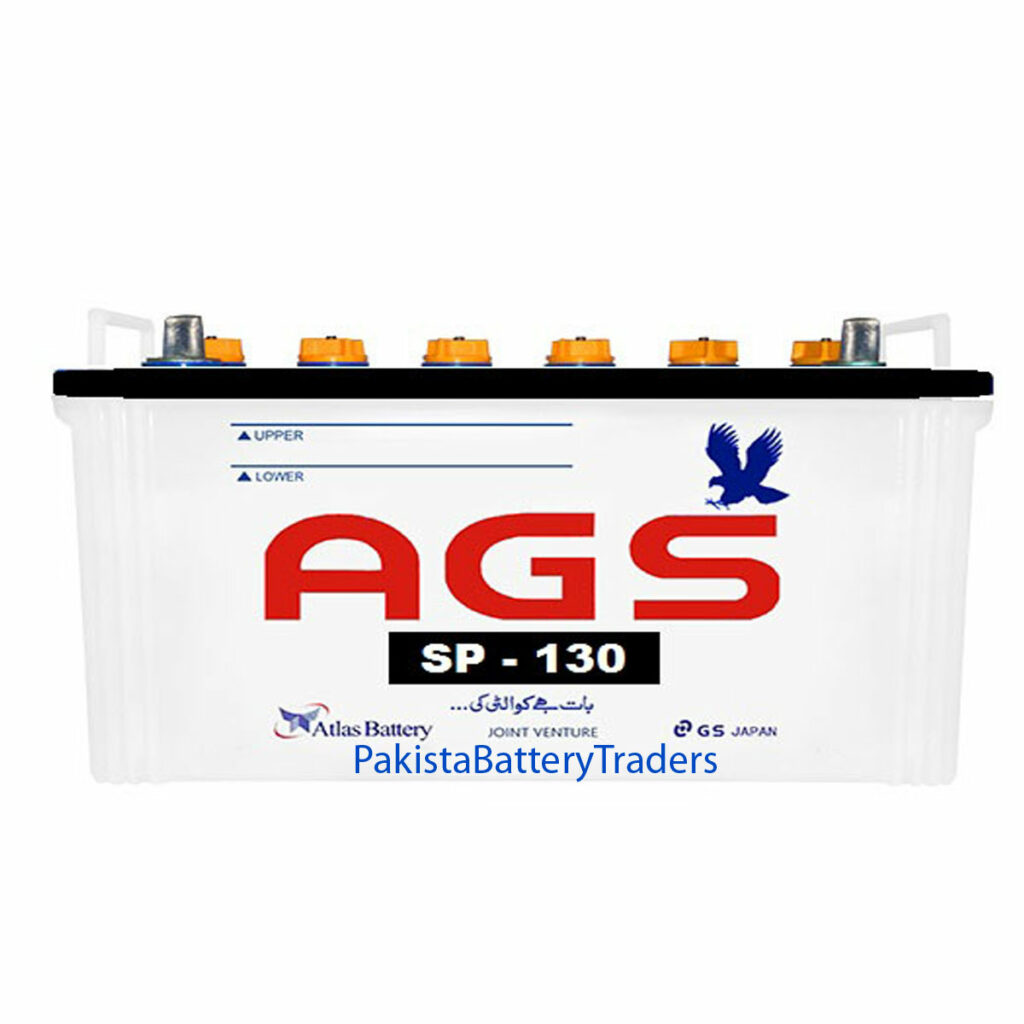 Certifications
1. ISO 9001
2. ISO 18001
3. ISO 18001
AGS GX175 Battery
One of their most well-liked and successful batteries is the GX175. There are 23 plates inside this battery, which has a 12V rating. For extended power backup, this lead-acid battery is frequently coupled with a UPS. It comes with a one-year replacement guarantee and a 140Ah rating.
6) Bridge Battery
One of the well-known businesses in Pakistan is Bridge Power, which prides itself on providing consumers with the greatest battery power solutions at fair prices. Bridge Power Batteries is a name synonymous with dependability and durable performance. Whether you're a victim of prolonged load shedding or an adventurous soul who likes to go on winding roads, Bridge Power Batteries make every journey or battle with the power supply easier.
L.T.V. batteries
It is made up of the RB-30 through RB-85 series of Bridge power batteries, which are frequently used in UPS, cars, and light-weight vehicles
7) Fujika Battery
For those looking for a dependable power supply, the Fujika battery is a high-quality, durable solution. It offers clean and reliable electricity, making it ideal for UPS systems and other solar panels. It is available in several shapes, sizes, and voltages. There are Fujika batteries accessible in Pakistan, and these batteries may also be purchased online on the Daraz app. These batteries are also covered by a warranty.
Battery Type: Fujika Tubular Plate Deep Cycle
It has a one-year replacement warranty and is utilized for U.P.S. and solar inverters. Additionally, it consists of U.P.S., solar inverters, and other battery types designed specifically for use in autos.
Which battery is best for UPS dry or liquid
It won't be necessary to replace a liquid battery as frequently because it lasts considerably longer than a dry-cell battery. Additionally, they are lead-acid-free. Deeper Discharges: A wet-cell battery's discharge rate is also more tolerant, so the cells can be fully depleted without causing harm.
Lithium Ion vs Non-Lithium Ion battery
Unlike lithium batteries, which are single-use, lithium-ion batteries can be recharged. The type of cell that each battery uses makes a significant distinction between lithium and lithium-ion batteries. Lithium batteries are made of primary cells. This indicates that they are non-rechargeable or single-use. On the other hand, ion batteries have secondary cell architecture. They can therefore be recharged and utilized repeatedly.
Your search is ended if you were looking for the greatest UPS battery in Pakistan. We included the most well-known battery manufacturers in the nation along with their prices.
FAQS:
What is the price of a UPS battery in Pakistan?
The Lowest price of an UPS Battery in Pakistan is Rs 4000, and the estimated average price is Rs. 15,000
Can I use lithium batteries in UPS?
No, Lithium batteries have a large capacity for energy storage and very low cell resistance. An explosion or extremely hot lithium fire might happen if a line of cells or batteries were to short circuit.
Conclusion
Now, what are you waiting for? Grab the battery for your UPS inverter to counter load shedding effortlessly! Also, check out Daraz Like New blog, that'll allow you to purchase your favorite tablets and laptops in slightly used condition with up to months of Daraz warranty at absolute steal prices!
---
[ Also Read: Best Inverter UPS in Pakistan | Best Electric Geyser in Pakistan | Best Refrigerator in Pakistan ]