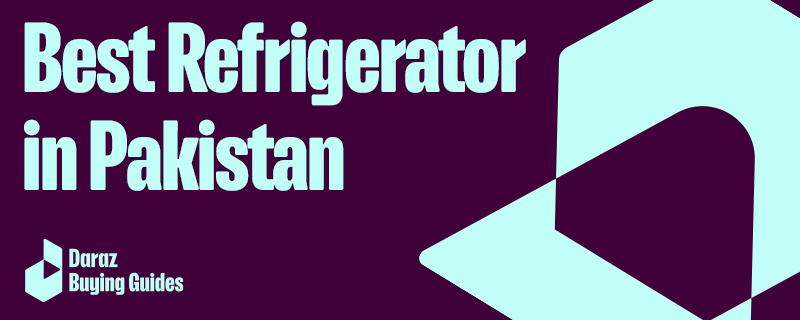 Fridge Buying Guide: List of 8 Best Refrigerators Brands in Pakistan
Are you considering buying a refrigerator for your home but not sure what to get? Then, you have come to the right place. In this buying guide, we are listing down the best refrigerators in Pakistan that you can buy online with amazing prices.
Also Read: [ Women Vitamin | Solar Company | Setting Spray | Juicer Blenders | Office Chairs | Rado Watches | Car Batteries in Pakistan | How to Buy Refrigerator on Installments in Pakistan | Portable AC in Pakistan | Haier Washing Machine | Pedestal Fans ]
So, without further ado, let's have a quick look at the best refrigerator in Pakistan 2022 with prices
Best Refrigerators in Pakistan with Prices 2022 (Quick Guide)
A refrigerator is a must-have electronic home appliance in every household in Pakistan. Especially at the time of Eid-ul-Azha and summer, when the demand for refrigerators and freezers in Pakistan peaked.
Now, the refrigerator is not only about the artificial cooling storage machine, it is about lifestyle and smart living.
The innovative advancement in refrigerators such as ice cube maker, touch screen, smart control, and glass design are the major factors that buyers give utmost priority when buying refrigerators.
Other than that, storage capacity, energy efficiency, compressor, and type of refrigerators (single, double, triple door) are also considerable factors that influence refrigerator buying decisions.
Keeping every need in mind, we have compiled the list of some of the best refrigerator brands in Pakistan offering several kinds of fridges that cater with the needs of every buyer.
Top Refrigerator Brands in Pakistan 2022
1. Dawlance
2. Haier
3. Orient
4. PEL
5. Gree
6. Samsung
7. Kenwood
8. Changhong Ruba
So, without further ado, let's find out the best refrigerator in Pakistan for you. Don't forget to check out the factors we have mentioned at the end of this guide that you should consider for your fridge shopping!
1. Dawlance
Dawlance is one of the most credible and reliable home appliance brands in Pakistan. The years of services in the electronic appliance market helps Dawlance to acquire notable market share.
The refrigerator line of Dawlance is noteworthy, it is usually the first choice of the customer when searching for the refrigerators.
Dawlance offers a wide range of refrigerators catering to the different needs of customers. Here is the list of all Dawlance refrigerator:
Nature Look – The innovative technology controls the air and humidity intelligently to keep vegetables and fruits fresh for up to 20 days.
Vitamin Fresh – The advanced technology used in these refrigerators stimulates natural lighting conditions that preserve the food with optimum level of vitamin A & C.
Hybrid Cooling – The foaming technology provides the longest cooling retention to enhance the food preservation that prolongs the freezing capacity with the bonus of energy saving feature.
No Frost – The ideal mix of functionality and elegance. With elegant designs, it regularly defrosts the evaporator in refrigerators automatically.
Inverter Series – Save up to 55% energy with elegant designs such as mirror glass door, aesthetic fascias, and stainless steel.
H-Zone Plus Series – These hi-tech refrigerators save food from bacteria and enhance the food preservation by preventing the deterioration process.
Here are some of the top-rated refrigerator of Dawlance available on Daraz mall:
2. Haier
Haier is one of the most renowned multinational home appliances brands that has cemented its position and gained substantial market share in the international and domestic home appliance industry.
The high-quality electronic appliances, especially washing machines, air conditioners, and refrigerators keep getting on top of people's priority list as Haier keeps progressing in introducing innovative technology and automation in its products to make them more feasible to use.
Haier offers a huge range of refrigerators such as single door, double door, and French door, in aesthetic design. Furthermore, Haier offers several refrigerator categories to fulfill all kind of need:
Smart Refrigerator
SBS
T-Door
Turbo Cool
E-Star
Single Door
Here are the top-rated and best Haier refrigerator prices in Pakistan that you can buy from Daraz on installments.
3. Orient
Orient cemented its position and gained a decent market in Pakistan home appliance industry. The constant advancement in the technology in its products and coming up with innovative solutions to maximize the value provided to customers, makes Orient the ideal fridge brand to get your refrigerator for home.
Orient's high performing, eco-friendly, and energy efficient refrigerators provide a long-lasting freshness to food. Moreover, Orient uses UV-Light protection in its fridge to prevent the food from bacterial attack.
4. PEL
PEL is one of the leading home appliance manufacturers in Pakistan, offering high-quality and affordable products with hi-tech features. PEL refrigerators line has gained the trust of millions of Pakistani customers with its innovative feature, aesthetic design, and proven long-life.
To cater the different needs of different audiences, PEL introduced refrigerators in different categories with different size and features. Currently, PEL is offering four refrigerator categories,
Glass Door
Inverteron
Life Pro
Turbo LVS
Here are the best PEL refrigerator prices in Pakistan available on Daraz mall with installments options.
5. Gree
Gree is a Chinese based home appliance company and global leader in the air conditioner market. The rising popularity of Gree is a force to reckon with that influenced the audience to different electronic items including refrigerators.
Gree top of the line R&D, sales services, and top-notch manufacturing made it one of the finest electronic appliance producers worldwide.
6. Samsung
Samsung does not need any compliments to define its credibility. The excellent brand value, top of the line manufacturing, and stellar sales service makes Samsung the top choice to get refrigerators in Pakistan.
The South Korean conglomerates produce the finest fridge freezer and refrigerators with endless innovation and ground-breaking tech features that redefines the meaning of smart living.
Samsung offers four refrigerator types with different features:
French Door
Side-by-Side
One-Door
Top Mount Freezer
7. Kenwood
Kenwood is a British home and kitchen appliances manufacturer that produces and sells numerous products including mixer, blender, air conditioners, kettle, toasters, and refrigerators.
Over the years, Kenwood has cemented its position in the Pakistan refrigerator market and gained a decent market share by offering top of line fridge freezers and refrigerators that are engineered in the UK and manufactured in Pakistan. The state-of-the-art production helps Kenwood to keep the international standards in refrigerators in Pakistan.
8. Changhong Ruba
Changhong Ruba is one of the largest home appliances and consumer electronic appliances from China, their top-of-the-line production facility, manufacturing, and specialized R&D led them to create the ultra-high capacity refrigerators to give the top-notch customer experience.
The stylish refrigerators with smart features in the vast range of refrigerators cater the need of all kinds of audience.
Currently, Changhong Ruba offers two kind of refrigerator categories,
Smart DC Inverter Series
Fastest Cooling Series
Things to Consider Before Buying a Refrigerators
If you are confused about what fridge would fit perfect for your home or not sure what features to look into a refrigerator, then here is a brief and comprehensive refrigerator buying guide for you.
Refrigerator Types & Its Uses
Single Door – A economical option in a nuclear couple household (2 person)
Double Door – A bigger option for large family with large freezer space (4-5 person)
Side by Side Door – A large and spacious fridge option for big families (6-8 persons)
Energy Efficiency Rating (EER)
EER is scale between 1 to 5 stars, it is the ratio of refrigerator's cooling capacity. Refrigerators with 3 and above EER are considered good that help you to save decent money on electricity bills.
Features
Refrigerator is not just for cooling things and preserving food. It is more about smart living and an easy lifestyle. So, here are some features that you must take into consideration for your refrigerator shopping.
Smart Temperature Control
In-built Inverter Technology
Ice & Water Dispenser
Adjustable Shelves for Easy Cleaning
Conclusion:
We hope that our list of best refrigerators in Pakistan helped you understand what brand to consider and what to look out for in the fridge according to your needs.
So, go to Daraz App now and get the latest design and exclusive discounts of major refrigerator brands that you can buy on installments.
[ Also Read: Luggage Bags | Knorr Noodles | Philips Air Fryer | Cat Food | Super Asia Washing Machine | PlayStation in Pakistan | Haier Refrigerators | Dawlance Refrigerators | Haier AC in Pakistan | Best Waffle Maker | Best Deep Freezer in Pakistan | Best Stabilizer in Pakistan | Best Electric Kettle in Pakistan | Best Hand Blender in Pakistan | Best LED TV in Pakistan | Best Mattress in Pakistan | Best Geyser in Pakistan | Best Bicycle Price in Pakistan | Best Washing Machine in Pakistan| Best Ceiling Fans in Pakistan | Best Air Cooler in Pakistan | Best Inverter AC in Pakistan | Best Deep Freezer Price in Pakistan Best Water Dispenser in Pakistan | Best Electric Stove in Pakistan | Best Roti Maker in Pakistan ]