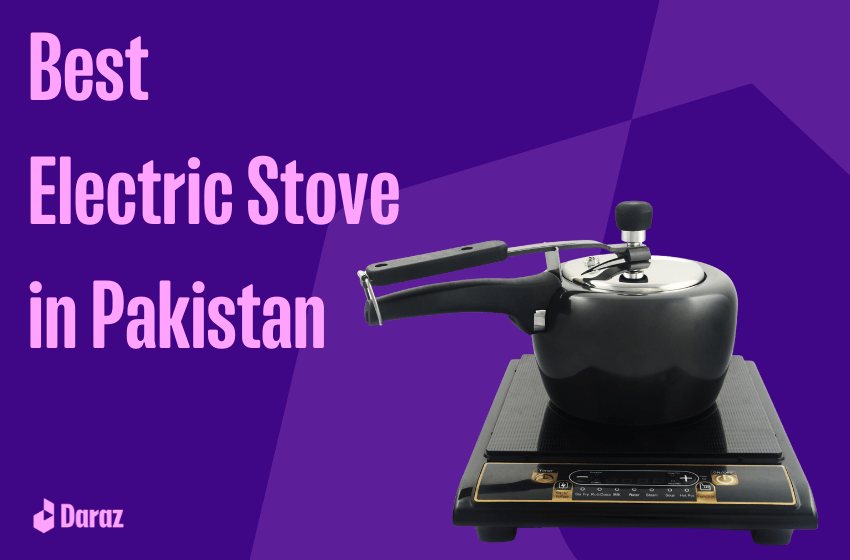 7 Best Electric Stove Price in Pakistan
Want to style your kitchen and make it look even more enjoyable? Daraz has bought you the Best Electric Stove in Pakistan with different ranges and maintains your affordability with several options. You can have all the latest designs and technology at your doorstep!
So what are you waiting for?
List of 7 Best Electric Stove in Pakistan with Prices (quick guide)
1) Westpoint Deluxe Hot Plate WF 271
Westpoint Deluxe Hot plate is giving you the most affordable option. The overall surface is of cast iron plate and the outer shell is made with high-quality stainless steel with a 2 years brand warranty. You can automatically control the temperatures and make your favorite cuisines.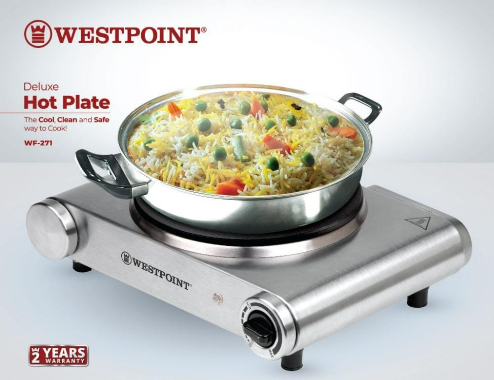 Features
Colour: Silver
2 Years Brand Warranty
Stainless steel housing
High-quality cast iron plate diameter: 188mm
Thermostat controller
Power-on indicator light
Thermo fuse for safety use
Skid-proof rubber feet
Functions: Stew, Fry, and Cooking, suitable for heating any pot such as ceramic pot, glass pot, metal pot, and more.
2) Sogo Electric Stove/Infrared Cooker (JPN-666)
Thia Sogo electric stove is stored with highly advanced technologies like infrared cooking which is safe to use. Also, it comes with child locks safety for your children. Your food will be even and perfectly cooked with all the nutrients.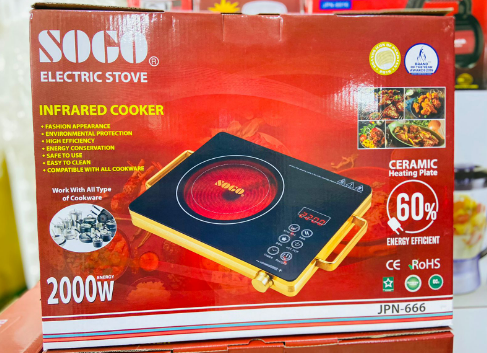 Features
Infrared cooker
Voltage: 220 V Frequency: 50 Hz
Power: 2000 W
60% energy-efficient mode
Environmental friendly, safe, and easy to use
Can be cleaned easily
Comes with a touch panel displaying all functions
Boil, hot pot, stir fry, barbeque option
Timer
Child lock
3) Silver Crest 3500W Electric Ceramic Cooker Stove
This is a Silver Crest Electric ceramic cooker, quite affordable in mid-range and with better quality options. Safer to use and provides the best quality cooking experience in a shorter time. The Best part about this cooker stove is that it is waterproof.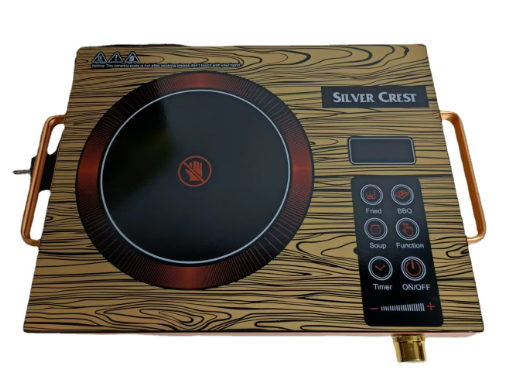 Features
Type: Induction Plate / Hot Plate
Premium Quality induction Plate.
100% brand new and high quality.
Voltage: 220 V
Power: 3500 W
Weight: 2500g
Black color
Warranty: one-year warranty
Cable Length: 150cm
Panel Type: Black Microlite Panel
Operation: Touchpad
Waterproof: Yes
4) DSP KD4046 Stainless Steel
DSP electric stoves are famous for their stainless steel and cooking experience. This model is a little expensive but worth buying. Overall longevity is excellent because it is imported and made in France with the adjustable temperature control of your choice.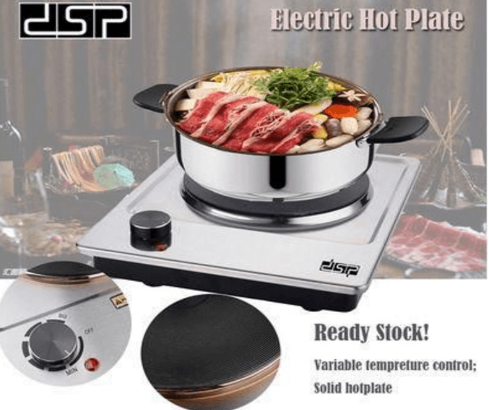 Features
Brand Warranty
Made in France
Stainless body
Cast-Resistance
Power control with thermostat
Adjustable temperature control
Quick heating with high efficiency
Indicator light for operation
Non-slip stays
Metal with black color painting housing, high-quality cast iron plate
5) Electric Induction Cooker/ Electric Stove
This Electric Induction Cooker is supper efficient to use, consumes less energy and electricity. It has an installed auto shut-off timer so even if you are away from your electric stove your stove will be turned off at your desired given time.
Features
Electric Induction Cooker/ Electric Stove
Voltage: 220-240V
Infrared Ceramic Cooker
Fast Heating
Auto Shut-off timer
Easy to use and clean Child lock safety feature
Works for any heat-resistant Cookware
Compatible Cookware: All Burton
Easy operation
Super -Efficient
Multifunction
LED Display
6) 50353 PRESTIGE MULTI INDUCTION – Stove
Prestige kitchen appliances are ideal for the efficient, time-conscious home cook. With benefits such as instant heat-up and fast boiling, it allows breakfast, lunch, and dinner to be prepared without the effort of conventional cooking, all the while allowing you to walk away from your kitchen and undertake other tasks.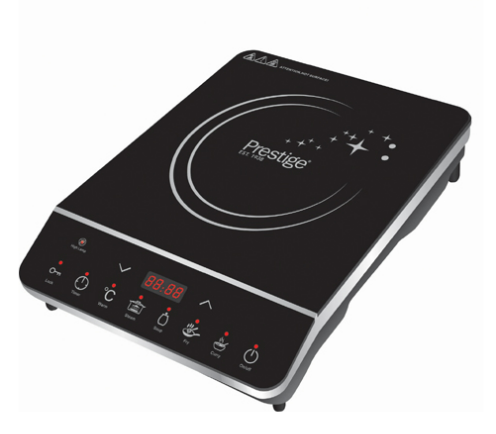 Features
9 pre-set heating options for convenient operation
2000 Watts
220-240V~, 50/60Hz,
Energy-saving heating cooks faster & is more energy efficient
It is very safe as the induction cooktop is heated only by contact with the vessel
Power Indicator
Convenient & portable
Auto Shut of
7) Electric Cooker/Stove Anex
Anex is best known for its quality, you can get 2 Years of brand warranty. The thermostat can be easily adjusted to your desirable temperature. Timer Setting also has options from 1-180 minutes to cook your favorite dishes.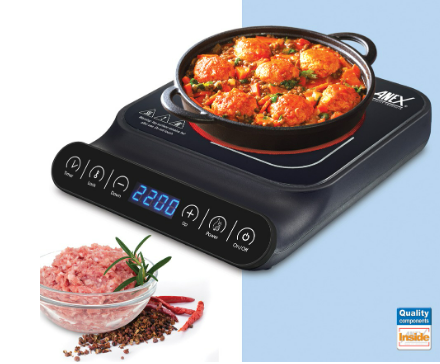 Features
Function: Timer Setting, increase, decrease, power selection
You can cook milk, soup, barbecue, and stir-fry.
Timer Setting: 1-180 minutes.
Housing: plastic in black.
Glass panel: A+ Grade micro-crystal glass in a polished finish.
Heating plate: single heating area,
Temperature control with P C B, heating element diameter.
Conclusion
The above article contains all the details regarding the Best Electric Stove in Pakistan. We have mentioned all the top brands and all are available on Daraz!
FAQs
1) Does the electric stove consume more electricity?
No, it does not, in fact, it consume less energy.
2) What brand is the best brand for electric stoves?
The Best Brand for the electric stove is Silver Crest and Sogo.
Also Read: Best Treadmill in Pakistan | Weight Machine | Best Hoverboard price in Pakistan | Best Water Filter in Pakistan | Best Steam Iron in Pakistan | Best Dispenser in Pakistan | Best Microwave Oven | Best LED TV in Pakistan | Best Mattress in Pakistan | Best Roti Maker in Pakistan | Best Duvet Price in Pakistan | Best Hand Blender in Pakistan