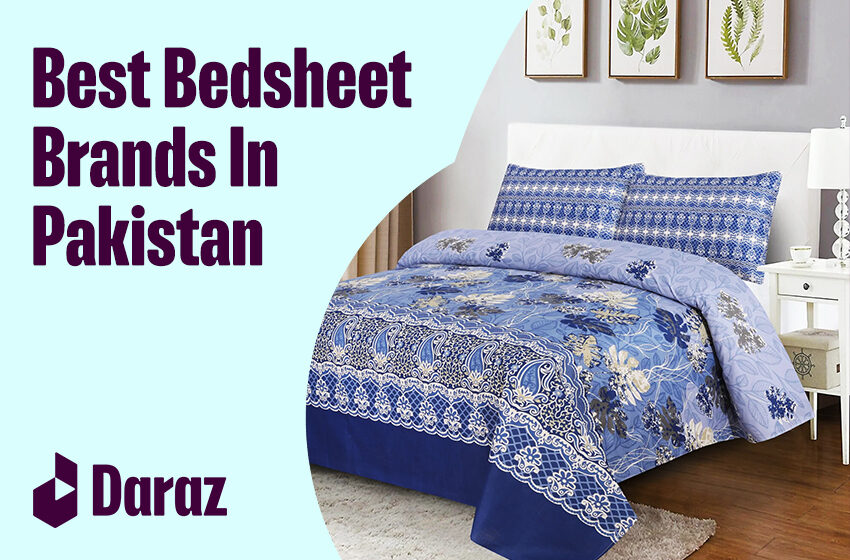 9 Best Bedsheet Brand in Pakistan
Are you looking for the best bedsheet brand in Pakistan? With so many options available, it can be hard to determine which bedsheet is the best fit for you.
We've done the research and rounded up the top bedsheet brand in Pakistan so that you can choose the perfect one for your sleeping needs. Read on to learn more about our picks for the 9 best bedsheet brand in Pakistan!
1. Nishat Linen – Nishat Bed Sheets
Nishat Linen is one of the well-known brands in Pakistan. They are the best clothes company, but they are also very talented interior designers. The quality of their fabrics is the most well-known aspect of Nishat; anything purchased from this brand is guaranteed to last longer than typical.
When it comes to Nishat's bedding selection, the variety and colors are unmatched. Our list's top spot goes to Nishat Linen for its vibrant colors, superior craftsmanship, and cutting-edge patterns. At Nishat, they only give the best of their bunch; you won't find commonplace items there.
Nishat is one the best bedsheet brands in Pakistan that has a wide range of items available, including heavy bridal sets and everyday use sets. Nishat bedspreads come in a variety of colors and tones. You receive both delicate tones. They are skilled in pleasing the majority.
2. ChenOne Home
ChenOne is a popular home furnishing store that offers shoppers a wide selection of quality bedding, pillows, and other accessories to help them create the perfect bedroom. They make sure to stay up-to-date with the latest trends in fashion and styles so customers can choose from an array of colors and designs for their decor. Additionally, ChenOne's services include altering bedding to fit customers' specifications within a few days for an affordable charge.
ChenOne is one the best bedsheet brands in Pakistan that carries a range of bedding products, from the Studio Collection to the Hotels Collection. All collections offer unique designs and vivid colors that provide options for every taste. Choose from sets perfect for kids' rooms, bridal suites, and king or queen-size beds for everyday use.
3. Ideas Home – Gul Ahmed
If you're looking for quality home care at an affordable price, Ideas Home by Gul Ahmed is the place for you. The bedroom essential items available have an array of diverse designs and colors true to Pakistani culture. Enjoy their signature hues like brown and blue or opt for something more unique from their vast selection, including bold prints such as animal and floral motifs.
Bridal sets, luxury bedding, and daily pieces are all included in this comprehensive collection they provide. Whatever theme or design best conveys your personal style, you can find it with Ideas Home by Gul Ahmed which is one the best bedsheet brands in Pakistan.
4. Bareeze Home
Bareeze – Home Expressions Collection offers a broad range of bedding and home linen designs, colors, and prices to suit any taste or budget. Whether you want something vivid and bold or more neutral colors like beige, brown, and warm hues, the collection has something for everyone. Their Exclusive Bedding includes silk, Dullai, and luxury bedspread sets while their Embroidery Collection will get you a bed-in-a-bag bridal set.
With such innovation in design and coloring as well as reasonable pricing offered by Breeze Home's collections, it may just meet all your needs. It is one of the best bedsheet brands in Pakistan.
5. Alkaram Bed Sheets
Alkaram is a brand that provides some of the most luxurious bedding options and is known to be the best bedsheet brand in Pakistan. They offer a wide range of products, from exotic blends to solid colors, in order to cater to different tastes and needs. The quality is guaranteed with each product bearing sun, water, and extensive washing without fading or compromising on the cloth's integrity. Furthermore, AlKaram Studios are very transparent about its products – detailed information such as thread count can easily be accessed on their website.
Alongside this, each piece fits into worldwide trends and seasons and adds a vibrant yet serene touch to any bedroom decor. Alkaram supplies bedspreads that offer a great selection of colors and prints, making them suitable for any type of decor — formal or informal. Their single kids' sheets can bring a fun, bright atmosphere to any bedroom.
6. Sapphire Bed Sheets
Sapphire, a well-known household name in clothing and accessories, is now branching out into the world of home care. The brand has added the richness of Pakistani culture into its collection of bed sheets and bedspreads; from floral designs to geometric patterns – you can find something for every taste. Buying Sapphire means experiencing luxury quality without having to break the bank. And, with a variety of hues on offer – from Green and Mustard to Orange or even Olive – you'll never struggle to find what you're looking for.
Those who have trouble sleeping should take note that finding the right bedsheet and mattress is key to getting a good night's rest and getting it from Sapphire is a great choice as it is one of the best bedsheet brand in Pakistan.
7. Crescent Bed Sheets
At Crescent Home, they offer a range of bedding options to suit different needs and budgets. From pillows and cushions covers to sheets and bedspreads, you can find the perfect item at Crescent. Their products are highly affordable with prices starting as low as 1,500 rupees for their most economical sheet sets. In addition to quality items, Crescent's website also provides detailed information about each product including thread count.
They have something for everyone from standard sheet sets and luxury collections to fitted sheets and other accessories. With a diverse selection of colors from subtle pastels to bold statement prints, you can trust in their quality and style when it comes to home decorating your bedroom space.
8. Khaadi
Khaadi is a renowned fashion retailer brand from Pakistan, that has since established an international presence. On top of their esteemed clothing line, Khaadi offers a wide range of products for the home – from rugs to mattress protectors and kids' collections.
The store dates back to 1998 when it was founded by Shamoon Sultan, and its designs are crafted with beautiful vibrant tones. Their breadths of carefully curated items demonstrate their commitment to quality apparel and home goods in both Pakistani and global markets alike.
9. Bed & Bath
Bed & Bath have been offering up luxury decor options since their launch in 1999. Bringing together the freshest trends from both Pakistani and Western styles, they've made sure everyone can stock their home full of comfort and style, without breaking the bank.
Providing quality pieces, made to last and never compromising on value, there's something for everyone. From the casual homeowner to the maximalist and the minimalist, Bed & Bath is one the best bedsheet brand in Pakistan that have curated pieces that bring together the perfect balance of comfort, value and style.
Conclusion
After looking at the top 9 bedsheet brands in Pakistan, you can now make an informed decision on which one is best for your sleeping needs. Whether you are looking for something luxurious and high-end, or something more affordable yet comfortable, there is an option out there that fits your criteria. With so many choices on the market today, it's important to do your research and find a bedsheet that provides both comfort and quality at a price point that works for your budget.
Also Read: Best Duvet Price in Pakistan | The Ordinary Glycolic Acid | Best Hand Cream | Best Whitening Cream | Best Glow Serum | Hand and Foot Whitening Cream | Best Cleanser in Pakistan | Best Retinol Cream | Best Acne Soap | Best Jacket Brands in Pakistan | Best Mens Wallets Brands