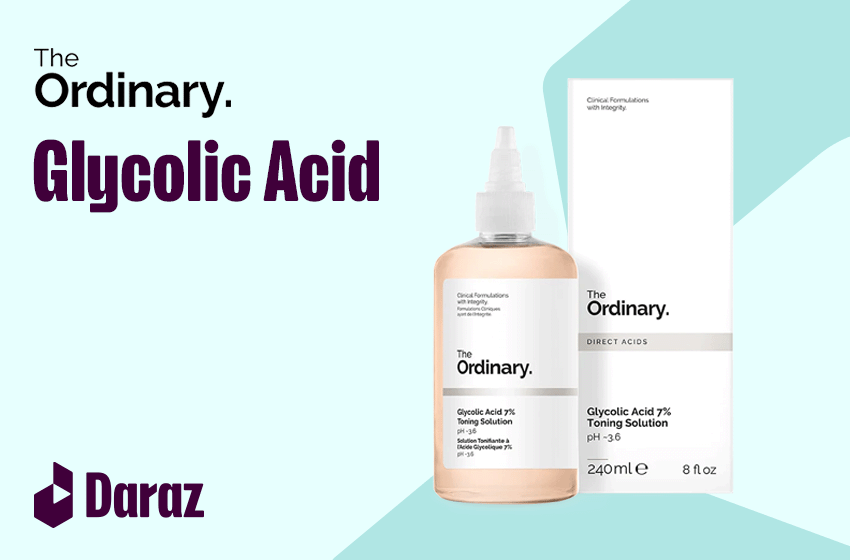 The Ordinary Glycolic Acid Toning Solution with Best Price (Review 2023)
The Ordinary Glycolic acid Toning solution is an incredible product that brings amazing value with its price tag! With a starting price of Rs. 3892, you can even get it from Daraz with 20% off – what more could you possibly want?
If you're searching for the perfect skincare solution to get radiant glowing skin, investing in The Ordinary Glycolic acid toning solution is definitely a great idea. So why wait any longer? Get your hands on this exquisite product and say goodbye to dull skin forever!
Let's find out!
What is the Ordinary Glycolic acid toning solution?
The smallest Alpha Hydroxy Acid, or AHA, is glycolic acid. This natural, skin-hugging ingredient helps to revive your skin with easy exfoliation and gorgeous radiance. With the Ordinary Glycolic Acid 7% Toning Solution, you can treat yourself to a beautiful spa experience at home with this luxurious toner that contains vitamin C extracts and nourishes your beautiful face! Enjoy dewy clarity and radiant health for complexion perfection! Indulge in a luxurious skincare routine with its sulfate-free and silicone-free formula. Our lightweight, gentle solution is suitable for all skin types for the ultimate pampering experience.
How Does Ordinary Glycolic acid toning solution Work?
Before applying a product to your face, conduct a patch test on your arm or neck to determine whether you will react to it.
This should not be applied to skin that is sensitive, peeling, or impaired, according to the Ordinary. Of course, SPF must be taken when utilizing AHAs! There is a misconception that you cannot use AHAs throughout the day; however, you may wear SPF (Deciem state this toner should be used in the PM).
After washing your face in the PM, use this product no more than once per day. After using a cleanser to wash your face, apply the toner on a cotton ball and wipe your face and neck. Do not rinse off.
The exfoliating action of glycolic acid helps to slough away dead skin cells on the surface of your face, allowing newly formed cells to come up to the surface and create a more even complexion.
Ingredients: Glycolic Acid (exfoliates), Ginseng and Aloe Vera (heals skin), and Tasmanian Pepper berry (diminishes skin irritation).
Cautions: To prevent irritability, use [it] separately from retinol products. It is suggested to use this product within a year of opening it.
Ordinary Glycolic acid toning solution Alternative
Now, let's talk about the alternative options available for those who are considering using The Ordinary Glycolic acid Toning solution. There are several alternatives available on the market are:
EltaMD, Inc Skin Recovery Essence Toner
Burt's Bees Sensitive Toner With Aloe Vera
Dermalogica Multi-Active Toner
e.l.f. cosmetics Keep Your Balance Toner
Paula's Choice Earth Sourced Purely Natural Refreshing Toner
Pixi Beauty Glow Tonic
INKEY LIST GLYCOLIC ACID LIQUID TONER
Cosrx AHA 7 Whitehead Power Liquid
My Verdict – Ordinary Glycolic acid toning solution
Before writing my review, I had been using this toner for the past two months, and oh boy am I impressed! My skin feels deliciously soft like never before. Its tone has become gorgeously clear with a more even texture that is visibly improved on my forehead and nose. Absolutely loving it!
After just a few applications, my skin felt silky soft, and beautifully clear. Whiteheads and breakouts have been especially difficult to get rid of, but using a glycolic acid toner every day has made all the difference.
My complexion no longer feels rough; it's become velvety soft and radiant. The discoloration on my skin is continuing to disappear, revealing an even tone instead. And I'm already noticing that my large pores are starting to become smaller due to this amazing toner pushing out any stubborn sebum or dirt that was stuck in them.
No additional essential oils or aromas are present in this. However, I do find that glycolic toners typically have a vinegary smell (probably due to the low pH).
Should You use the Ordinary Glycolic acid toning solution every day?
I wholeheartedly agree that this should only be used once per day as it is written on the website, and as it is fairly potent and strong for the skin, you should ideally do so in the evening.
What should You apply after Ordinary Glycolic acid toning solution?
Applying a deeply hydrating, moisturizing formula after using a glycolic acid-rich exfoliating toner is essential. For the best results, make sure to opt for a product containing skin-loving ingredients like hyaluronic acid and niacinamide – this will help soothe and nourish your complexion while also protecting against any drying effects of AHAs. As AHAs can leave your face more vulnerable to sun damage, it's important to never forget your SPF 30+ sunscreen!
Does Ordinary Glycolic acid toning solution Treat Pimples?
The Ordinary Glycolic Acid 7% Toning Solution is a gentle, yet effective exfoliating acid that helps to soothe away the skin's imperfections such as pimples, fine lines, sun damage, and visible signs of aging. It can be used to help restore youthful radiance to your complexion.
However, The Ordinary 2% Salicylic Acid Solution can become your new best friend if you frequently struggle with acne and have oily skin.
Why should you choose the regular 7% glycolic acid toning solution?
focuses on texture concerns
makes skin smoother
reduces imperfections
skin that is evenly toned
Affordable
Cruelty-free
treats blackheads and whiteheads
increases the effectiveness of skincare products' penetration
FAQS
1. How long until you see results?
You don't have to wait months or even weeks to experience the glow of brighter skin. With consistent application, some may very well see a noticeable difference in complexion within a few days (especially if you're using larger percentages of AHAs). But for those hoping for an anti-aging boost that reduces the appearance of lines and wrinkles, you should expect to wait at least four to six months before you start noticing any significant reduction in these signs of aging. That being said, some report seeing great results after just one to two months.
2. Does Glycolic Acid toner solution clear Blackheads?
Glycolic acid toner solution can take 3–4 weeks to start working to eliminate blackheads and give you smoother, congested-free skin. This is due to the fact that glycolic acid needs time and regular usage to break down pore-blocking dead skin cells and debris for smoother, congested-free skin.
3. Can I leave the glycolic acid toner solution overnight?
Yes, Let the gentle embrace of glycolic acid toner solution soothe your skin by soaking into it all night long. Rinse with water the following morning, but remember that you could become more sensitive to the sun afterward and this could make any acne issues worsen.
3. What should you not mix with glycolic acid?
Never use vitamin c with any AHAs and BHAS such as glycolic acid.
Conclusion
Without forgetting SPF, you must be patient to witness the benefits, but I can guarantee that with just a few applications, you will start to notice a difference. This fantastic product is incredibly reasonable if you want to begin with chemical exfoliation!
Also read: Saeed Ghani Hair Growth Water | Best Serum for Acne Scars | Best Vitamin C serum in Pakistan | Best Branded Skincare Brand in Pakistan | The Ordinary Peeling Solution | Best Hand Cream in Pakistan | Best Whitening Cream in Pakistan | Best Glowing Serum | Best 24k Gold Serum | Best Retinol Cream | Best Soothing Lotion | Organic Traveller Vitamin C Serum