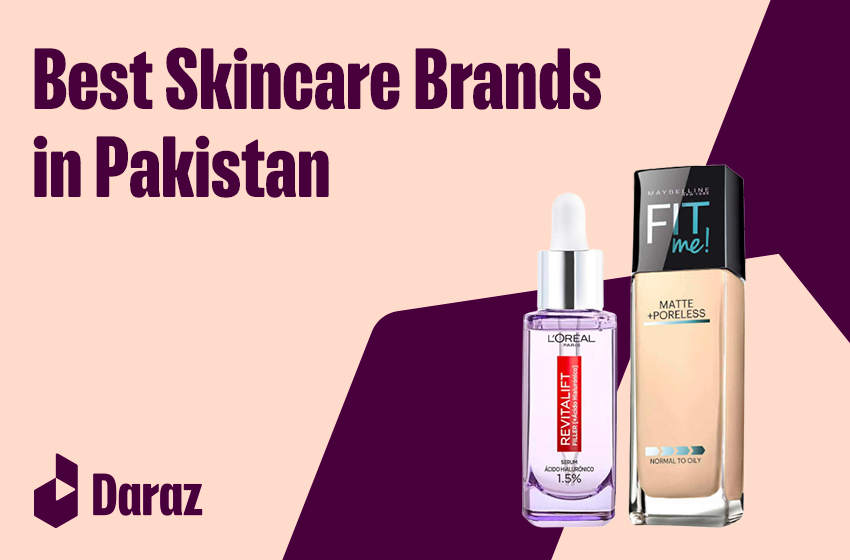 14 Best Branded Skincare Products in Pakistan to Buy Online in 2023
Skincare, branded or local both have there own benefits according to an individual skin type. It is important to know that not every product suits to all skin type. Skincare brands in Pakistan offer high quality products like sunblock's, step by step facial kits, cold creams, essential rich oils, hand and feet creams, retinol induced serums, moisturizers and many more.
Skincare brands in Pakistan are providing skincare products according to skin type which includes combination skin, dry skin, oily skin and normal skin.
Pakistani women have different skin textures which is not easily cleared if not taken care of. Those skin textures include dark spots, flaky skin, wrinkles, fine lines and anti aging skin.
How to use best skincare products in the right way?
Start with a clean face and gently pour small amount of product to start with. It is important to use cleaned cloth to wipe off your face.
Why skincare is important?
Right skin care helps you to get rid of excessive oils, dullness, treat acne and freckles and make you look
brighter and younger looking skin. Choosing good quality products makes no harm to your skin and makes it dewy and supple.
This is the list of Best Skincare Brands in Pakistan:
L'Oréal Paris
The Ordinary
Eveline
Cera Ve
Saeed Ghani
The Body Shop
Cetaphil
(BBA) By Suleman Cosmetics
Organic Traveller
Skin Deep International
Vince
Neutrogena
Garnier
Golden Pearl
1. L'Oréal Paris
Loreal Paris is a French brand. It offers a wide range of skincare, makeup, and hair products. It comes in high quality packaging which makes the product look amazing.
You can purchase authentic Loreal products online shopping from Daraz. Recently, Loreal has launched
it's Revitalift Hyaluronic Acid Serum in their skincare range, proven to be the best hyaluronic acid serums in Pakistan for dehydrated skin. It replenishes by making it wrinkle free and plumps the skin. The light weight hydrating serum absorbs in the skin without leaving any residue on the skin.
L'Oréal Best Skincare Products in Pakistan:
L'Oreal Paris- Revitalift 1.5% Hyaluronic Acid Serum
L'Oreal Paris Collagen Moisture Filler, Daily Moisturizer
L'Oreal Paris True Match Skin Tone Correcting Concealer – 3 Cream
L'Oreal Paris Hyaluron Expert replumping Moisturizing Day Cream SPF 20
L'Oreal Paris Elvive 6 Oil Nourish Shampoo
L'Oreal Paris Collagen Moisture Filler Day/Night Cream
L'Oreal Paris 10% Pure Glycolic Acid Serum
L'Oreal Paris Rosy Tone Fragrance Free Face Moisturizer
2. The Ordinary
The Ordinary is the most popular skincare brand featuring high quality ingredients, like hyaluronic acid, niacinamide, AHA etc. It comes in a very affordable price for everyone.
The most popular product from The Ordinary is their AHA 30% + BHA 2% peeling solution which works as a chemical exfoliant. Make your skin looks even tone, fresh, removes dullness and makes the skin bright.
The Ordinary Best Skincare Products in Pakistan:
The Ordinary Niacinamide 10% + Zinc 1%
The Ordinary Hyaluronic Acid 2% + B5
The Ordinary AHA 30% + BHA 2% Peeling Solution
The Ordinary Glycolic Toning Solution 7%
The Ordinary Lactic Acid 10% + HA 2% Volume
The Ordinary Retinol 0.2% Squalane
The Ordinary The Bright Set
The Ordinary The Daily Set
3. Eveline
Eveline is a Poland based skincare brand. It has a skincare, body care essentials, cosmetics, and much more. Eveline offers best moisturizers, famous for it's hand and feet cream.
Over the year Eveline has gained trust of consumers this really helped the brand to come up with innovativeness, design and packaging. Consumer can buy products as per their need, quality and wide range.
Eveline Best Skincare Products in Pakistan:
Eveline Double White Mattifying Cream Day & Night
Eveline White Prestige 4D Facial Wash Gel
Eveline Whitening Sun Block Spf 50
Eveline White Prestige 4D Whitening Facial Scrub
Eveline White Prestige 4D Lightening Serum
Eveline Hands Cream Invisible Gloves
Eveline Argan Oil Depilatory Cream for Sensitive Skin
Eveline Depilatory 99% Natural Aloe Vera
4. Cera Ve
Cera Ve is an American brand and number one choice of dermatologists worldwide. It offers a complete skincare range of moisturizers, gentle cleansers for face, skincare range of baby care products and skincare products for face and body.
Cera Ve is derma tested and no. 1 dermatologist recommended brand. It is suitable for all skin types including normal, combination, extreme dry and oily skin. The skincare products contain multi protective barrier layer to lock the product in your skin and provide maximum protection. It is suitable for skin problems like acne, psoriasis, eczema and extreme dry skin.
Cera Ve Best Skincare Products in Pakistan:
Cera Ve Foaming Facial Cleanser For Normal To Oily Skin – 355ml
Cera Ve Hydrating Facial Cleanser 473 ML – USA
Cera Ve Acne Control Cleanser
Cera Ve Barrier-restoring moisturizing cream
Cera Ve Hydrating Toner
Cera Ve Acne Control Gel
Cera Ve Hydrating Mineral Sunscreen SPF 30 Body Lotion
Cera Ve AM Facial Moisturizing Lotion with Sunscreen
5. Saeed Ghani
Saeed Ghani was established in 1988 targeting skincare, herbal products, hair care and fragrances. All the products are Halal, toxic-free and organic. It is one the most popular and renowned brand in the industry serving its beauty range to consumers as per their need.
The brand mostly focuses on organic product building, less chemical and cruelty-free products. It is available for all skin types for everyone.
Saeed Ghani Best Skincare Products in Pakistan:
Saeed Ghani Vitamin C Rose Water Facial Toner
Saeed Ghani Vitamin C Orange Peel Powder
Saeed Ghani Vitamin C Brightening & Anti aging Face Wash
Saeed Ghani Vitamin C Glow Boosting Kit
Saeed Ghani Goat Milk Foaming Cleanser
Saeed Ghani Summer Special Facial Kit
Saeed Ghani Foot Cleanser
Saeed Ghani Foot Scrub
6. The Body Shop
The Body Shop is an international brand, available world wide, it originated from UK providing cruelty-free products including the hair care, perfumes and mist collection, makeup range, entire skin care and body care collection.
All the products are derma tested and 100% vegan to provide glowing skin, reduce aging, fade dark spots, provide long term hydration to skin, and improve the texture of skin over all.
Best Selling Products of The Body Shop:
The Body Shop-Vitamin C Daily Glow Cleansing Polish
The Body Shop Drops Of Youth Youth Concentrate
The Body Shop Vitamin C Skin Boost Instant Smoother
The Body Shop Vitamin C Glow Boosting Moisturiser
The Body Shop Vitamin E Lip Care Stick SPF 15
The Body Shop Vitamin E Hydrating Toner
The Body Shop Vibrant Bergamot Body Cream
The Body Shop Rebel Rosebud Body Cream
7. Cetaphil
Cetaphil is one of the popular brand of USA and no.1 choice of dermatologist world wide for extremely sensitive to normal skin.
It offers the product line of sun care range including rich SPF formula to protect from extreme sun rays, foaming cleansers, moisturisers for face and body, and baby care. All the products are fragrance-free and alcohol free and made with high quality ingredients to provide best results on skin.
Best Selling Products of Cetaphil:
Cetaphil Advanced Relief Cream for Dry Sensitive Skin
Cetaphil Baby Daily Lotion
Cetaphil Daily Facial Cleanser (for normal to oily skin)
Cetaphil Daily Facial Moisturizer for All Skin Types
Cetaphil Daily Facial Moisturizer, With Sunscreen SPF 50
Cetaphil Derma Control Purifying Clay Mask Oily Sensitive Skin
Cetaphil Eczema Moisturizer
Cetaphil Daily Oil Free Moisturizer
8. (BBA) By Suleman Cosmetics
BBA by Suleman is one of the largest cosmetic owned brand of Pakistan with a wide range of high quality makeup, hair care and premium skincare products according to Pakistani skin type.
They have launched high quality skincare products including moisturizers, cleansers, lilac range, thermal water and face mask to their premium collection to cater all skin types and rejuvenate from inside, for shiny and healthy looking skin.
Best Selling Products of BBA By Suleman Cosmetics:
BBA By Suleman Brightening Face Glow Mask
BBA By Suleman Mineral Thermal Water
BBA By Suleman Gentle Skin Cleanser
BBA By Suleman Oil Free Facial Moisturizer
BBA By Suleman Hydrating Face Wash
BBA By Suleman Gentle Face Wash
BBA By Suleman Cleansing Balm
BBA By Suleman Almond milk and Honey Cleansing Face Wash For Oily Skin
9. Organic Traveller
Organic Traveller is a Pakistani Brand with a wide range of hair care and Skin care. It caters all skin problems including acne, uneven skin, open pores, dark circles, and anti aging.
They have deals in bundles and each one caters for different skin types. There skin care tools plumps the skin and makes it soft, refresh and glow.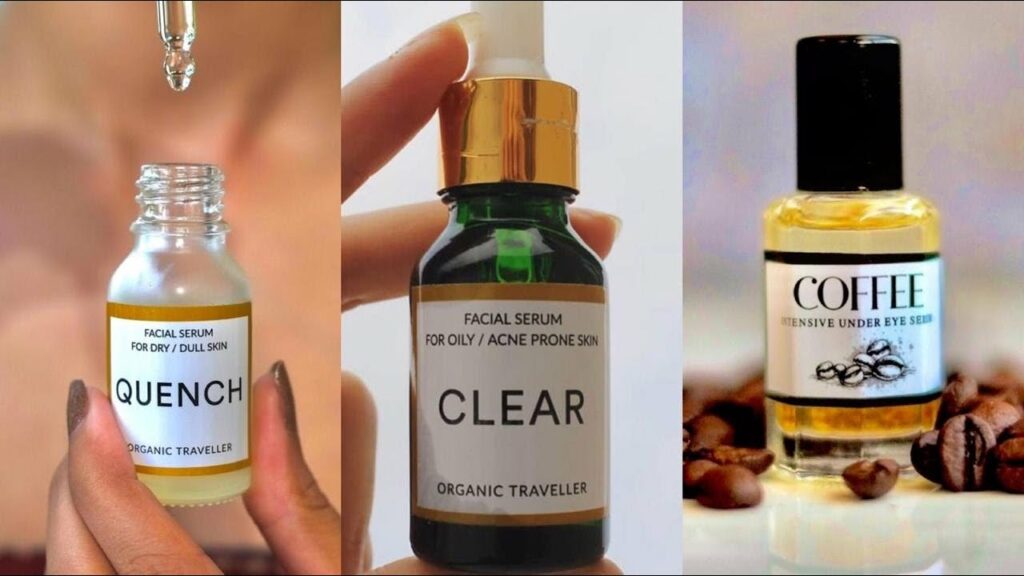 Best Selling Products of Organic Traveller:
Organic Traveller Acne Clear Serum
Organic Traveller Quench Brightening Serum
Organic Traveller Rewind Age defying Serum
Organic Traveller Coffee Under Eye Serum
Organic Traveller Miracle Jelly Daily Facewash
Organic Traveller Glow Tonic Pore Minimizing Toner
Organic Traveller B3 Pro Serum
Organic Traveller Vitamin C Serum
10. Skin Deep International
Skin Deep International was founded in 2016 serving a wide range of organic products which are 100% made of natural ingredients. It offers impeccable standards of efficacy, quality and purity.
Skin Deep has a variety of products for normal to sensitive skin including, anti oxidant face serums, moisturizers, deodorants, hair dyes, facial kits, and lip care.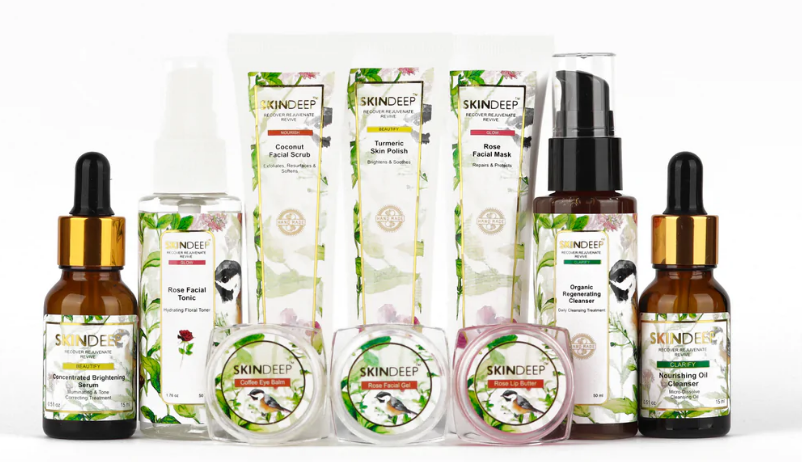 Best Selling Products of Skin Deep International:
Skin Deep Vitamin C Burst Antioxidant Face Serum
Skin Deep Deodorant
Skin Deep The All Natural Underarm Brightening Cream
Skin Deep Rose Body Butter
Skin Deep Squalane AHA/BHA Exfoliating Cleanser
Skin Deep Vitamin C Jelly Cleanser
Skin Deep Underarm Whitening Combo
Skin Deep Facial Treatment Kit
11. Vince
Vince originated in 2008 and a leading skin care and personal care brand. It is owned by Mablay Beauty Pvt ltd, Pakistan. The objective is to provide high quality products with a wide range of moisturizers, serums, essential oils, soothing bodymilk, hydrating eye cream, with a wide range of haircare oils.
Vince knows what you skin needs, products are designed for all skin types for effective fast-changing skincare results.
Best Selling Products of Vince:
Vince Whitening Cream For Sensitive Parts
Vince Soothing Body Milk
Vince Skin Repairing Body Milk
Vince Radiance Peeling Mozaic
Hydrating Eye Recovery Serum
Vince Cleansing Kit
Vince Instant Facial Kit
Vince Hydra Face Wash & Multi-Level Moisturizing Cream
12. Neutrogena
Neutrogena is dermatologist recommended skincare brand offers a wide range of hair and skin care products. You can get all the products according to your skin care type. Every breakout is different, which is why each should be treated differently with their wide range.
The best thing about this brand is that they have solution for every skin problem like oily, dry, combination and acne prone.
Best Selling Products of Neutrogena:
Neutrogena Hydro Boost Gel Cream with Hyaluronic Acid For Extra Dry Skin
Neutrogena Original Amber Bar Facial Cleansing Bar
Neutrogena Norwegian Formula Hand Cream
Neutrogena Glycerin Soap Bar For Acne Prone Skin
Neutrogena oil free acne wash
Neutrogena Glycerin Soap Bar For Acne Prone Skin
Neutrogena Rapid Wrinkle Repair Retinol Pro+ 0.5% Power Serum
Neutrogena Hydro Boost Toner
13. Garnier
Garnier was originated in 1904 with a wide range of hair care and skin care products. Skin care products are designed to for healthy-looking skin and made with nature inspired ingredients. The core focus of the brand is to induce Vitamin C in their skin care range for healthy, fresh, glowing and clear looking skin.
Garnier has launched their everyday skincare line and by adding it to your skincare will simplify your routine. The focus is to improve your complexion and rejuvenate your skin.
Best Selling Products of Garnier:
Garnier Micellar cleansing water
Garnier Water Rose 24H Moisture Gel
Garnier Skin Active Clearly Brighter Dark Spot Corrector
Garnier Skin Active Clearly Brighter Anti-Puff Eye Roller
Garnier Skin Active Clearly Brighter Anti-Sun Damage Daily Moisturizer SPF 30
Garnier Water Rose 24H Moisture Cream
Garnier Glow Boost Fresh-Mix Sheet Mask with Vitamin C
Soothing Facial Mist with Rose Water
14. Golden Pearl
Golden Pearl is a Pakistani brand with a wide skin care range in enhancing beauty for all skin types. The brand comes in a very affordable range of beauty, cosmetics, skincare and personal care. It will improve you skin texture makes your skin looks younger and youthful for a longer time.
Best Selling Products of Garnier:
Golden Pearl Beauty Cream
Golden Pearl Cream Bleach for Face
Golden Pearl Skin Polishing
Golden Pearl 24k Gold Skin Serum
Golden Pearl Glow Boosting Serum
Golden Pearl Whitening Milk Soap
Golden Pearl Whitening Trail Kit
Golden Pearl 3D Skin Serum
Conclusion
These are the Best Skincare Brand in Pakistan promoting high quality ingredients. It is extremely important to take care of your skin in all weathers to look fresh, radiant, bright and dewy. Get these brands from Daraz and avail massive discounts in less prices.
[ Read more: Best Eye Cream | Facial Mist | Bridal Product in Pakistan | Best Grooming Products for Men | Best Headphone in Pakistan | Derma Shine Facial Kit | Best Women Watches | Wax Heater in Pakistan | Best Eyeliner in Pakistan | Saeed Ghani Hair Growth Water | Glycolic Acid Serum for Pigmentation | The Ordinary Peeling Solution | Top 10 Best Whitening Facial Kit in Pakistan 2022, 10 Best Sunblock in Pakistan for Every Skin Type, Best Night Cream in Pakistan in 2022 to Fight Wrinkles | Best Perfume for men in Pakistan ]