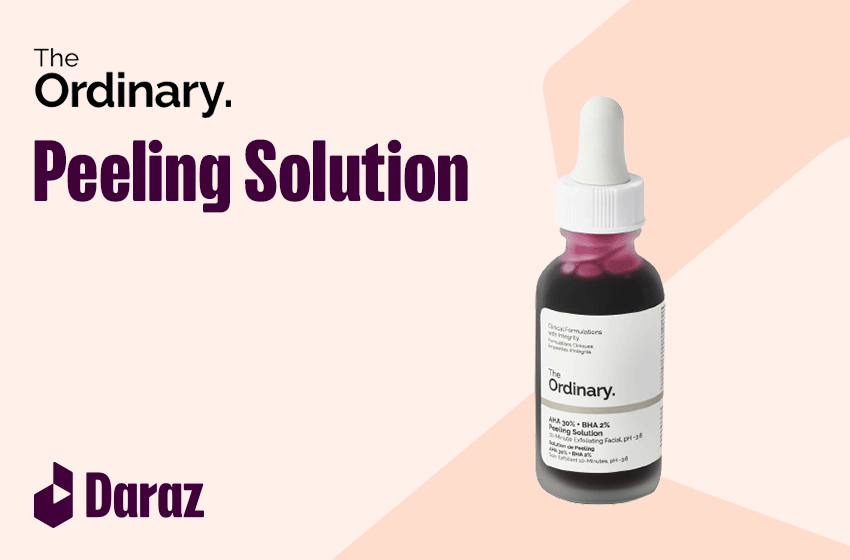 The Ordinary Peeling Solution with Best Price (Review 2022)
The Ordinary Peeling Solution price in Pakistan starts at just Rs 3,000! Plus, an amazing 20% discount on Daraz means you can get it for an even lower price – so why not give it a go?
But what everyone wants to know is this – Is The Ordinary Peeling Solution worth investing in? Let's find out the answer together and seize the opportunity while it lasts!
What is Ordinary Peeling Solution?
The Ordinary Peeling Solution is a 10% AHA/BHA solution that exfoliates the skin and reduces the appearance of fine lines, wrinkles, and other signs of aging.
It helps to unclog pores, reduce dark spots, even out skin tone, and improve the overall texture of your skin. It also contains hyaluronic acid which helps to hydrate the skin for a smoother look.
How Does Ordinary Peeling Solution Work?
Wait for the skin to dry after washing your face. On moist skin, avoid using it.
Apply with fingertips evenly over the face and neck, avoiding the eye region.
No more than 10 minutes should be left on.
Completely rinse with warm water.
Use with caution on compromised, peeling, or sensitive skin.
When applying and afterward, keep your distance from the eye area.
The purpose of this low-viscosity solution is to serve as a masque. More than twice a week is not advised for use.
Cautions (Important)
The product must only come into contact with the skin occasionally or for brief periods of time. If irritation develops, stop using it and see a doctor. Use only on intact skin as instructed. Prior to use, patch testing is advised. Keep out of children's reach.
While using this product and for a week later, use sunscreen, put on protective clothing, and avoid spending too much time in the sun.
Ordinary Peeling Solution Alternative
For those who are looking for an alternative to The Ordinary Peeling Solution, there are several options available on the market. Products containing glycolic acid or lactic acid are good alternatives since they provide similar benefits but may be more suitable for sensitive skin types.
However, it's important to remember that these products can be irritating if not used correctly so it's best to use them with caution.
Products
Paula's Choice – 25% AHA + 2% BHA Exfoliant Peel Full Size
Revolution Skincare Multi Acid Peeling Solution 30ml
Minimalist AHA 25% + PHA 5% + BHA 2% Peeling Solution
MUICIN – AHA 30% + BHA 2% PEELING SOLUTION
My Verdict – Ordinary Peeling Solution
The Ordinary Peeling Solution is an excellent product at an unbeatable price. It offers a range of amazing benefits that make it worth investing in if you want to give your skin a boost.
Should You use the ordinary peeling solution every day?
No, The Ordinary suggests using their peeling solution no more than 2x a week. But if your skin is sensitive, that might be too much–watch out for over-peeling!
What should You apply after an ordinary peeling solution?
After using this peel to exfoliate your skin, nourishing it is the best thing you can do for it. Hydrating serums, moisturizers, and plant oils are nourishing components that can assist to strengthen and repair the skin barrier. (Dry, itchy skin can result from a compromised skin barrier.)
Due to the extremely high concentration of AHAs and BHAs in The Ordinary Peeling Solution, your face may feel sensitive and irritated after using it, so be sure to treat your skin with calming after-peel beauty care products like the ones listed below.
While using The Ordinary Peeling Solution, Apply these!
1. Hydrating Serum
Consider using a moisturizing and plumping hyaluronic acid serum after using The Ordinary Peeling Solution. When it comes to hyaluronic acid, don't be put off by the word "acid" because this ingredient is about replacing hydration.
With prolonged application, hyaluronic acid even aids in reducing the appearance of wrinkles and fine lines on the skin that has undergone photoaging.
Hyaluronic acid (HA) serums are widely available, inexpensive, and efficient.
Apply a few drops of The Ordinary Hyaluronic Acid 2% + B5 after the peel if you wish to stick with that brand.
2. Replenishing Moisturizer
Be careful to apply a soft and soothing moisturizer after using The Ordinary Peeling Solution, whether or not you decide to add a moisturizing serum to your skincare routine.
Moisturizing is essential regardless of your skin type since even oily skin requires it.
If your skin needs more moisture, you can also think about using face oil in place of or in addition to your moisturizer.
You can use CeraVe PM Facial Moisturizing Lotion, The Ordinary Natural Moisturizing Factors + HA, and any other moisturizers suitable for your face.
3. Sunscreen
Use broad-spectrum sunscreen every day with a minimum SPF of 30 because alpha hydroxy acids leave your skin more vulnerable to UV damage. The Ordinary does an outstanding job of making sunscreen accessible to everyone at an affordable price and provides two mineral sunscreen formulas, one with SPF 15 and the other with SPF 30.
Given its high mineral content (zinc oxide and titanium dioxide) and SPF 30, the Ordinary Mineral UV Filters SPF 30 with Antioxidants is a fantastic option. You can also use other sunscreens.
It's crucial to refrain from utilizing strong actives with the peel, such as other exfoliating acids, regardless of the products you use following The Ordinary Peeling Solution (i.e., glycolic acid, lactic acid, or salicylic acid).
Does Ordinary Peeling Solution Treat Pimples?
Yes, peeling solution, to put it simply, is a combination of AHAs and BHAs that aid in exfoliating the skin. It aids in the treatment of blemishes, blocked pores, and microscopic pimples.
Conclusion
The Ordinary Peeling Solution is a great investment for anyone looking to get smoother and brighter skin. With its affordable price tag, 20% discount on Daraz, and positive reviews worldwide, it's an ideal product for those seeking an effective peeling solution without breaking the bank. So don't wait any longer – take advantage of this amazing deal while it lasts!
FAQS
How long does it take the peeling solution to work?
You should give it at least 4-6 weeks to show results, as with any skincare product. After the first use, you'll notice a change in your skin.
How many drops of the peeling solution should I use?
For your entire face, apply three drops, concentrating on your forehead, right cheek, and left cheek. Anything more than that is excessive. Apply with your fingers and don't rub too hard. Additionally, keep the bottle's dropper away from your face to avoid contaminating it with germs.
Why can't you use the ordinary peeling solution on wet skin?
It is preferable to wait until your skin is dry before applying your product because wet skin can become irritated by acids (at least a few minutes or even 30 minutes if you want to be sure).
Also read: Derma Shine Facial Kit | Saeed Ghani Hair Growth Water | Best Serum for Acne Scars | Best Vitamin C serum in Pakistan | Best Branded Skincare Brand in Pakistan | The Ordinary Glycolic Acid Serum | Best Hand Cream in Pakistan | Best Whitening Cream in Pakistan | Best hand and Foot Cream | Best Cleanser in Pakistan | Best Glowing Serum | Best 24k Gold Serum | Best Retinol Cream | Best Soothing Lotion | Organic Traveller Vitamin C Serum