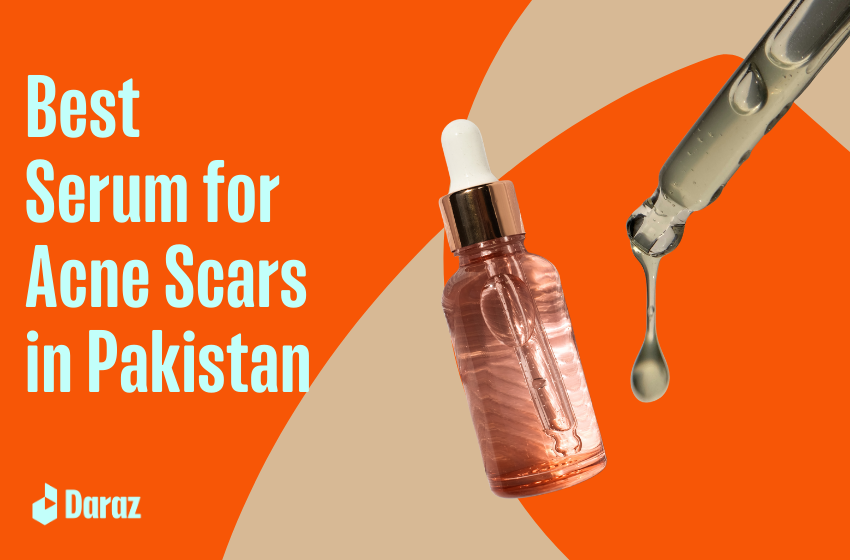 Top 5 Best Serum for Acne Scars in Pakistan
Are you in search for a solution to treat those acne scars that are bringing you down? Then we have you covered with a list of the top 5 best acne scar removal serum in Pakistan with price and pictures attached to ease your hunt so that you can find the anti mark serum in Pakistan that is the best for your face!
Acne marks are always a dilemma that makes it difficult for us to be accepting of our natural skin and often times causes some of us great insecurity. Even if we want to achieve the perfect makeup look, it's necessary to have healthy and cared for skin to shine and glow our best no matter what. If you've been hunting down a skincare solution or acne eraser serum in Pakistan for your acne scar blues then you've come to the right place.
Because we have prepared for you a list which covers the top 5 best serum for acne scars in Pakistan that will not only help you treat those marks on your skin but also help you treat the dryness and pimples that come with your breakouts.
[Also Read: 13 Best Face Washes in Pakistan for Oily, Dry & Acne Skin (2023)]
Why do acne scars occur?
Inflammation of blemishes cause acne to scar your skin. This involves swelling of the acne pore and then the pore wall collapsing because of which a scar develops. It happens specifically when a particular breakout has penetrated deeply into the skin and damages the skin tissue underneath it.
Can acne scars go away?
Not exactly. Acne scars are pretty much permanent and become more obvious as you age and your skin loses collagen. However, treating them is the next best alternative where you can lesser their appearance as much as you can. If you have just started developing them then you might even be able to heal most of them if you use an acne scar serum or acne serum to reduce pimples right away.
List of Best Acne Serum Price in Pakistan
Jenpharm MandelAC Serum 20ml – Rs. 798
Rivaj UK Acne Treatment Serum 30ml – Rs. 366
Roushun Tea Tree Clear Skin Super Serum 30ml – Rs. 625
MUICIN – 5in 1 Vitamin C 20% With Hyaluron Serum 100ml – Rs. 989
BIOAQUA Pure Skin Anti Acne Serum Facial Removal Solution – Rs. 269
Serum for Acne Scars in Pakistan Reviews
1. Jenpharm MandelAC Serum 20ml
Struggling with acne discoloration or scars? Then this MandelAC Serum which contains 20% Mandelic Acid just might be the one for you! It is perfect for those suffering from acne or post-acne discoloration. It's also the perfect peeling solution for those with acne, marks, blemishes or uneven skin tone.
2. Rivaj UK Acne Treatment Serum 30ml
This highly reviewed serum helps to reduce breakouts, clears blackheads and whiteheads and helps control oily skin and even repair acne all of which helps to lessen the look of scars on your skin.
3. Roushun Tea Tree Clear Skin Super Serum 30ml
Formulated with only the highest quality natural & organic ingredients, this concentrated serum was developed to be not only effective but be surprisingly gentle too. This serum helps to soothe and heal blemishes, fade the appearance of acne scars, dark spots, hyperpigmentation and tackle many other issues as well.
4. MUICIN – 5in 1 Vitamin C 20% With Hyaluron Serum 100ml
This is a powerful serum that contains both Vitamin C and Hyaluronic Acid. These two ingredients are extremely well known in the skincare world to help you deal with those acne scars and blemishes.
5. BIOAQUA Pure Skin Anti Acne Serum Facial Removal Solution
This mild and non-irritating serum formula can help you clear blocked pores, dissolve dirt and grease from your skin, replenish moisture it lacks, regulate the pH value of your skin and effectively safeguard injured skin while preventing pimples, acne and any scarring that comes with.
People Also Ask
Is Vitamin C Serum good for acne scars?
Yes! Vitamin C is known to tackle all kind of acne issues and is particularly renowned in the skincare game as the most efficient ingredient to help you reduce the appearance of your scars.
Which serum is best for acne scars?
Serums which contain Vitamin C, Salicylic Acid, Niacinamide and Hyaluronic Acid are considered to be the best in terms of treating acne and acne scars. Which is why we recommend Roushun Tea Tree Clear Skin Super Serum 30 ml as the best anti acne serum in Pakistan.
Check out Daraz Life for more health and beauty blogs!
Also check out: Best Women Watches | The Ordinary Peeling Solution | Glycolic Acid Serum for Pigmentation
Also Read: 24k Gold Facial Kit | Derma Shine Facial Kit | Physiogel Moisturizer in Pakistan | Best Bicycle Price in Pakistan