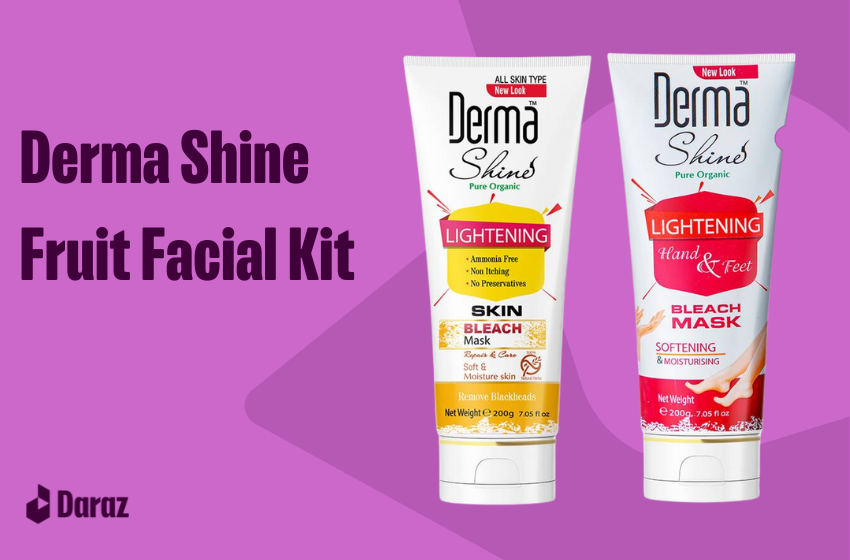 Get Glowing Skin on a Budget: Derma Shine Fruit Facial Kit Best Price Review 2023
The Derma Shine Fruit Facial kit contains 6 amazing products that help to protect and nourish your skin, bringing out a natural, healthy glow that brings amazing value with its price tag! With a starting price of Rs. 2,669, you can even get it from Daraz with 20% off – what more could you possibly want?
The cleansing, exfoliating, and nourishing agents in pomegranate facewash, apricot scrub, cucumber mask, massage cream, skin polisher, and orange cleanser are an ideal combination for all types of skin – no matter your age or skin type. It's a one-stop facial treatment that will give you an amazing spa-like experience and the perfect skin you dream of. is definitely a great idea. So why wait any longer? Get your hands on this exquisite kit and say goodbye to dull skin forever! Let's find out!
What is Derma Shine Fruit Facial kit?
The Derma Shine Fruit Facial Kit is the perfect gift for any woman who wants to nourish and pamper her skin. With six wonderful items that target skin-related issues, each equipped with a fruity scent – this facial kit will make you feel like you've been whisked away to heaven! And besides smelling delightful, its naturally formulated formula works wonders: alpha hydroxy acids deep cleanse your skin while keeping hydration levels high; leaving your face feeling young, refreshed, and radiantly glowing.
Removing dead skin cells, it brightens and lightens drab and patchy skin while enhancing skin freshness. Additionally, it aids in avoiding the buildup of extra oil on the face, which can eventually cause acne.
Enjoy a luxurious skincare experience that awakens the senses, revitalizes, and brings out your natural beauty all at once. What's not to love? Get yourself the best facial kit Pakistan has to offer today – come revel in some much-needed self-care with the Derma Shine Fruit Facial Kit!
It Includes
Skin Polisher
Face Wash (Pomegranate)
Orange Cleanser
Cucumber Mask
Apricot Scrub
Almond and Honey Massage Cream
How to Apply?
Step 1: Pomegranate Face Wash
Wet the skin, apply an appropriate amount of product, massage it for a few minutes, and rinse off.
Step 2: Orange Extract Cleanser
Wet the skin, apply an appropriate amount of product, massage it for a few minutes, and rinse off.
Step 3: Apricot Scrub
Wet the skin, apply an appropriate amount of product, and massage it in gentle circular motions. Avoid harsh strokes.
Step 4: Hydrating Cucumber Mask
Apply a Cucumber Mask to your face and leave it on for 10 minutes or longer according to preference.
Step 5: Mixed Fruit Skin Polisher
Wet the skin, apply an appropriate amount of product, massage for several minutes then rinse off.
Step 6: Almond & Honey Massage Cream
Wet the skin and gently rub an adequate amount of cream onto your face before letting it rest upon your skin as desired.
Benefits of Each Product
Pomegranate Face Wash: A combination of natural mulberry extracts and other mild ingredients helps to brighten the complexion while providing a deep clean.
Orange Extract Cleanser: This cleanser is effective, Yet gentle in conditioning, toning, and tightening facial skin.
Apricot Scrub: An exfoliating scrub that unclogs pores, removes impurities, and provides an even layer of rejuvenation.
Almond Massage Cream: This massage cream refreshes, strengthens, softens, and smoothens out uneven skin for optimal texture.
Hydrating Cucumber Mask: A revitalizing mask containing cucumber extract that nourishes tired skin by restoring elasticity as well as offering a brightened appearance.
Polisher: Gently buffs facial complexion with a luxuriant feel to leave it looking radiantly refreshed.
Review- Derma Shine Fruit Kit
I recently had the pleasure of trying out the Derma Shine Fruit Facial kit, and I can honestly say that it is an amazing product. From start to finish, the kit contains everything you need to give your skin a natural glow that will last. The six products come in a sleek box and include a cleanser, facewash, polisher scrub, serum, massage cream, and mask – all of which are made with natural fruit extracts.
The cleanser is designed to remove dirt and oil from your skin without stripping it of its natural oils. It's gentle enough to use every day and leaves my skin feeling clean and refreshed without being too harsh. The polisher helps balance out the pH levels of your skin while removing any remaining dirt or oil from your face. The scrub works great for exfoliating away dead skin cells without being too abrasive on my sensitive skin.
The scrub is packed with antioxidants that help protect my skin from environmental damage while smoothing out any wrinkles or fine lines. And finally, the massage cream help keep my skin hydrated throughout the day and night – leaving me with a healthy glow!
I was pleasantly surprised by how well this kit worked for me – especially considering its price tag!
Purchase from Daraz and get amazing discounts as always!
Conclusion
If you're looking for a facial kit to nourish and protect your skin without breaking the bank, the Derma Shine Fruit Facial kit is a perfect choice. This 6-product set contains everything you need to bring out your natural, healthy glow without any fuss. Not only is it an entire deep-cleansing facial experience from the comfort of home, but it also offers smooth and glowing skin that will surely make you feel fabulous.
Also read: Saeed Ghani Hair Growth Water | Best Serum for Acne Scars | Best Vitamin C serum in Pakistan | Best Branded Skincare Brand in Pakistan | The Ordinary Peeling Solution | Best Hand Cream in Pakistan | Best Whitening Cream in Pakistan | Best Glowing Serum | Best 24k Gold Serum | Best Retinol Cream | Best Soothing Lotion | Organic Traveller Vitamin C Serum