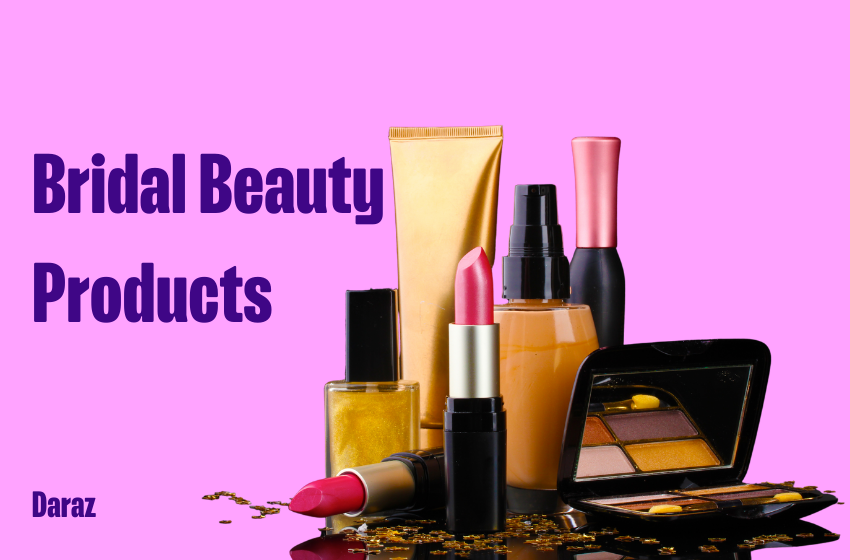 6 Must-Have Bridal Beauty Products for Your Wedding Day Glow
Preparing for your wedding day involves careful planning, and one crucial aspect is your bridal beauty products routine. To help you achieve that flawless, radiant look, we've compiled a list of five essential bridal makeup products available in Pakistan. From long-lasting foundations to captivating lip colors, these beauty essentials will ensure you look stunning and feel confident on your special day. So, let's dive into the world of bridal beauty and explore the must-have products that will enhance your bridal glow.
1. Teeth Whitening Strips
A dazzling smile is a bride's best accessory, and teeth whitening strips are a popular choice for achieving a brighter and whiter smile. These easy-to-use strips are designed to effectively remove stains and discoloration, giving you a confident and radiant smile on your wedding day. When searching for teeth whitening strips in Pakistan, it's important to look for reputable brands that offer reliable and safe results.
One such option is the Dazzling White Teeth Whitening Pen just for Rs 299 available on Daraz. This whitening pen provides a convenient and hassle-free way to whiten your teeth, helping you achieve that perfect smile for your special day. With its user-friendly design and effective whitening formula, the Dazzling White Teeth Whitening Pen is a great addition to your bridal beauty routine.
2. Pro-long Lipstick
When it comes to bridal beauty, long-lasting and smudge-proof lipstick is an absolute essential. PRO-LONG Lipstick stands out as a highly recommended option, known for its exceptional qualities. With its rich pigmentation, smooth application, and extended wear, PRO-LONG Lipstick. Ensures that your lip color stays intact throughout your wedding day.
Embrace countless smiles, kisses, and photo sessions with confidence, knowing that your lipstick will remain flawless.
Additionally, consider the exclusive deal on Daraz for the MISS ROSE 5 in 1 Exclusive Deal. Which includes not only lipstick but also a liquid foundation, concealer, eyeliner, and blender. This all-in-one deal provides you with essential bridal makeup items in one convenient package. With the MISS ROSE 5 in 1 Exclusive Deal, you can achieve a stunning bridal look and have the lipstick handy for touch-ups whenever needed.
3. False Eyelashes
To enhance your eyes and create a captivating gaze on your wedding day, false eyelashes are an essential part of your bridal beauty routine. Opting for high-quality lashes is crucial to achieving a natural yet glamorous look. Brands like Christine and Elmay offer a wide range of false eyelash styles, available on Daraz, allowing you to find the perfect pair that seamlessly blends with your natural lashes.
Whether you prefer a subtle enhancement or a more dramatic effect, these brands have options to match your desired level of intensity. So flutter your lashes with confidence and let your eyes mesmerize everyone around you as you walk down the aisle.
4. Waterproof Mascara
On your wedding day, when emotions run high and tears of joy are bound to flow, waterproof mascara is an absolute must-have. To ensure that your mascara stays put throughout the day. It's essential to choose a reputable brand known for its extensive range of waterproof mascaras. Brands like Maybelline and Uptown LA offer a wide selection of waterproof mascaras, all available on Daraz.
These mascaras are specially formulated to provide long-lasting volume, length, and curl to your lashes, even in humid conditions or during emotional moments. With their smudge-proof and flake-free formulas, you can rest assured that your lashes will stay beautifully defined and fluttery from the beginning to the end of your wedding day.
Don't let tears or humidity compromise your flawless look – opt for a reliable waterproof mascara to keep your lashes looking stunning throughout your special day.
5. Compact Powder
To maintain a fresh and matte look throughout your wedding day, a reliable compact powder is a bridal beauty essential. It's crucial to choose a compact powder that matches your skin tone and offers a lightweight formula that absorbs excess oil. Brands like Uptown LA and Miss Rose, available on Daraz, provide various shades to cater to various skin tones.
These brands are known for their long-lasting formulas that help control shine and ensure your makeup stays flawless. A quick touch-up with compact powder will keep your skin looking smooth and shine-free and help you maintain a beautiful complexion in photos and throughout the festivities.
Make sure to have your compact powder on hand for convenient touch-ups and to ensure your bridal look remains impeccable all day long.
6. Perfume
Enhance your bridal beauty regimen with the perfect finishing touch—a signature scent that encapsulates your personality and boosts your confidence. Select a perfume that aligns with the ambiance of your wedding and evokes cherished memories. With just a spritz of your favorite perfume, you'll not only look stunning. But also feel enchanting and unforgettable throughout your special day.
Consider the convenience of the Calvin Klein – Delux Perfume Travel Collection For Women, available on Daraz. This collection offers a selection of captivating scents in compact and travel-friendly sizes. Making it easy to carry and apply whenever needed. Let the captivating aroma create a lasting impression as you walk down the aisle and celebrate your love.
Conclusion
Achieving a radiant and flawless bridal look requires a careful selection of essential beauty products. From teeth whitening strips for a captivating smile to PRO-LONG lipstick and false eyelashes for captivating eyes. These products will enhance your natural beauty and help you shine on your wedding day. Don't forget to choose a waterproof mascara and reliable compact powder for long-lasting wear and touch-ups. Lastly, choose a signature perfume that will leave a lasting impression. Embrace these essential bridal beauty products available in Pakistan, and confidently step into your journey as a beautiful bride. Ready to create everlasting memories.
Also read: Beauty Blenders | Facial Mist | Bridal Dresses in Pakistan | Best Women Watches | Wax Heater in Pakistan | Best Eyeliner in Pakistan | Saeed Ghani Hair Growth Water | Glycolic Acid Serum for Pigmentation | The Ordinary Peeling Solution | Top 10 Best Whitening Facial Kit in Pakistan 2022 | 10 Best Sunblock in Pakistan for Every Skin Type | Best Night Cream in Pakistan in 2022 to Fight Wrinkles | Best Perfume for men in Pakistan