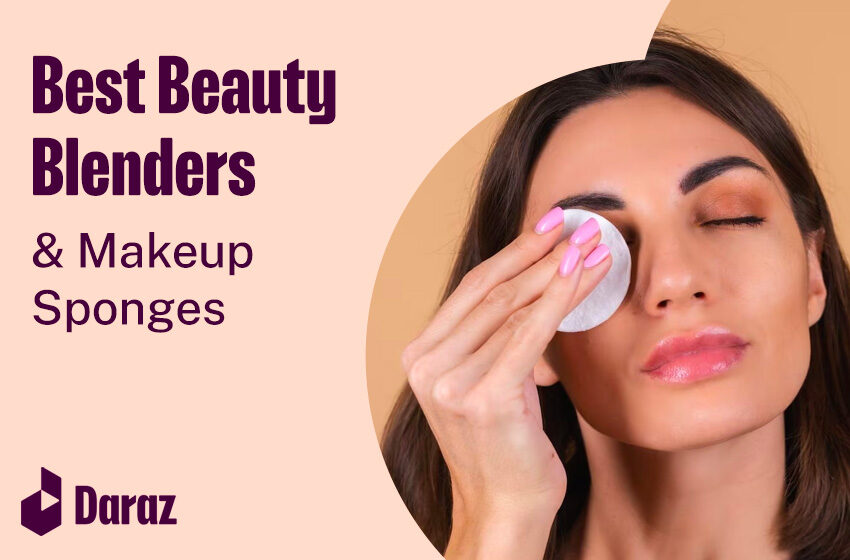 6 Top Beauty Blenders and Makeup Sponges for Perfect Flawless Coverage
Welcome to the world of effortless beauty! When it comes to achieving that coveted flawless coverage, makeup enthusiasts and professionals alike know that the secret lies in the right tools. Beauty blender and makeup sponges have revolutionized the way we apply makeup, offering a seamless and airbrushed finish that can elevate any look to perfection.
In this guide, we unveil the crème de la crème of beauty blenders and makeup sponges, carefully curated to help you master the art of flawless coverage. Whether you're a makeup novice or a seasoned pro, these 6 remarkable tools are guaranteed to become your new beauty essentials.
1. Makeup sponge for foundation and concealer
The Original Beauty blender Makeup Sponge is renowned for its excellence in applying both foundation and concealer flawlessly. Its unique shape and material allow for effortless blending, achieving a natural and airbrushed finish with both products.
Whether you're looking to even out your skin tone with foundation or hide imperfections with concealer, the Original Beauty blender is the go-to sponge for achieving a flawless complexion. Get your hands on this game-changer from Daraz for a makeup experience like no other.
2. Best makeup sponge for full coverage
This makeup sponge excels at seamlessly blending foundation, concealer, and other complexion products, ensuring even coverage and minimizing the appearance of imperfections. Its soft, porous material absorbs just the right amount of product, preventing cakiness while delivering a natural-looking, high-coverage result.
Discover the secret to flawless full coverage with the ELF Total Face Sponge, available on Daraz Pakistan. This latex-free, multi-functional sponge effortlessly blends makeup for a natural, airbrushed finish.
3. Silicone Makeup Sponges
Silicone makeup sponges offer a non-absorbent surface, reducing product wastage, but some users find blending can be less seamless compared to traditional sponges. The choice between the two comes down to personal preference and desired makeup application results
Discover the magic of the Golden Rose Silicone Sponge! This game-changer provides a smooth and effortless application, flawlessly blending foundations and powders in liquid, cream, and compact forms
4. Micro Mini Sponges
Micro mini sponges are used for precise makeup application in hard-to-reach areas or for detail work. These small-sized sponges are perfect for blending concealer under the eyes, contouring the nose, highlighting the brow bone, and creating intricate makeup looks.
The Beautyblender Micro Mini is an essential tool for precise makeup application and is available on Daraz. Perfectly designed for detailed work, this tiny sponge is ideal for blending concealer, contouring, and achieving intricate makeup looks. Grab yours now on Daraz.
5. Sculpting Sponges
Sculpting sponges are designed to create sharp and defined contours on the face. Their angled edges allow for precise application and blending of contour products, making it easier to sculpt and define facial features like cheekbones, jawline, and nose.
The Real Techniques Miracle Sculpting Sponge is specially design for precise contouring and sculpting. Its unique shape and texture allow for effortless blending, helping you achieve perfectly defined facial features with ease. Buy now!
6. Powder Puffs
Powder puffs are use for applying loose or press powders to set makeup and achieve a matte finish. Their soft and fluffy texture helps evenly distribute powder on the skin, reducing shine and giving a smooth, polished look.
The Color Studio Pro Powder Puff is a soft and fluffy tool for applying loose or pressed powders with a velvety finish. Its gentle texture ensures even distribution, leaving your makeup looking flawless and shine-free. Grab yours now!
Conclusion
There you have it – a curated selection of top-notch beauty blenders and makeup sponges to transform your makeup routine and take your beauty game to new heights. Remember, investing in high-quality beauty blenders and makeup sponges is not just about achieving a picture-perfect look, but also about caring for your skin and ensuring a long-lasting, radiant finish.
Now armed with the knowledge of these exceptional products, you can experiment, have fun, and confidently embrace your unique style. As the saying goes, "Beauty begins the moment you decide to be yourself," and with these beauty blenders and makeup sponges in hand, you're empower to express yourself in the most beautiful way possible.
Also Read: Bridal Product in Pakistan | Best Face Mask for Dry Skin | Best Women Watches | Wax Heater in Pakistan | Best Skincare Brands in Pakistan | Eye Liner in Pakistan | Best Dispenser in Pakistan | Best Microwave Oven | Best LED TV in Pakistan | Best Mattress in Pakistan | Best Electric Stove in Pakistan | Best Duvet in Pakistan | Best Hand Blender in Pakistan | Best Jewellery in Pakistan | Best Bedsheet brand in Pakistan | Best Jacket Brands in Pakistan | Best Mens Wallets Brands