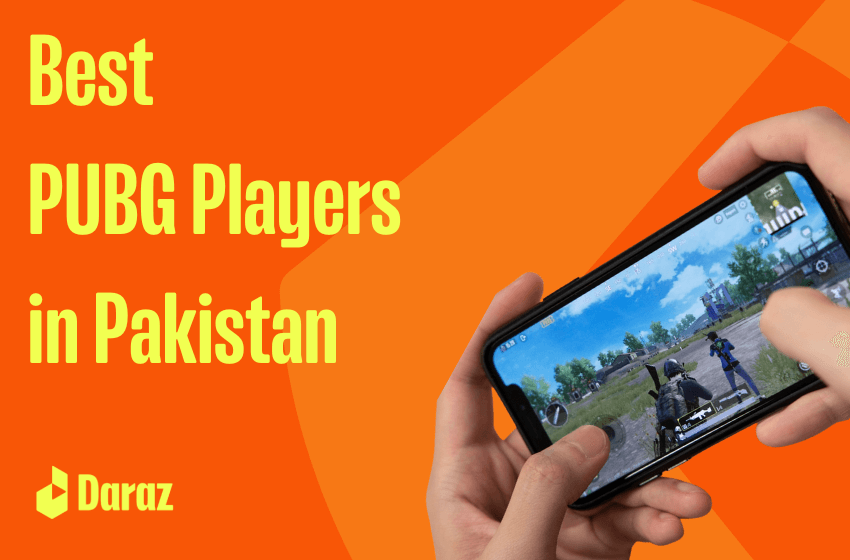 Best PUBG Players in Pakistan Who are Famous Worldwide
There is no doubt that Pakistan is home to some of the best PUBG players in the world. The country has produced some of the most talented and successful players in the history of the game.
The Pakistani Community for PUBG Mobile is booming. New players are arriving on the scene everyday and Youtube channels are popping up left and right, showing off the amazing talents of these players.
So, if you're wondering who is the best PUBG player in Pakistan, then check out this blog post, we will take a look at 12 best PUBG players from Pakistan who are fans from all over the world.
[Also Read: Best Gaming Gadgets to Grab from Daraz 11.11 Sale]
Top 12 PUBG Players in Pakistan (2022 Updated)
1. Star Anonymous
He's the quickest PUBG gamer in Pakistan and often cited as the best. Star Anonymous started playing when gaming was still in its infancy back in 2017. His style of play is amazing and it makes you wonder how he's able to perform at such a high level. Mobeen is from Rawalpindi and that's his real name.
He has a YouTube channel of his own with more than 2 million subscribers. He started his YouTube account in 2017 and now has amassed a sizable fan following.
His PUBG-related YouTube videos are quite educational, and he also doles out plenty of advice to his followers. There's no doubt that he is Pakistan's finest PUBG player thanks to his incredible methods.
2. Predator
This player is a seasoned pro, no doubt. He has put in a lot of time participating in PUBG mobile leagues and competitions. On the field, he is unquestionably not a player with whom to mess about. Zubair Khan is his real name, and he resides in Peshawar.
The Predator Gaming Youtube Channel was started by Zubair. On September 11, 2017, he launched his YouTube channel. As of today, he has 500k+ subscribers.
In Pakistan, Predator is a very well-liked gaming channel. He is a well-known player on PUBG Mobile. He set a new record for the most kills in the mobile game PUBG. His Clan is called Fyme.
3. Legend Sam
He is the first individual to introduce PUBG mobile to Tiktok, going by the name Sam Malik. In 2015, he launched his own YouTube channel while residing in Islamabad. He is the legendary clan head, and his clan is regarded as one of the best in Pakistan.
Legend Sam started his YouTube channel in 2018 and currently has about 252k subscribers. He uses the 4 Finger + Gyro Settings to play PUBG Mobile on an iPhone 12 Pro Max.. He is the Season 4 Conqueror and holds the Mythic Fashion Title.
4. 47 Khalifa
Here's yet another well-known PUBG for mobile gamers. In the game, he is renowned for his sniping abilities. He can pick up foes from distances we can only imagine, as evidenced by his performances. His real name is Osama Qayyum, and he resides in Peshawar. He is the 47 clans' leader.
He also has a YouTube channel, which has over 802k subscribers.
On an iPhone XR, 47 Khalifa is playing Pubg Mobile. He uses 3 fingers, claw, and an on/off gyro to play Pubg on his phone. In Pubg Mobile, he has a popularity rating of about 1.4 million.
5. Cute panda
We'd like to introduce you to one of the youngest and most talented PUBG mobile players out there – Chris Nadeem, also known as Cute Panda.
Despite being only 11 years old, Chris has already achieved a lot in the gaming world. He's from Karachi, Pakistan and currently has 396,000 subscribers on YouTube. His team is called Roar Esport, and he plays PUBG Mobile on an iPhone 11 using 4 Fingers Claw.
We think Chris is definitely one to watch in the future – he's got so much talent and we're sure he'll go far!
6. Mr Jay Plays
Jahanzeb, better known by his online pseudonym MrJayPlays, is a Pakistani professional player and streamer. He belongs to the popular Raptor clan and often livestreams himself playing PUBG Mobile on PC. His real name is Jahanzeb but he resides in London, UK. In 2012, MrJayPlays launched his successful YouTube account which has since amassed over 670k subscribers.
He's well-known for his work on the PC games GTA 5 and PES 2020 (for which he was named Best Streamer of the Year). The PES 2020 fan-favorite Clan of the Year title also went to his clan – an impressive feat! He was the first Pakistani live streamer whose stream reached the top spot on Trending, making him a pioneer in the online gaming community.
7. Solo King
Jawad Ali, more commonly known as "Solo King" is one of the most spectacular PUBG Mobile players. He is often able to push his team to victory, even when they are low on supplies or health. He is the clan leader and goes by the name "SoloGaming."
The OneMillionEsports YouTube channel belongs to him. On his Youtube account, he has over 200k subscribers. He produces videos about things like inventories and opening crates. His YouTube video, Pakistan's Most Expensive & Best Inventory, brought him renown. The only other Pakistani with a Star Challenge Frame is him.
He uses an iPhone 11 Pro Max to play PUBG Mobile. His claw setup for PUBG Mobile is four fingers.
8. Doctor Pikachu
Meet Mariyam, a well-known PUBG Mobile player from Pakistan. Also known as "Doctor Pikachu" she's the head of her clan, Doctorz. When it comes to online gaming competitions, she's a formidable competitor. She is the first female in the list of top 12 best players in pubg.
Mariyam posts videos of herself playing PUBG Mobile on her iPhone 8 Plus using 2 Finger Settings. She has a popularity score of around 1300k on the game.
9. Ahmed Op.
Ahmad Op, also known as Legend Ahmad, resides in Lahore. He makes reference to a YouTube channel that has more than 480k subscribers. He started his YouTube channel in 2018 and has been a productive player ever since. His real name is Ahmad Rana, and he belongs to the renowned clan TheLegends.
He frequently displays outstanding skills while playing with viable strategy. He uses the 6 Fingers Claw Setup and Gyro Always On for PUBG Mobile.
10. SP Joker
SP Joker, or Malik Ahmed, is a professional gamer from Sargodha, Pakistan. He's well-known in the competitive gaming world for his skilled PUBG Mobile gameplay, and has even won some high-level tournaments. SP Joker posts videos of his gameplay and game crate openings on his YouTube channel, which has 200 thousand subscribers.
If you're a fan of Tik Tok, you might have seen SP Joker's account – he has 300 thousand followers on there. He also won The S10 Crew Challenge at FPP Asia.
11. Envy Plays
The Best PUBG Mobile Funny Video Creator is Envy Plays. His real name is Umer, but he goes by the alias Envy. He is twenty-one. He's a Pakistani native. He does, however, currently reside in Australia.
Envy has over 1.5 million TikTok followers and 25,000 YouTube subscribers. His most popular video on TikTok has received almost 30 million views and 2.8 million likes.
Envy utilizes 4 Fingers Claw + Gyroscope Always On while playing PUBG Mobile on an iPhone 14 Pro. He belongs to The Legends Clan – a renown clan in Pakistan.
12. Groza Raja
The renowned Pakistani PUBG Tik Toker goes by the name of Groza Raja. Abdullah is Groza Raja's true name. He resides in Pakistan's Rawalpindi; which is also Pakistan's most well-known city. He is 21 years old and gained celebrity status through his TikTok videos.
His account consists of mostly PUBG Mobile gaming videos and has amassed 130k followers under the username grozaraja. His most popular video has been watched by a million people.
Groza Raja holds the Mythic Fashion Title in PUBG Mobile; a title given to only a few players and one that holds great popularity on PUBG Mobile. He utilizes a 3 Fingers Claw arrangement with the gyroscope always on to play PUBG Mobile on an iPhone 8 Plus. Additionally, he is the Official Leader of Groza Clan.
---
Tell us, who is your favorite PUBG player? Also check the best phone for PUBG in Pakistan and get them at discounted prices with the Daraz 11.11 sale.
Also, take our quiz to check out if you're a PUBG pro or noob?