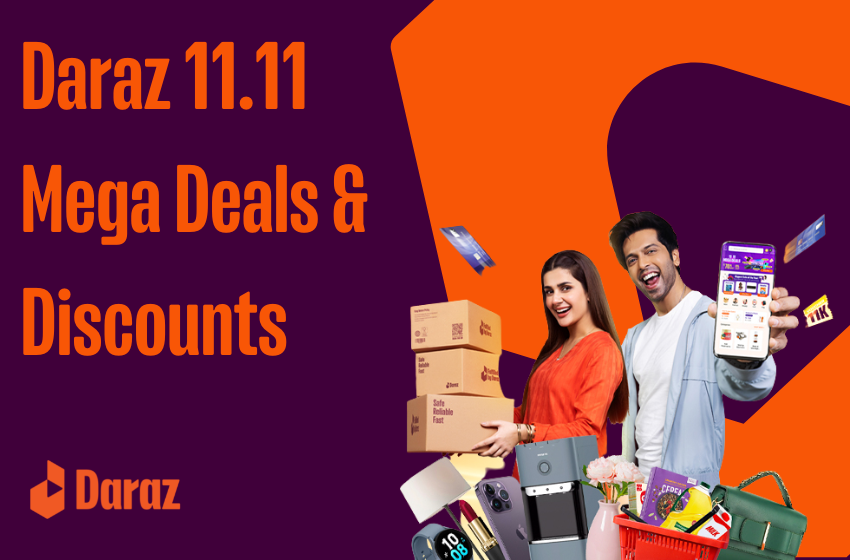 Daraz Mega Deals and Discounts on 11.11 sale
Daraz Mega Deals and Discounts vouchers are here and you have a lot to be excited for! If you're not sure how you can make the most of the Daraz Mega 11.11 Day sale, then follow us in the upcoming days or check the relevant blog post for your queries.
Daraz Mega Deals and Discounts vouchers 2022
1) Celebrate the 11.11 mega sale with Daraz
11.11 takes place on 11th November, it is the mega campaign of the year where you can avail thousands of discounts. Daraz 11.11 is an online shopping fest that offers amazing deals and discounts so that you can celebrate the 11.11 mega-day sale the right way!
2) What are Daraz Mega Deals and Discounts?
Daraz 11.11 mega sale deals include amazing discounts on a variety of products. You can get the best mega-day discounts on phones, electronics, beauty, fashion, home and, kitchen appliances, and much more!
3) When do Daraz Mega Deals and Discounts deals start?
The Daraz 11.11 Day mega deals 2022 are going live on the 11th of November. Nonetheless, even before that, you can enjoy amazing teasing deals every day from October. So, start filling your cart and get ready for the 11.11 Day mega deals.
4) What are Daraz 11.11 day Sales Offers?
Daraz 11.11 Day Sale offers to include 1000 CC Car, 23 motorbikes, and amazing discounts on millions of products!
Get limitless savings and discounts with Daraz One Rupee Game, explore Pakistani beauty with Daraz Travel, get Daraz Shake Shake Vouchers, unlimited discount offers from our brand partners and so much more!
And if you're curious about how you can win big discounts, then keep reading as we've got some exciting things to share!
Avail Daraz Teasing Deals Before 11.11
You do not have to wait till 11.11 to enjoy mega deals sale. We have exciting flash vouchers and a 1 rupee game for you, can this 11.11 Day get any better?
Every teasing deal is dedicated to one category:
Grocery & Baby Day
Computing & Gaming Day
Home & Living Day
Beauty Day
Fashion Day
TV & Home Appliances Day
Phones & Tablet Day
Enjoy exclusive pay cuts with collectible vouchers and play the One-Rupee game each day to get a chance to win big items from each category day.
Make sure to go to the Daraz 11 deal page and Daraz 11.11 main campaign page to collect your vouchers and enjoy your personal discounts.
11.11 Day Mega Deals 2022
Daraz brings to you some AMAZING 11.11 Day mega deals and discounts on your favorite items! Everything is here for you from phones to laptops, TVs, and kitchen appliances! Here is how you can avail Daraz PK day sale mega deal:
Select your favorite product and go to the product page
Click on the voucher to collect it
The discounted voucher will automatically apply at the checkout.
10 Bikes 10 Winners
Daraz now gives everyone a chance to win a 70 CC motor to 10 lucky winners on the 11.11 mega day offer! All you have to do is do shopping up to Rs 1100 on the 11.11-day sale to enter the lucky draw to become one of the 13 lucky winners to win a motorbike.
One Rupee Game
Play one rupee game from your Daraz wallet and become part of a lucky draw. If you win the lucky draw, you'll get exciting prizes like a Suzuki Cultus 1000 CC car, with a refund of one rupee!
How to play one rupee game on Daraz?
To play one rupee game on Daraz:
Head over to the app and select a product of your choice available.
Pay Rs. 1 for the product through your Daraz Wallet.
Get a chance to win!
Check out the blog to learn more about Daraz One Rupee Game!
11.11 Trivia Quiz & Win Free Item
Give a simple 11.11 trivia quiz on the 11.11 mega sale and get a chance to win an item in a giveaway via a lucky draw. Select the right option in the quiz and fill the form at the end with your information to enter a lucky draw to win an Infinix note 10 pro, Samsung Galaxy A32, Philips Essential Airfryer, and many other valuable items.
Click it, Cart it
Daraz introduces an amazing surprise to make your 11.11 Day Sale even more fun. Just add 23 of your favorite items to the shopping cart and you will automatically enter the lucky draw to win the Rs. 5000 Daraz voucher every day of 11.11 Day campaign!
Daraz Mega Deals and Discounts with Payment Partners
This 11.11 Day sale 2022, you get bank discounts with many of our payment partners! Buy your favorite picks and enjoy up to 10% off on all your purchases with the option of easy monthly installments with 0% markup!
Find out what's new and exciting about Daraz 11.11 Day sale deals and vouchers this year! And don't forget to download your Daraz app to get access to all these exclusive discounts!
Conclusion
Now, what are you waiting for? Go Grab yours and make this 11.11 memorable! Also, check out Daraz Like New blog, that'll allow you to purchase your favorite tablets and laptops in slightly used condition with up to months of Daraz warranty at absolute steal prices! Don't forget to check Daraz Bazaar!
Also, Read 11.11 voucher discounts and get unlimited discounts!