Find Out Everything About the Ehsaas Program Registration Online 2021 and Ehsaas Scholarship Program
If you're a citizen of Pakistan looking for financial assistance then there's good news for you, the government of Pakistan has introduced the Ehsaas program 2021 registration with Ehsaas initiative or the Ehsaas financial aid scheme to help Pakistanis pursue their goals or make their ends meet with ease.
The Ehsaas initiative was introduced last year and Pakistanis can take advantage of this by getting themselves registered for the program. You can apply for the Ehsaas program online and you can opt for various financial assistance or loan schemes that fall under the Ehsaas program. From Ehsaas Emergency Cash Program, Ehsas Kalafat Program, or Ehsaas interest-free loans to make the ends meet for struggling Pakistanis making it an initiative by the government of Pakistan to alleviate poverty.
The Ehsaas program by the Prime Minister will bring a lot of loan schemes for Pakistanis and it is called the Ehsaas program whereas most people confuse it with Ahsas program 2021 for registration online
Ehsaas Program 2021 Online in Pakistan
The Ehsaas initiative is a grant scheme for citizens of Pakistan. Through the Ehsaas program, you can get various financial assistance from the government. If you're looking for more information on what is the Ehsaas program in Pakistan or how to apply for the Ehsaas program for free online then we've listed all that you'd need to know!
How do I Apply For Ehsaas Program 2021 Online
To Apply For Ehsaas Program Online in 2021 you can visit the official website and submit your Ehsaas Program Registration Form for your Ehsaas Program Online Registration 2021. You can register online for the Ehsaas program by visiting the Ehsaas Program web portal where you can get the Ehsaas program CNIC check done to check your registration and submitting all the necessary documents required.
Ehsaas Program CNIC Check Online 2021 Registration
To get the Ehsaas program CNIC Check Online Registeration in 2021, applicants can send their CNIC number on 8171.
Ehsaas Emergency Cash Program 2021 – Ehsaas Program 12000
The Ehsaas Emergency Cash fund was introduced by the Prime Minister during the lockdown to grant people a little relief for their finances due to the businesses coming to a halt during the lockdown. Ehsaas emergency cash program or Ehsas loan program registration procedure is easy and you can register for the Ehsaas Emergency Cash Program by the Ehsas program web portal that can grant Ehsaas Program 12000 Rupees to needy people. The Ehsaaswebportal is https://ehsaas.nadra.gov.pk/ehsas or you can apply for the Ehsaas emergency program through your phone by texting your CNIC on 8171.
How to Apply for Ehsaas Emergency Cash Program?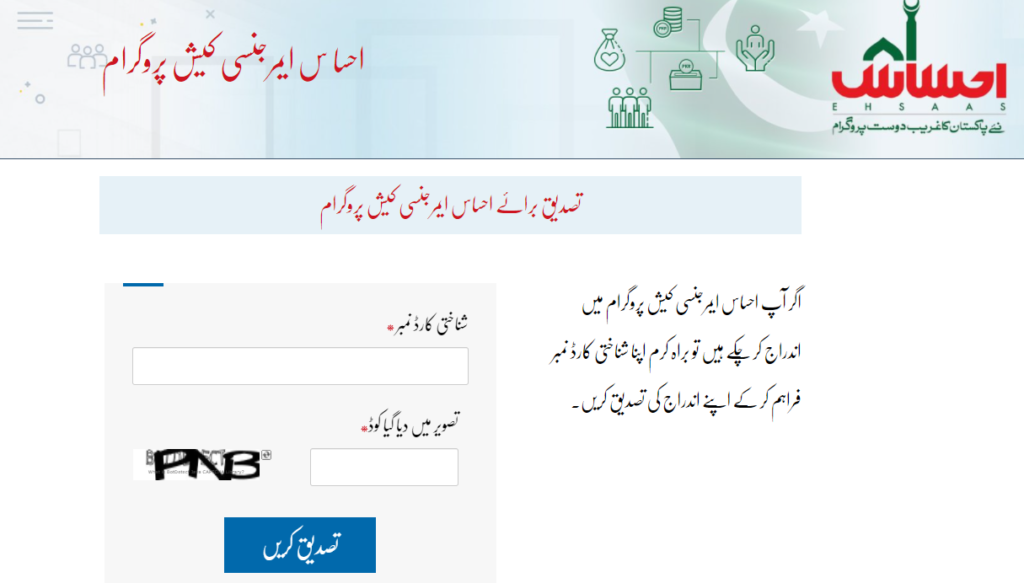 To Apply for Ehsaas Emergency Cash Program, Type your CNIC number and send the SMS to 8171 or head to Ehsaas ehsaas.nadra.gov.pk/ehsas portal
Enter your CNIC number and verification code mentioned in the webpage and click "tasdeek karein"
After verification of your credentials, you will be notified whether you are eligible for the grant
After confirmations, you will be required to verify through a biometric system that can be done at a registered shop or at Bank Alfalah or Habib Bank.
---
Ehsaas Scholarship Fund for Students
Ehsaas undergraduate program is aimed to promote education and help fund education to those who come from low-income families in Pakistan. The Ehsaas scholarship ensures that no student is left behind in achieving higher education.
Best Pakistan Undergraduate Scholarships
Ehsaas Scholarship – Undergraduate Student Scholarships in Pakistan
The Ehsaas program is the easiest way to get a scholarship to pursue your higher education. If your family's income is less than Rs. 45,000 then you can apply for the Ehsaas Scholarship program online. Ehsaas undergraduate program scholarship offers 50,000 Scholarships per annum to 200,0000 undergraduate scholarships in 4 years and 50% seat is reserved for girls. There is a special preference given to disabled students or those belonging to underprivileged areas
Ehsaas Program Online Registration for Scholarship 2021
You check how to register for the Ehsaas scholarship for students by applying for the Ehsaas Scholarship Program, you can visit the Ehsaas HEC Gov PK website and sign up by entering your details and CNIC
Only those students who got admission on a merit basis and are currently not any other scholarship program or grant are only eligible for the Ehsaas scholarship. Moreover, students who are supporting their own education through self-finance or self-support programs can not be granted the scholarship as well.
Features of Ehsaas Undergraduate Scholarship Program 2021
With the Ehsaas scholarship, students can get the following
50,000 Scholarships per annum
Full tuition fee
4000 Monthly Stipend
How to Apply for Ehsaas Scholarship for Undergraduate
You can register for the Ehsaas scholarship 2021 by filling the Ehsaas program registration form that you can get from your University and to register for it you must complete and submit the application with exact details.
What Documents to Submit for Ehsaas Scholarship Program?
The filled and completed Ehsaas scholarship application form must be submitted at your university's financial aid office and include the following documents for Ehsaas scholarship.
Copy of applicant CNIC / B. Form
Copy of CNIC (Father, Mother/ Guardian)
Salary Slip / Income Certificate (Father/Guardian, Mother)
Copies of last Six Month Utility Bills (Electricity, Gas, Telephone, Water) – (If applicable)
Copy of Rent agreement in case of Rented House
Copies of Last Fee Receipts of Applicant and Siblings (If applicable)
Copies of Medical bills/ expenditure related documents (if applicable)
01 Passport size Photograph of Applicant
01 Picture of House from outside Front
When is the Ehsaas Scholarship Deadline
The scholarship for Pakistani students for 2021 is open for this Ehsaas program 2021 and the deadline for Ehsaas Undergraduate Scholarship 2021 will be March 31 2021, so make sure you have filled the form and submit it before the deadline to be eligible for the scholarship by Ehsaas program!
---
Read about Youm e Takbeer 2021 on DarazLife. Also download the Daraz App for Daraz discounts and deals!
Check out National Savings Prize Bonds Schedule (2021) for information on last date of encashment for prize bonds with draw dates and more! A