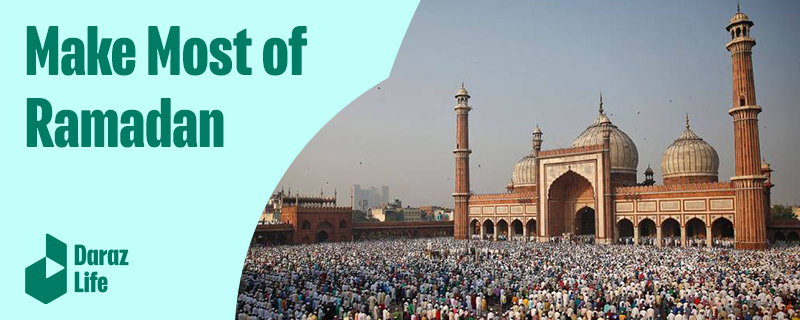 6 Good Deeds to Make Your Ramadan More Meaningful
With the Holy month of Ramadan upon is, we're all buckled up to do more good and earn the blessings of the Almighty. But time is of the essence and we're sure you want to make the most of this sacred month.
Well, we at Daraz Life are at your service! With these tips, we assure you that your Ramadan spirit will become even stronger!
Let the tips begin!
Make a Ramadan Schedule
These are the most-blessed 30 days in the Islamic Calendar. Every moment of everyday is throughout the month is filled with limitless blessings – and you want to take advantage of it all. For this, we advise you to come up with a Ramadan Schedule for yourself. Plan it all out – how you want to spend all the available time. Designate time for Quran recitation, for extra nawafil prayers, for memorizing Quran and reading translation, and so on. Developing a schedule will help you keep track of your progress during the month and evaluate yourself if you're getting lazy at anytime.
Recite the Qur'an & Read Translation
While you may not be very regular in your Qur'an recitation otherwise, make sure to recite everyday in Ramadan! Try doing more than just recite – read the translation and if possible, try to memorize parts of it. The idea is to do more than you usually do to earn great reward from Allah. Every good deed done to please Allah is rewarded in greater multitude during Ramadan.
Offer Nawafils, Tahajjud & Taraweeh Prayers
During Ramadan, the more you pray, the better it is. Besides the Farz namaz, try indulging in extra prayers as well – like Nafil namaz, tahajjud and/or Tarawih. Get busy in praying to Allah because during this bountiful month, Allah is readily answering prayers of His followers and forgiving those who seek forgiveness. So pray, pray and pray!
Give Charity to the Needy
These are hard times for the world and the number of people who need our help are a lot more. This is a good time to practice generosity and give out charity. The lockdown situation has affected many and these affectees rightfully deserve your Zakat and Sadqa this year! Online donations with Daraz can help you with this.
Help Out at Home
This year, lets not make the ladies of the family get spent in the kitchen for filling up the iftar table. Try to keep it simple and simple or not, you're at home too, so you should help them out as well! Not only will it give the ladies more time for their ibadah as well, you'll also earn sawab for helping them!
Feed the Hungry Stray Animals
With most people spending time in isolation, a lot of the poor stray animals are going hungry. Practice kindness and show these poor animals some mercy. Put out food and water for them – it's hot and without food or water, they could meet the end of their fate sooner than necessary. All they need is a little kindness from you, and God will reward you for this as well.
Want to donate online to those in need? Check out Daraz Ramadan initiatives. You can donate to authentic NGOs, buy rashan packages to donate and more!
Ramadan is a month of blessings. So let's get together to find our better selves in this blessed and bountiful time.
RAMADAN KAREEM!