GEPCO Duplicate Bill 2021 – How To Check GEPCO Duplicate Bill Online
Find How To Check GEPCO The Duplicate Bill in 2021 And Find How To Download The GEPCO Bill Online With Ease!
Gujranwala Electric Power Company Limited (GEPCO) is Gujranwala's leading company that distributes power to Gujranwala and its districts which includes Sialkot, Gujrat, Mandi Bahauddin, Narowal as well. GEPCO provides uses with electricity and power through to gi With GEPCO Bill, the Gujranwala Electric Company allows its users to stay upto date with the billing date and provides users and choose methods to pay their electricity bills with convenience.
Not paying your electricity bill on time can lead to penalties and fines. If in case you have misplaced your GEPCO bill and the due date is nearing then worry not, with the GEPCO duplicate bill you can easily make a copy of your GEPCO bill so you can pay the bill on time and with ease at GEPCO bill installment facility and duplication bill accessibility.
So, don't worry about heading to the GEPCO office to get your duplicate bill as now you can easily download GEPCO bill duplicate copy online. Here's how!
How to Download GEPCO Duplicate Bill Online – GEPCO Duplicate Bill Online check(2021 Update)
If you're looking for ways to download your GEPCO duplicate bill online then you can follow these easy steps to download and check the duplicate bill.
1. Head over to the website of Gujranwala Electric Power company http://www.gepco.com.pk
2. Browse to "Customer Service" tab and click on "Duplicate Bill"
3. After clicking on the "duplicate bill" option you will be redirected to a new website where you have to enter your 14 digit reference number. You can find your Reference Bill on any copy of your Bill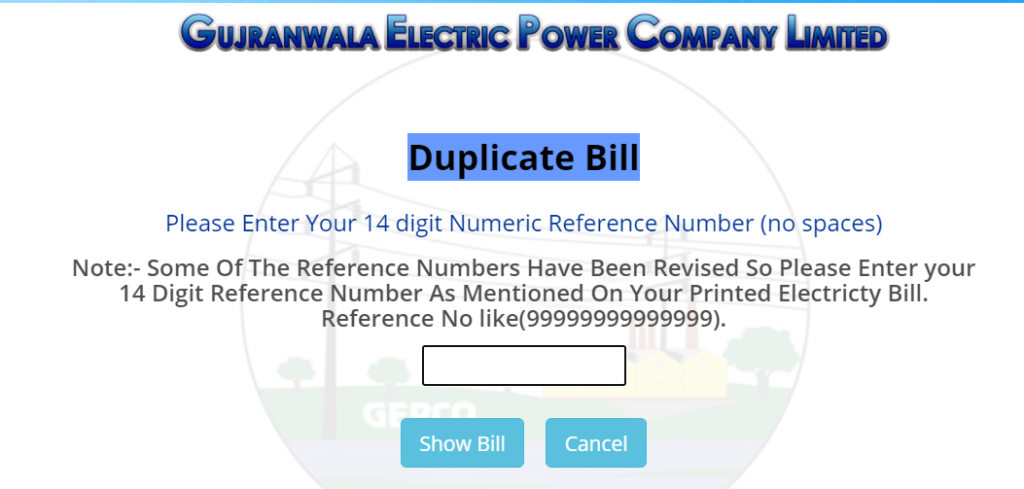 4. After you have entered the reference number, click on Show Bill after which you can reprint on download the GEPCO duplicate bill.
You can now head over to the near GEPCO office, post office or commercial bank brand and and pay your bill on time.
---
How to Check GEPCO Bill Online?
You can also check your GEPCO bill online with your reference number
What's GEPCO Helpline and Complaint Number?
You can contact GEPCO helpline or number or complaint number which is: 055-9200545
What is the GEPCO Load Shedding Shedule?
GEPCO Loadshedding schedule is available on the GEPCO online official website and be checked from their Customer Services tab.
Skip the line and pay electricity bills online with Daraz through dBills!

How to Pay Your Bills with dBills
Also Read:
How To Check LESCO Duplicate Bill Online | How To Check K-Electric Duplicate Bill Online