SSGC Duplicate Bill 2021 – How To Check SSGC Duplicate Bill Online
Don't know how to check SSGC duplicate bill 2021? Here's a complete guide on how to to a SSGC duplicate bill online check!
How do I download my SSGC bill?
To download your SSGC duplicate bill, follow these steps:
First find the old bill of the connection you want. If you can't find it, then get the 10-digit reference number to customer number. Once you have that, click on the link given below and then enter your reference number in the box given there.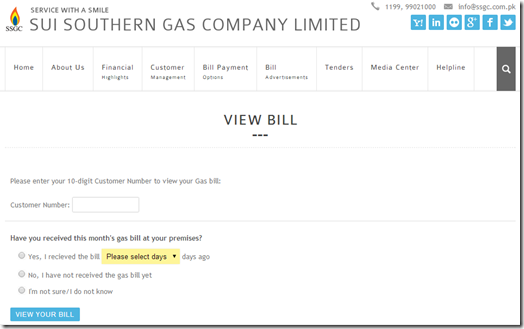 Once you've filled in the customer number, then select one of the given three options that's correct. Here are the options you'll need to select from while you're SSGC duplicate bill online check.
Yes, I received the Current Bill.
No, I have not received the gas bill yet.
I don't know or I am not sure.
Now make the most of dBills by Daraz! dBills offers a convenient way of paying your bills on time. Now pay your Utility Bills with Daraz from the comfort of your seat!
Read: How to Pay Your Bills with dBills
How can I view my SSGC bill online?
SSGC Duplicate Bill Online Check
To view your SSDC duplicate bill 2021, follow the steps mentioned above. Once you've selected the correct option, click the 'view your bill' button. When your bill opens up, click on the print option to download the SSGC duplicate bill on to your device.
Where can I get my SSGC consumer number?
To find the SSGC consumer number, look into your gas bill. The SSGC consumer number is a unique 10-digit user number that is assigned to every customer when they get their Sui Gas connection by SSGCL.
What is GSD in SSGC?
GSD in SSGC is a Gas Security Deposit that the customers pay to SSGC which is equal to an estimated consumption of natural gas up to 3 months. The GSD in SSGC is applied on the execution of the supply gas contract which provides security to the gas company in case the customer defaults.
What is additional GSD charges in gas bill?
The GSD charges in gas bill, as mentioned before, is equal to an estimate of 3 months' average gas consumption bill.
---
Also read: LESCO Duplicate Bill 2021 | KE Duplicate Bill 2021| HESCO Duplicate Bill