Are you excited for Daraz Pakistan Day sale and deals 2021? Well, we are too!
As we come closer to the Pakistan day, we are reminded of how our country came to be and how we came to become a resilient nation. A day of such great value should be celebrated and we at Daraz always find a way to celebrate the 23rd of December with you.
With the Daraz PK Sale 2021 deals coming right up, you're going to love all that this sale will bring! And don't worry, we're here to help you make the most of Pakistan Day 2021.
Daraz PK Day Sale 2021 FAQs
What is the PK day sale on Daraz PK?
Daraz PK day sale is one of the biggest daraz sale of the year. It's the first big Daraz sale of 2021 which will bring you exclusive flash sales, daraz deals and discounts.
When is the Daraz PK Day sale 2021?
The Daraz Pakistan Day sale 2021 deals will be from 17th March to 23rd March 2021. However, the teasing deals have already gone live from the 10th of March.
What are the Daraz PK Day sale 2021 deals with price?
Daraz 1 Rupee Game
Daraz Mission Pakistan
Daraz Brand Discounts
Daraz Cashback
Daraz Mystery Boxes
Daraz Flash Sales
Daraz Mega Deals
Daraz Mega Vouchers

… And much more!
How to Make the Most of Daraz PK Sale 2021 Deals?
Start with the your Daraz App Download
With the Daraz App, you can get access to over 8 million deals anytime and anywhere! Not to mention, push features on the app will notify you of all the Pakistan day sale 2021 deals on Daraz! Learn more about the perks of the Daraz App here.
Add to Cart for Pakistan Day Sale 2021
The first thing that you should do is ready your carts as soon as possible. Browse the products and find those marked with a PK DAY label, and add your picks to the cart. This will save you time that you would waste on making the cart when the Pakistan Day sale and deals go live!
Check Out the Pakistan Day Mega Deals 2021
Check out the Pakistan Day mega deals 2021 right now! Add to cart now, and prepare in advance for the PK Day sale 2021 on Daraz!
Some of the major categories that you can expect to find amazing Pakistan Day sale and deals 2021 on are electronics, fashion & beauty, home & lifestyle, groceries, and a lot more!
Avail the 10% Daraz Cashback Offer 2021
The Pakistan Day sale and deals 2021 also bring to you 10% cashback deals that lets you save for products many products. What's more? Daraz Pakistan Day Cashback Offer of10% has no minimum cart value!
How to use Daraz Cashback offer?
To use Daraz cashback:
Visit the 10% Cashback banner on the Daraz homepage.
Type "cashback" in the search bar.
Look for the Daraz 10% cashback sticker when you browse for products.
Don't Miss the Exclusive Promotions with Our Brand Partners and Co-Sponsors 2021
Add to cart your favorite picks from our brand partners. They're coming up with amazing deals and discounts that you can grab during the Pakistan Day Sale 2021!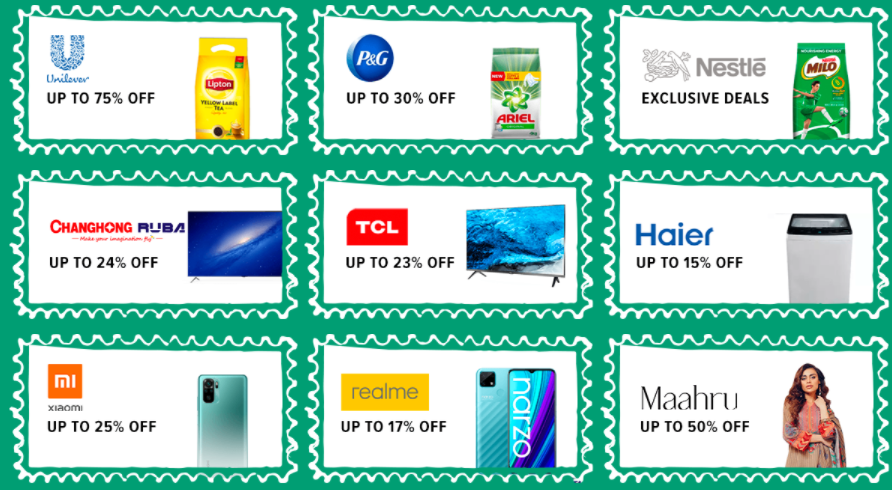 Get a Chance to Win iPhone 12 with Daraz
With the PK Day sale and deals 2021, you'll get the chance to win iPhone 12 through a lucky draw! All you've to do is shop for at least Rs. 2000 and you'll automatically enter the lucky draw!
The more you shop, the greater your chance to win!
Win Exciting Daraz Vouchers and Gifts with Daraz Games

During the Pakistan Day sale 2021, you can play various games to win. Here are some of the games you should know about:
Daraz One Rupee Game for Pakistan Day 2021
Only valid on specific days, this game gives you the chance to win amazing products.

How to play 1 rupee on Daraz?
To play one rupee game on Daraz, all you've to do is choose one of the listed products on the given day and pay only 1 Rupee from your Daraz Wallet for a chance to win big! You can only participate once per day.

And there's more! On popular demand, we're bringing back the chance to win Toyota Yaris from 17th March!

Mission Pakistan for Pakistan Day 2021
With this game, you get to win free wallet money, bikes, smartphones and many more exciting prizes!

How to play Daraz Mission Pakistan?
To play Mission Pakistan, just login to your Daraz App and start your mission. Enter your Daraz email address to keep track of your mission progress. The game is simple – complete the mission and win free gifts, vouchers for Daraz, and more!
Shake Shake for Pakistan Day 2021
The good old shake shake Daraz! We all know how this one goes, right! No?

How to play Daraz shake shake?
Check the shake shake slots in advance and login before the time slot. Shake your phone when Daz appears on the homepage and you'll win a reward! How simple!
Don't Forget About the Collectible Vouchers for Pakistan Day 2021
Collectible vouchers are vouchers that you can collect from different places – products pages, campaign page and more. Once you've collected the voucher, it'll be automatically applied at checkout wherever applicable.
Yes, you no longer have to worry about forgetting to apply your Daraz Pakistan Day vouchers! We will do it for you!
Grab the Daraz Flash Sales on PK Day Sale 2021
What is Daraz flash sale? It's a simple, time-bound sale that'll give you the chance to avail some amazing deals and discounts on different categories that will go live for 3 hours everyday!
Don't Miss Out on Daraz Bank Promotions 2021

Daraz offers bank discounts on various cards of various bank partners like HBL, Faysal Bank, Askari Bank, Allied Bank, Silkbank and MCB. So make sure your cards are activated for Daraz Pakistan Day Sale 2021 to avail the extra discount!
---
Now that you're all ready to make the most of 23rd March Sale in Pakistan on Daraz, head over to your app and start shopping now!