Spotify price in Pakistan. How to download spotify app in Pakistan. Spotify packages.
Everything to Know About Using Spotify in Pakistan!
Music lovers rejoice! Spotify download is now available in Pakistan! Spotify Pakistan was made available recently and has since become everyone's favorite place to go for their daily music dose.
From local artists to your favorite Bollywood movie tracks to artists all around the world – Spotify offers you the chance to stream music for free on the go!
If you have questions about the app, we're here to clarify them. Find all the answers below!
Is Spotify available in Pakistan?
Yes Spotify is available in Pakistan. The release date of Spotify Pakistan was 24th Feburary 2021.
How can I listen to Spotify in Pakistan?
You can listen to Spotify in Pakistan by downloading the Spotify app and signing up through your email ID, Facebook ID or Apple ID. You can also listen to Spotify by using their website.
Is Spotify free now?
Yes, Spotify is free in Pakistan. There is no spotify Pakistan price fee. You just need to sign in with either a Spotify account, Apple ID, Gmail ID or Facebook ID.
Is Spotify legal?
Yes, spotify is completely legal in Pakistan! You can download the app and listen to all your favorite songs and artists completely free of cost!
Spotify Pakistan Packages Price
There are six different Spotify packages in Pakistan. Spotify premium package price starts at Rs. 149/month. You can choose from Spotify free, Premium Individual, Premium Student, Premium Duo, Premium Family, and Premium prepaid. The prices for each are given below.
Spotify Premium Individual Package Price is Rs. 299/month after the initial offer period. With this plan, you will be able to listen music ad-free, play music offline, and have on demand playback.
Spotify Premium Duo Package Price is Rs. 399/month after initial offer period. You can add 2 accounts on this package and enjoy ad-free music, personalized suggestions for both users, and on demand playback.
Spotify Premium Family Package Price is 479/month after initial offer period. You can add up to 6 members on this plan and enjoy the same features as other premium plans with the addition of the ability to block explicit music.
Spotify Premium Student Package Price is Rs.149/month after initial offer period. This premium plan offers a discount for eligible students in university and allows them to enjoy the same benefits that other premium plan members enjoy.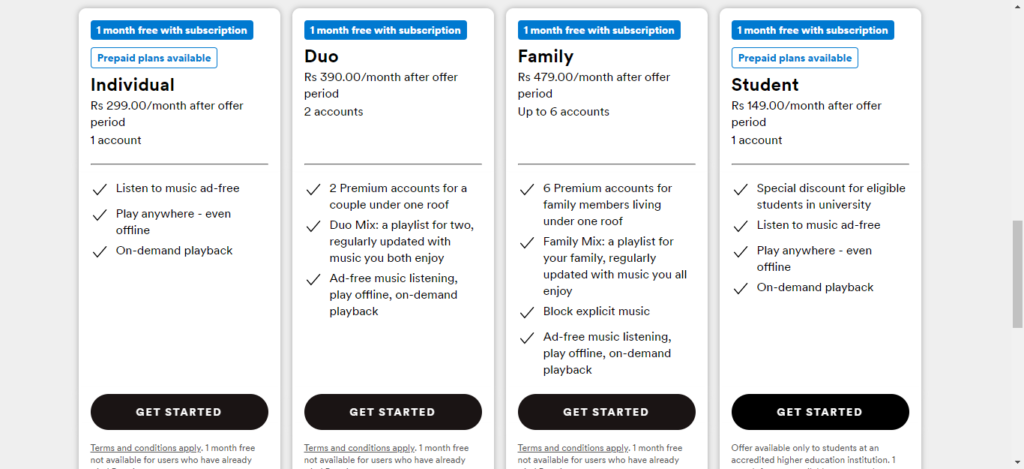 How can I use Spotify in Pakistan?
Using spotify in Pakistan is easy just download the app or open their website. Log in with your account, select your favorite artists and enjoy customized playlists with all your favorite artists and albums!
Are there Spotify alternatives in Pakistan?
Soundcloud, Patari, Savaan, and Youtube, are all alternatives to Spotify in Pakistan. You can stream music through these platforms as well.
Want to make the best of your music listening experience? Here are a few blogs you might be interested in!
How to Buy Headphones: A Guide for Beginners
Are AirPods Worth All the Money?
Audionic Products You DONT Want To Miss on Daraz!
Unique Speakers You Won't Believe Actually Work