Style Meets Simplicity: The Perfect Accessories to Jazz Up a Simple Outfit
Style is all about pairing the right dress with the right accessories. The perfect accessories will make a dress 'pop' like nothing else. With Ramadan upon us, we can already foresee all those iftar parties and Ramadan gatherings; and we want to be prepared for that!
Ramadan is a month of peace, tranquility and spirituality – it's the month of finding God. Considering the vibe of Ramadan being so surreal, your outfit for iftar gatherings should also match that feel. And we think that we could really help you figure out the kind of look you should choose for Ramadan gatherings.
For Ramadan, we recommend that you go for a subtle look – a simpler outfit embellished with the right jewelry, and you're golden! Let's take a looksee at some of these outfits that we think would be just perfect for Ramadan!
---
This crimson and black Maahru dress is just the right amount of color and design. It's a printed lawn suit that you can get stitched however you want. But don't let the simplicity of the dress fool you. With just the right kind of bling, this dress will shine like a star!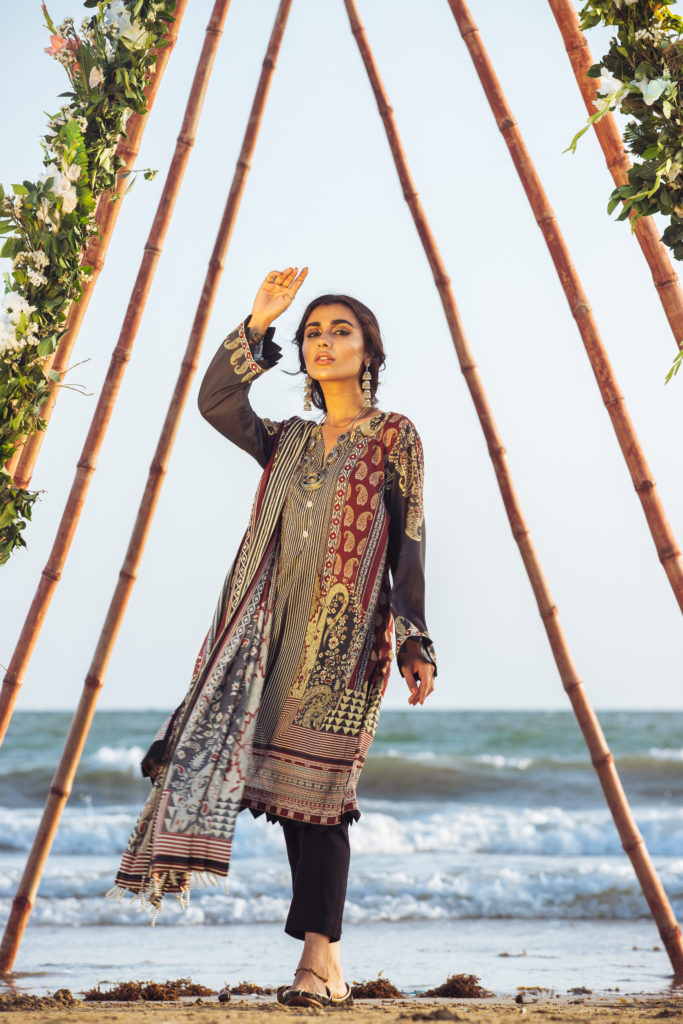 Pair this Maahru outfit with a visible pair of silver jhumkis. We recommend that you go for either long ones or slightly large round ones. This would add character to your entire look, giving your dress just the right amount of oomph!
---
Summers is a season of colors. And Ramadan is a time of modesty. Combine the two and you get this design right here! This dress is a combination of colors that are not too flashy with just a hint of contrasting color that gives this outfit the traits that make it beautiful!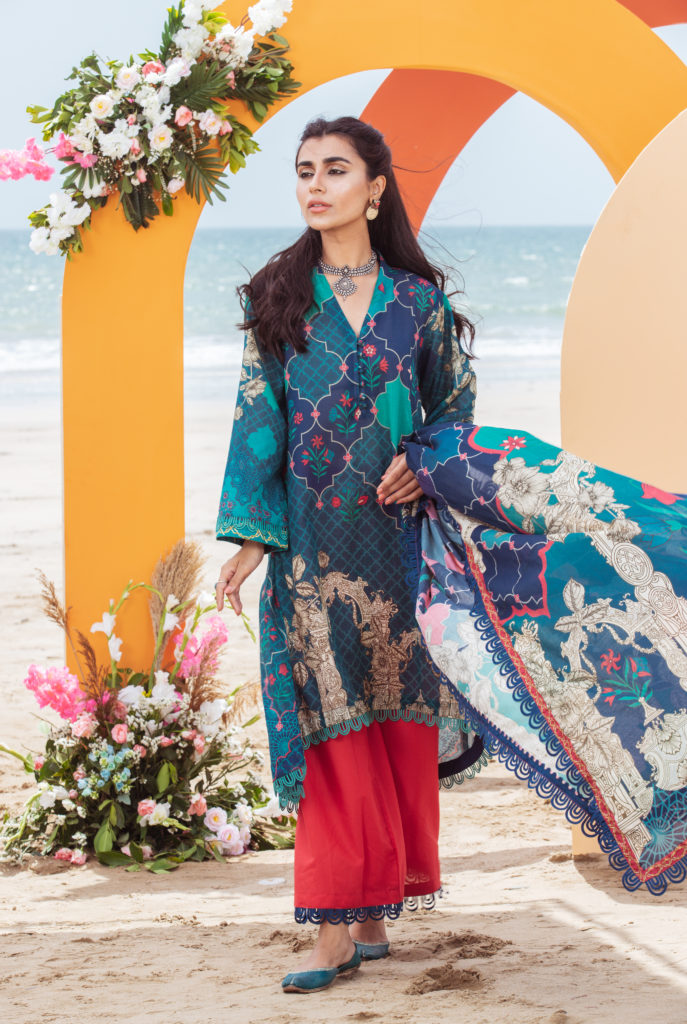 This colorful dress doesn't need more of a colorful splash. What it needs is just pazzaz! And we add that with some matching round jhumkis that'll add dimension to your face. And for the next, we just need a spread out traditional Afghani choker to fill your neckline.
---
Dark colors are meant for evening parties; and this dress is exactly that! It's a beautiful tone of emerald green with a splash of color here and there. What you need to jazz up this outfit is a perfect combination of accessories that light up the look without taking away the spotlight from the dress!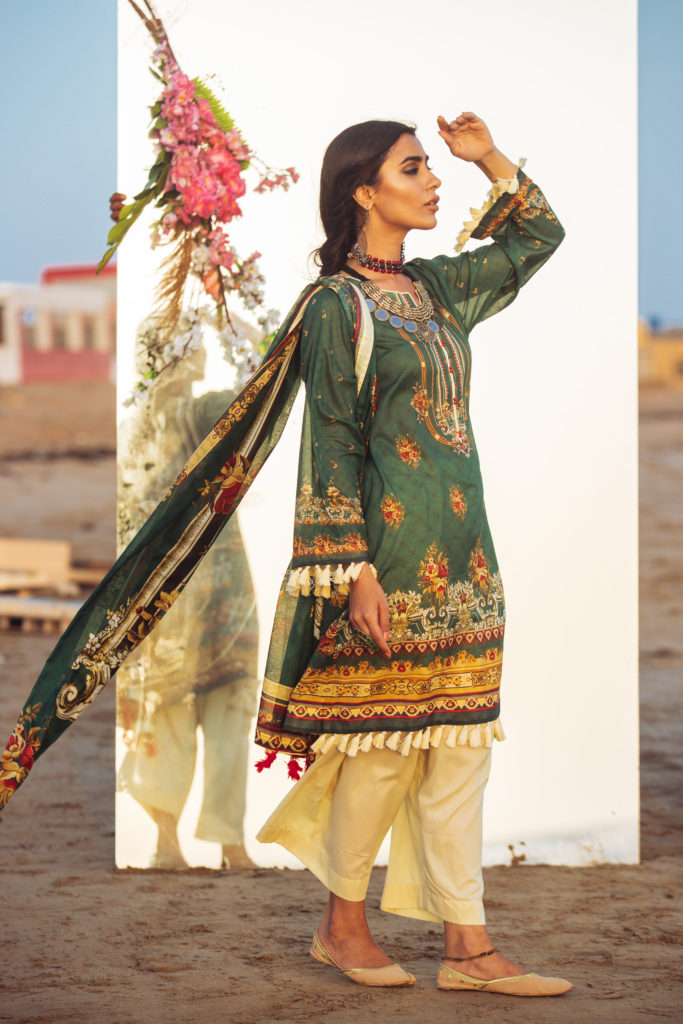 A small set of jhumkis and the traditional Afghani anklets would be perfect for this. You want to keep these two pieces of jewelry subtle so that you can draw the attention towards your neckline with a beautiful and bold-colored neckpiece. This way, all the embellishment is evenly distributed, giving every detail of your dress the attention it deserves!
---
This dress just goes with the feel of Ramadan. It's got a light color base with the right amount of color and design. The floral patterns, running vertically across the shirt, embellish the dress well enough. So, you don't really need a lot of jewelry for this one. All you need to do is find the balance between too much jewelry and too less!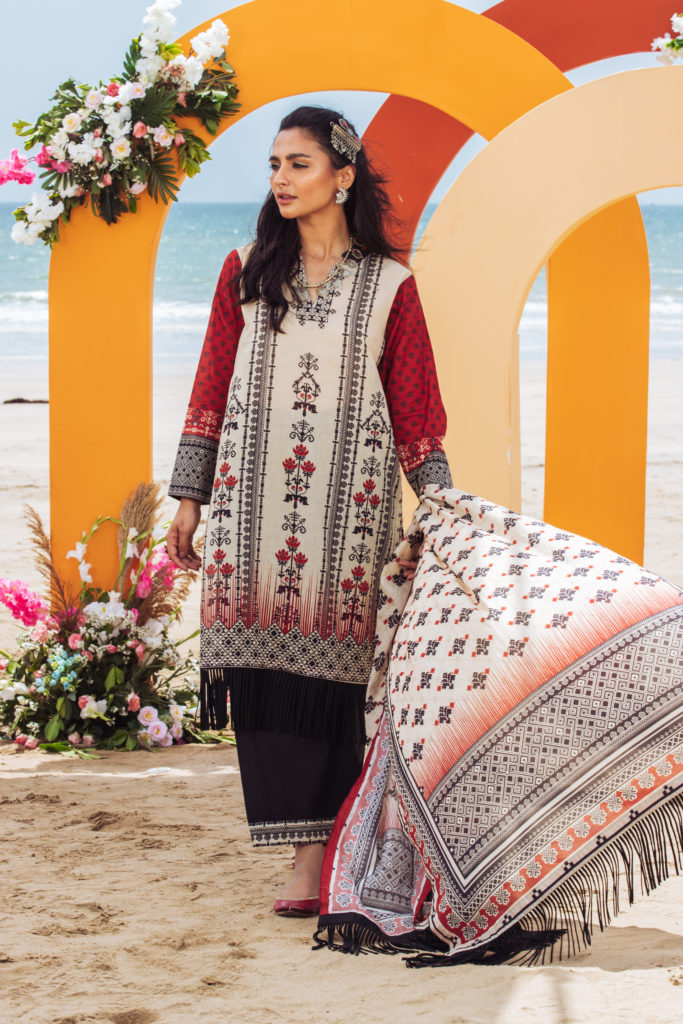 Give personality to this dress with a colorful matha patti. Pick a pair of small jhumkis because you still want the headpiece to be main highlight jewelry. These two pieces of accesories is all you need to give this look the ultimate oomph!
---
Here are some more accessories to interchangeably pair up with your monotone outfits!
You might also be interested in checking out: Maria B. Sale 2021 Top Picks | Maria B Eid Collection for 2021