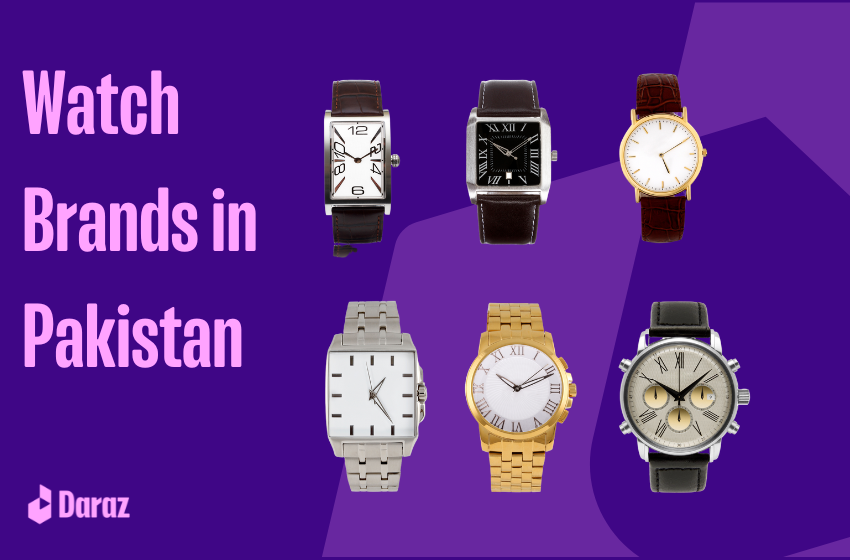 Top 10 Watch Brands in Pakistan 2023 (Updated)
Are you looking for the top watch brands in Pakistan? Look no further! We have put together a list of the top 10 watch brands in Pakistan to make sure you get the perfect one for your needs.
Now that there are so many high-end and unique watch brands, the watch in Pakistan is both a way to show who you are and a cool accessory. In Pakistan, watches have taken on a status symbol status thanks to their exclusive array of styles, brilliant yet classy colors, and smart designs.
So, read on to find out which watch brands you should be adding to your overall look in 2023.
Here are the Top 10 Watch Brands in Pakistan
Brands
1. Rolex
2. Rado
3. Audemars Piguet
4. Citizen
5. Hublot
6. TAG HEUER
7. Bulova
8. Seiko
9. Omega
10. Longines
1. Rolex
Rolex is recognized as one of the leading watchmakers in the world, since its inception in 1905. The Swiss brand is renowned as one of the best watch brands in Pakistan for its stylish and reliable watches with the distinctive crown logo, which has become a status symbol of luxury, sophistication, and success. Their workmanship and attention to detail are unrivaled, with every watch being crafted with the highest standards of precision and quality.
With their signature models, like the Datejust and the Submariner, Rolex holds a prestigious reputation among watch collectors and enthusiasts around the globe. It's no wonder that their watches are among the most sought-after and highly sought-after timepieces in the world.
2. Rado
Rado is an internationally-renowned brand in luxury watches, and it is most recognized for its top-notch craftsmanship and reliable designs. This is one the best watches brands in Pakistan that has a selection of superior-quality watches, made with both classic style and modern flair, which have gained them a highly-esteemed reputation in the watchmaking industry.
Rado watches are designed with function and fashion in mind. With one of these watches on your wrist, you'll not only be wearing the highest quality Swiss materials, but you'll also be benefitting from the engineering processes befitting a luxury brand. Rado watches are built to last and look beautiful, ensuring you're always confidently making a statement.
3. Audemars Piguet
Audemars Piguet is one of the top luxury watchmakers in the world and is highly sought after by watch aficionados. From its founding in 1875, Audemars Piguet has become known for its exquisite design, impeccable engineering, and meticulous craftsmanship. Audemars Piguet watches have an iconic look and a unique brand identity that make them perfect for any luxury watch collector.
The prestige of owning an Audemars Piguet watch is shared in Pakistan as well. The demand for these watches has allowed for there to be an expanding network of authorized retailers across the country. People find these watches to be a symbol of royalty and opulence, making them the perfect addition to any luxury watch collection and one of the best watches brand in Pakistan.
4. Citizen
Citizen have established a reputation for being reliable, high-quality watches. They're the choice of many people for both their daily activities and special occasions. From sporty designs to classic elegance, Citizen has a style to suit every taste.
The design of Citizen watches is contemporary, yet timeless. The sophisticated feel of these watches offers a perfect balance of traditional and modern aesthetics.
From analog and digital displays to multi-function chronographs, Citizen offers watches for every need. Their watches also offer a variety of useful functions such as alarm functions, world time, and self-charging capabilities.
Citizen watches are the perfect combination of form and function. They're designed to fit any lifestyle while providing reliable timekeeping. It's no wonder why Citizen watches are so popular and the top 10 watch brands in Pakistan.
5. Hublot
Whether you're looking for a classic, minimalist timepiece or a show-stopping statement piece, Hublot is the perfect choice as it is one best watch brands in Pakistan. The level of craftsmanship and attention to detail that goes into each one of their unique creations is truly unmatched in the luxury timepiece market.
The materials used in every watch are of the highest quality, from composites like carbon graphite to 18-carat gold. Each watch is hand-crafted with unparalleled precision and precision engineering.
The brand is known for its relentless innovation and its limited-edition models that have become iconic collector's items. With Hublot, you can be sure you're getting the best quality product with timeless, classic style.
6. TAG HEUER
TAG HEUER has been producing some of the most iconic and timeless watches for over 150 years. They are renowned for their uncompromising commitment to craftsmanship, quality, and precision. The watches are a status symbol among many people around the world, with Pakistan being no exception. It is the most-bought watch in Pakistan and is considered to be the top 10 watch brands in Pakistan.
Their collection of sophisticated timepieces ranges from sporty chronographs to elegant dress watches. Not only are they made from the best materials and high-quality components, but they are also designed to be waterproof, scratch-resistant, and long-lasting.
Each watch is crafted with great attention to detail and finished with a precise eye for quality. The wide range of features available further enhances the appeal of Tag Heuer watches.
7. Bulova
Bulova is one of the best watch brands in Pakistan. It is admired for providing great quality products at affordable prices. Customers are drawn to the brand for its reliability, style, and affordability.
Bulova watches have a long-standing reputation for being reliable, high-quality timepieces. From classic designs to more modern, stylish models, Bulova has something for every taste and style.
The brand offers a range of watches to suit all budgets, whether you're looking for a gift or a new addition to your own wardrobe. What's more, you can often find discounts and sales when shopping for a Bulova watch, making it an even better value for your money.
8. Seiko
Seiko has become a byword for quality, reliability, and classic style. Their watches have a timeless yet contemporary appeal, and the quality of their products speaks for itself making it the best watches brand in Pakistan. Their dedication to excellence is one of the main reasons why Seiko watches are renowned all over the world. They prioritize customer satisfaction, and their goal is always to provide authentically crafted pieces that are built to last.
Seiko has plenty of reasons to be proud of their long legacy. From classic and casual to sporty and sophisticated, no other brand exudes an aura of timeless sophistication like Seiko. Their attention to detail, superior craftsmanship, and love of quality are just a few of the reasons why so many men and women prefer the Seiko brand.
9. Omega
Omega is a globally renowned watch company that has long been known for its superior craftsmanship. They manufacture both men's and women's watches, their women's selection having become especially famous. People who wear Omega watches have long been viewed as sophisticated and stylish, and the intricate craftsmanship that goes into the making of each watch makes them truly timeless pieces.
Whether you are looking for a casual watch or something more formal, Omega is sure to have a watch that fits your style and personality. Whether you are looking for a gift or something for yourself, Omega watches have those extra-special features that make them stand out from the crowd.
An Omega watch is an exquisite piece of craftsmanship, one that you can hand down to the next generation of your family or proudly display in your collection.
10. Longines
This brand is a leader among female watchmakers and is renowned for never compromising on the quality of its products. They are always ready with fresh and stylish designs that can make even a casual wardrobe feel luxurious.
It is one the best watches brand in Pakistan that is prized for offering a range of styles, from classic to contemporary. Each piece combines different materials and functions like water resistance and comes in a wide array of colors and shapes. Whether you're looking for a fashionable accessory for a special occasion or a reliable watch for everyday use, this brand has something for you.
Their watches are designed to seamlessly integrate with any woman's wardrobe, making the wearer feel confident and stylish.
Conclusion
Branded watches are great accessories that may give your outfits a touch of class. In Pakistan, you may get watches in a wide range of designs, from casual to formal. Before purchasing a watch, you must first select the appropriate brand. The best features and advantages are available to you when you choose the proper brand. Prior to making a purchase, you must investigate the model once you have chosen the best brand. The perks and characteristics of the model you wish to purchase must also be considered. If you want to buy a branded watch, this post has shown you the top ten watch brands in Pakistan.
Also Read: Women Shirts | Best Men Sandals in Pakistan | 15 Best Men Perfume | Best Duvet Price in Pakistan | The Ordinary Glycolic Acid | Best Hand Cream | Best Whitening Cream | Best Glow Serum | Hand and Foot Whitening Cream | Best Cleanser in Pakistan | Best Retinol Cream | Best Acne Soap | Best Jacket Brands in Pakistan | The Ordinary Peeling Solution