5 Best Cookware Brands in Pakistan
Cooking at home becomes a hassle when you don't have the right kitchen appliances. And cooking without the right cookware is a recipe for disaster itself.
Cookwares are essential cooking equipment, which include a fry pan, saute pan, wok, tapered sauce pan, straight sided sauce pan, brazier, sauce pot, stock pot and a paella pan. If you are looking for a diverse set of cooking utensils and the Best Cookware Brands in Pakistan, you can easily find them all here.
Are you looking for the right cookware for your kitchen? To save you from all the fuss, we have got you covered with a list of 5 best cookware brands in Pakistan with price and pictures.
[Also Read: Best Kitchen Gadgets in Pakistan]
5 Best Cookware Brands in Pakistan
Sonex – Rs, 15,599

Prestige – starts from Rs, 6799

Cambridge Appliance – Rs, 8610

Klassic Kitchen Ware – Rs, 12,600

Chef Non-Stick Cookware – starts from Rs, 7999
Cookware Brands in Pakistan Reviews

1. Sonex Cookware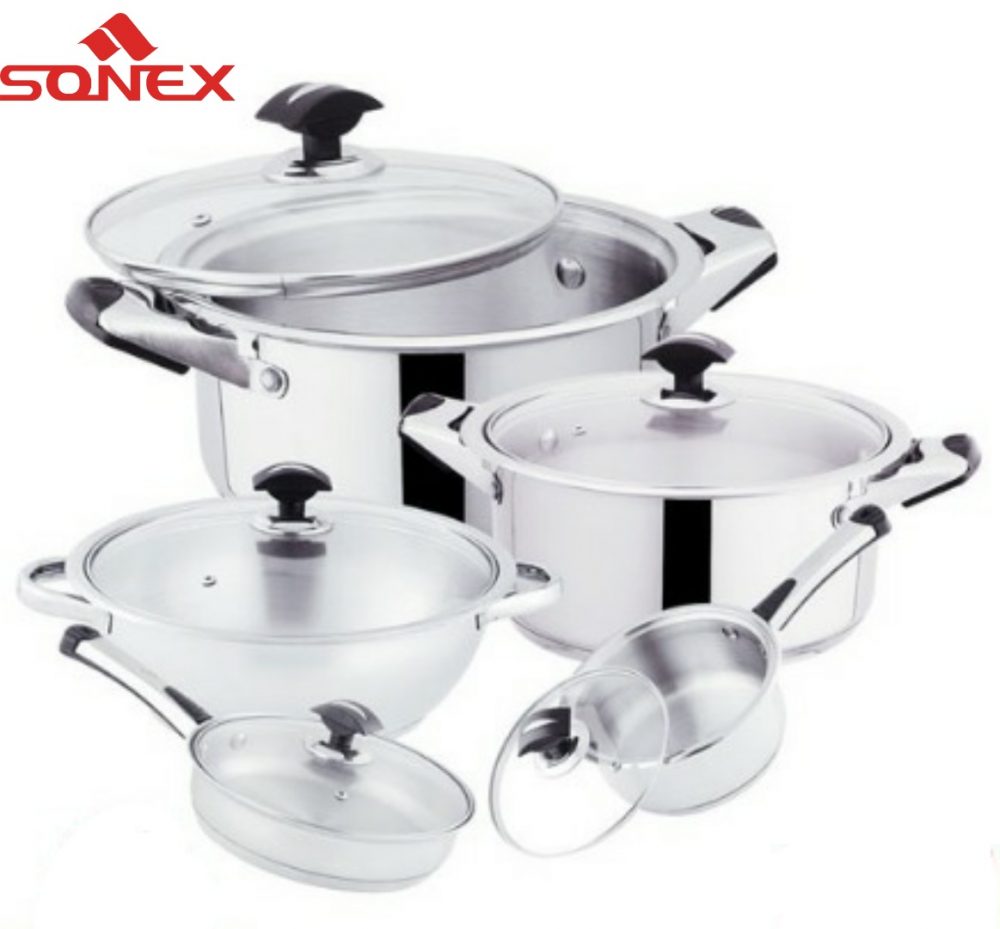 Sonex Non Stick Cookware is among the best non-sticking cook ware in Pakistan with its premium quality utensils. Domestically produced, these cooking pots are designed carefully to make your cooking experience easier. It usually comes in 4 sizes made from high quality material that lasts longer.
2. Prestige Cookware
Prestige Cookware is the best non sticking cookware in Pakistan. Cooking in a non sticking pan can be risky for your health. Worry not, Prestige cookware is PFOA free and is completely safe to use.
3. Cambridge Appliance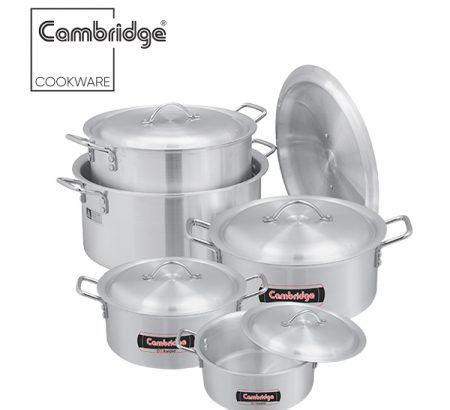 Cambridge Cookware has an aluminium coating which is a highly conductive material and makes cooking more fuel efficient. With Cambridge cookware set you can cook faster and easier! It also has the best stainless steel cookware in Pakistan.
4. Klassic Kitchen Ware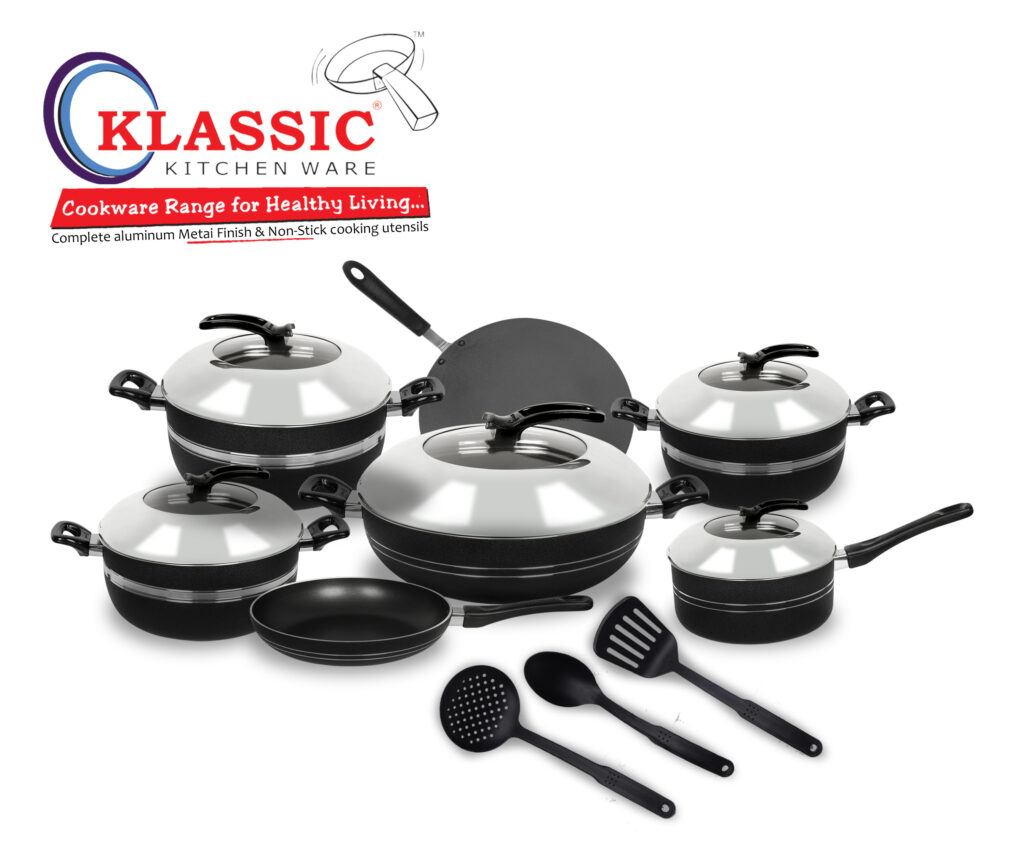 Klassic Kitchenware has a heavy wirdford which makes it easier and healthier to cook. It has heavy insulated handles that are easier to hold. It provides cheap cookware in Pakistan at the most superior quality.
5. Chef Non-Stick Cookware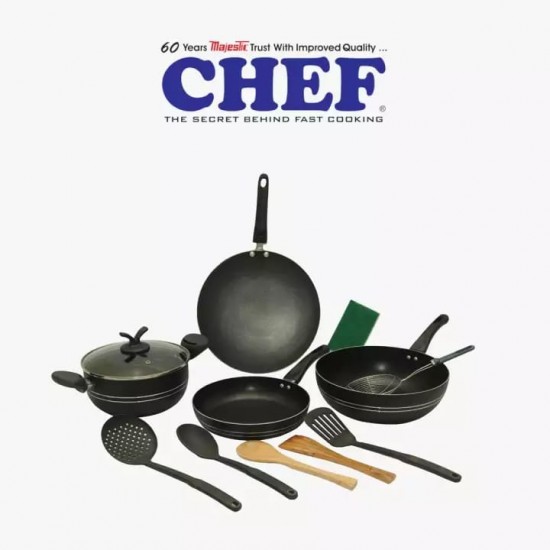 Chef Non-Stick Cookware are the available in high quality non-sticking utensils. You can buy easy to use, safer to cook and light weighted cookware from Chef for an exceptional cooking experience.
Types of Cookware in Pakistan
Stainless Steel Cookware
Stainless Steel cooking utensils are best for browning the ingredients. They are usually uncoated which makes them last long and protected from wear and tear.
Non-Stick Surfaces Cookware
Non-Sticking cooking pans are the most useful in not letting the food shrink. However, non sticking cookware needs to be carefully taken care of and not rubbed with harsh surfaces.
Copper Cookware
Copper is known for its conducting ability which makes it easier to cook in a copper cookware. It reduces the time you invest in cooking too!
People Also Ask
Which cookware is best for cooking in Pakistan?
With its wide range of cookware products, Prestige Cookware is the Best Cookware in Pakistan which costs around Rs, 7000.
Which is the best non-stick cookware in Pakistan?
Sonex Cookware is the best non-stick cookware in Pakistan with its premium quality non-sticking coating.
What brand of pans are best?
Sonex has the best non- sticking pans in Pakistan which are durable and easy to use.
Which is best cookware for health?
Best cookware for health are the non-sticking cookware which includes Sonex and Prestige Cookware.
[ Also Read: Best BBQ Grills in Pakistan ]