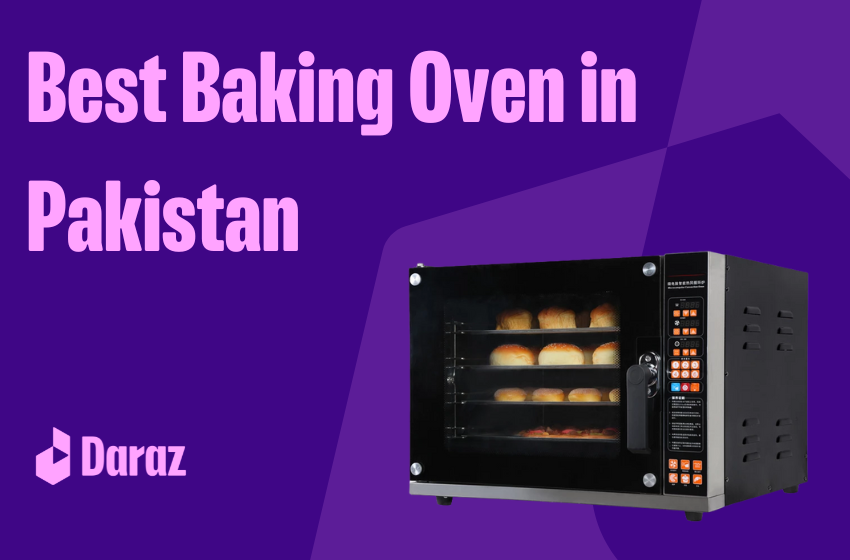 10 Best Baking Oven in Pakistan to Buy Online
Looking for the best baking oven in Pakistan? We've got you covered! In this blog post, we'll share with you our top picks for the best baking oven in Pakistan that you can buy online.
In Pakistan, there are numerous types and capacities of baking ovens. The most popular are electric and gas bake ovens with convection options.
Westpoint, Anex, and Dawlance are a few of the most popular brands; in addition to producing ovens, these companies also produce other home and kitchen appliances.
Although, Dawlance doesn't sell an oven specifically for baking, some of its microwave oven models have a convection oven.
List of Best Baking Oven in Pakistan
| | |
| --- | --- |
| Dawlance Baking Oven DW 380 C | Rs. 22,999 |
| West point Convection Rotisserie Oven with Kebab Grill WF-4800RKC | Rs. 29,100 |
| Anex 60 Ltr Electric Baking Oven AG-3079 | Rs. 24,999 |
| Fotile 25L Built-in Microwave oven 25800K-C2 | Rs.176,500 |
Go to Daraz App to Get the Best Baking Oven Price in Pakistan
Top 10 Baking Ovens in Pakistan
1) Dawlance Baking Oven DW 380 C
Dawlance is a high-end home appliance producer providing its consumers with innovative, intelligent goods for their homes for the past 40 years. For baking, defrosting, reheating, and preparing meals for big homes, the Dawlance DW 380 C is ideal.
Features
150 built-in one-touch recipes
Rotisserie rod even-heating
5 Levels of Microwave Power
Convection oven with a 38-liter capacity
Power output- 1000 w
Child lock
2) Westpoint Convection Rotisserie Oven with Kebab Grill WF-4800RKC
Westpoint Convection Rotisserie ovens are in popular every kitchen because they can be used for a range of cooking techniques and have enough room to roast a whole bird. With 2200 Watts, the oven instantly warms up and ensures the best possible cooking. This greatest rotisserie oven is sure to please any inventive cook at home with its polished stainless-steel surface and easily cleanable nonstick inside.
Features
With Rotisserie function for grilling full chicken
Oil-free rapid hot air technology
With Kebab/BBQ function for making Kebabs, Hot Dogs, and Grilling Cubed Meat
Ideal for grilling, roasting, toasting, and baking
Best convection microwave oven
2200 Watts | 220V ~ 240V – 50Hz
3) Anex 60 Ltr Electric Baking Oven AG-3079
The Anex 60 Liter Electric Baking Oven AG-3079 is a versatile appliance that can be used for baking, roasting, grilling, and toasting. With a 60-liter capacity, this convection oven is perfect for large families or entertaining guests. The stainless-steel heating element ensures even cooking, while the removable backing plate makes it easy to clean.
Features
Adjustable thermostat to set temp from 100°C to 250°C
120 minutes timer with bell
Spacious interior to defrost ready meals including rolls, pizza, sausage, cookies, rolls, and grilling.
Removable rotisserie and crumb tray
60 Liter capacity
Convection Baking Oven
Stainless steel heating element
4) Fotile 25L Built-in Microwave oven 25800K-C2
The Fotile brand is known for producing functional, creative, stylish, and family-friendly appliances. This Fotile bake oven, which is a member of the O-Series, was created by the Apple Company.
It features a built-in microwave, a defrost function, a convection fan internal light, a child lock, five micro-power levels, and Constant Temperature Technology, which evenly distributes heat for better baking results.
Features
Integrated Microwave Oven
Defrost Process
Child Lock
Technology for Constant Temperature
Internal Lighting
5 Micro Power Levels
5) Haier Baking Oven HCO610ATB
Thanks to Haier, various high-quality home appliances are now within the means of the lower and middle classes. The Haier HCO610ATB is an excellent choice for those who enjoy experimenting with food at home. A computerized control system, a convection fan, and a precise temperature control system are included. It has 70 litres capacity.
Features
Optimal temperature regulation
Electronic control
convection fan
70-liter capacity
6) Kenwood Baking Oven MOM45
With 60 years of dedication, Kenwood has created a core competency in the skills and technology required for food preparation that is unmatched.
This oven is highly versatile because of its enormous 45L capacity and capabilities to grill, toast, broil, bake, and defrost. Using the 90° to 230° temperature range and the 60-minute timer with a bell ringer, you may select the appropriate time and temperature for your next dinner.
Features
1800W power
45-liter capacity
Rotisserie and convention capability
Interior lighting
90° to 230° with a 60-minute timer
Drip Pan, Grill Rack, Crumb Tray, Rotisserie Attachment
1-year warranty
7) Samsung Stena OTR MWO with Smart Sensor
The biggest brand of electronics and gadgets in the nation is Samsung. It sells many products, including mobile phones, smart watches, washing machines, and air conditioners.
Samsung has created a triple distribution system to make sure the heat is dispersed evenly across the oven so that your pizza or cake tastes great from every aspect.
Features
32 Liters oven capacity
Clock
Eco Mode
Defrost
Child Safety Lock
Sensor Cook
8) Canon BOV-08-ESM
Canon BOV-08-ESM electric oven with Mercury glass has 8 settings for creating exquisite meals. Numerous features are provided, such as an automated shut-off timer, mechanical control, aluminum handle cover, 7 heating ways, traditional top, and bottom heating, a top oven, a fan-assisted grill, defrosting, touch glass, lighting, etc.
Features
Aluminum Handle Cover
Multipurpose oven
Front Steel Border Electric Oven
Fine Cooking
Conventional top & bottom heat
Oven ventilation system
9) Panasonic NN-ST7855
The Panasonic NN-ST7855 oven represents the pinnacle of the brand's excellence. Ten power levels, sensor reheat, three multi-stage cooking, inverter technology, and a complete LED lighting system are all features of the oven.
You may bake or cook a wide variety of meals, including bacon, poultry, seafood, cakes, muffins, vegetables, oatmeal, spaghetti, popcorn, and many more.
Features
3 multi-stage cooking
10-level power settings
Sensor reheat.
Inverter technology
1000 W High cooking power
10) WestPoint WF-5258 Oven Toaster with Air Fryer
The WestPoint WF-5258 is a versatile oven toaster that comes with an air fryer. It has an enormous capacity of 22 liters, making it great for roasting, broiling, and rotisserie. The convection oven has an interior light for ideal baking, while the pizza toaster is perfect for bread, muffins, and waffles.
Features
Enormous capacity in a 22-liter air fryer
Great for roaster, broiler, and rotisserie
For ideal baking, a 22-liter convection oven with an interior light
Pizza Toaster for bread, muffins, and waffles
Toaster for bread, muffins, and waffles
360° hot air circulation timer with an auto-shutoff ring
A programmable thermostat- 65°C – 230°C
Coating of aluminum – Baking Tray, Wire Rack, Air Fryer Basket, Turnspit Kit, Crumb Tray
Also Read: Best Kitchen Gadgets in Pakistan
Types of Ovens for Baking
There are two types of stoves that are suitable for a bakery's operation, depending on factors such as production capacity, item selection, floor space, readily available energy sources, operational efficiencies, development material maintenance requirements, and support requirements.
The majority of people in Pakistan believe that their built-in electric ovens are pricey, but the truth is that they are more affordable in terms of both money and functionality. Being Pakistanis, we typically think that using an electric oven for baking will cost much more than using a gas oven, however, this is not the case.
Even so, most of us still view gas ovens as normal in public, even though it might not always be the case. However, when compared side by side, both electric ovens really perform better in terms of productivity, functionality, and additional features since they now include built-in recipes in addition to many other things.
Conclusion
The above article suggested all the Best baking oven in Pakistan, so what are you waiting for? Go and get on Daraz App, and get the best baking oven in Pakistan Right Now!
---
Do you like our oven buying guide? Make sure to check out guides on Best Electric Stove, Best Roti Maker, and Best Cookware Brands in Pakistan!