Daraz Shadi Week Celebrate Love and Savings with!
Love is in the air, and so are incredible discounts! Daraz brings Shadi Week, the perfect blend of love, laughter, and amazing deals.
From fashion to electronics, groceries, and everything in between, Shadi Week has it all. Join us from September 18th to 27th, 2023, and have an exciting shopping journey with us.
Let the celebration begin. Check out the deals below that we have been offering this week:

Fashion
When it comes to weddings, looking your best is a top priority. Daraz Shadi Week is your one-stop destination for all things fashion. Whether you're the bride, groom, or guest, our fashion cluster offers a wide range of clothing and accessories to help you shine on the big day. With unbeatable discounts, you can create your dream wedding look without breaking the bank.
"Let's dress to impress."
Beauty
Ladies, get ready to pamper yourself during Shadi Week! Our Beauty Cluster offers exclusive deals with up to 60 percent off on a wide range of products. And here's the best part: enjoy a 2x money-back guarantee on Mall products. Plus, free shipping is available on top beauty brands, making your shopping experience even sweeter.
Shadi ka Ghar
Transform your home into a dreamy paradise with our Shadi ka Ghar cluster. Explore products with discounts of up to 50 percent off and revel in free shipping on top brands. We've got you covered whether it's elegant home décor or essential appliances.
"Your dream home awaits."
Electronics
Upgrade your home with the latest gadgets and electronics during Shadi Week. With discounts of up to 53 percent off and free shipping on top brands like iFalcon, Xiaomi, TCL, and more, it's the perfect time to bring innovation into your life. Enjoy the convenience of easy monthly installments and brand warranties, ensuring peace of mind with every purchase.
Groceries
Don't forget the essentials! Stock up on groceries with discounts of up to 60 percent off and free shipping on top brands. Our tagline says it all: "Love, laughter, and groceries for Shadi Week." You can focus on celebrating love and leave the groceries to us.
Exclusive Partnerships, Exclusive Discounts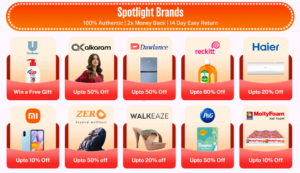 Daraz is proud to partner with leading banks and digital payment providers to bring you even more savings. Pay with Freedom and get up to 25 percent off installation plans with our digital payment partners. Here are the exclusive deals:
SCB (Sundays): Enjoy up to 10 percent off.
Zindigi (Sundays): Get up to 25 percent off.
HBL (Wednesdays): Avail of up to 10 percent off.
Askari (Saturdays): Grab up to 10 percent off.
JazzCash (starting August 14th): Enjoy up to 10 percent off.
UPI Bank Card (every day): Get up to 8 percent off.
With such fantastic discounts and exclusive partnerships, Daraz Shadi Week is the ultimate shopping event for everyone. It's the perfect opportunity to make your wedding preparations, upgrade your home, and indulge in some much-needed self-care.
So mark your calendars for September 18th to 27th, 2023, and join us for Shadi Week. Love, laughter, and savings await you at Daraz. Don't miss out on this once-in-a-lifetime shopping extravaganza. Start making your wish list now, and get ready to celebrate love with Daraz Shadi Week!
Also Read: Women Clothing Brands | Women Nightwear | Bonanza Satrangi Lawn Price | Best Grooming Products for Men | Best Men Sandals in Pakistan | Top Shoe Brands in Pakistan | 15 Best Men Perfume | Top Watch Brands in Pakistan | Best Duvet Price in Pakistan | The Ordinary Glycolic Acid