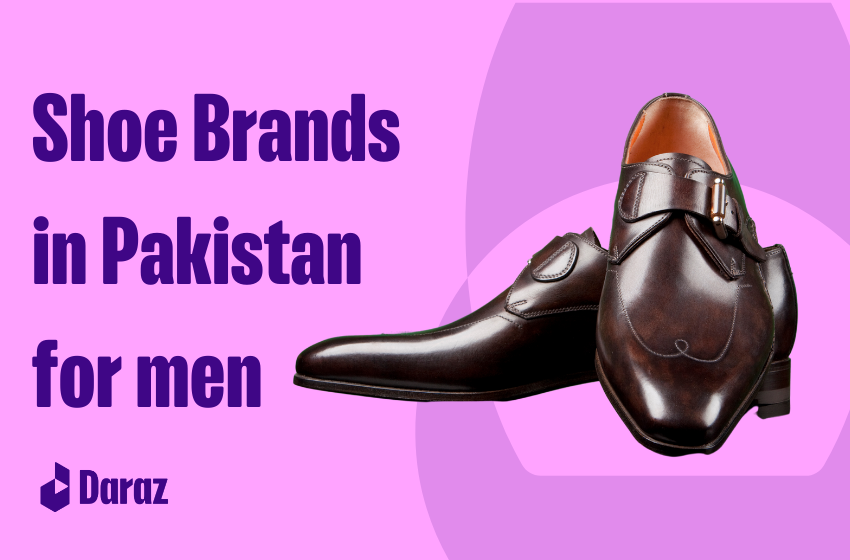 Top 10 Shoe Brands in Pakistan for men with Price 2023
Shopping for the perfect shoes for men can be tricky. With so many options, it's hard to find the best men's shoe brands in Pakistan. To make your life easier, we've put together a list of the top 10 shoes brands in Pakistan for man that offers quality, comfort, and style. Read on to discover which one is right for you!
Let's find out!
List of 10 Men Shoe Brands in Pakistan
| | |
| --- | --- |
| Brands | Price |
| Bata | Rs.5,949 |
| Adidas | Rs.19,100 |
| Stylo | Rs.2,500 |
| Ielgy | Rs.4,590 |
| Skechers | Rs.14,999 |
| Aerosoft | Rs.1,500 |
| Hush Puppies | Rs.15,999 |
| Ndure shoes | Rs.4,999 |
| Borjan Shoes | Rs.5,800 |
| Outfitters | Rs.7,990 |
1. Bata
Bata is a Swiss brand that offers footwear, apparel, and other fashion items available in stores around the world. The company is particularly popular among South Asians, and its budget-friendly products make them the top-best brand for men's shoes in Pakistan.
Bata's signature back-to-school campaign further drives up popularity with parents looking to purchase school shoes for their students. A wide range of footwear for men is also available from Bata.
2. Adidas
Adidas is well-known globally and it has a presence in Pakistan as well. Some of the world's top sports figures, such as Lionel Messi from Argentina's national football team, are known to wear Adidas shoes. Many athletes in Pakistan prefer Adidas when it comes to finding reliable sports footwear making it the best men shoe brand in Pakistan.
Although the cost of purchasing an Adidas shoe can be relatively high compared to local stores, retailers offer domestic and imported products from the brand within the country. Additionally, if you're looking for more options, some of these retailers also offer online purchases.
3. Stylo
Stylo shoes are popularly known as a women's shoe brand, but they also offer footwear for men. On the company's website, you'll find every kind of shoe—from formal to casual.
They're an affordable option in Pakistan and have a wide selection. Parents buying shoes for their boys can look into Stylo's range of men's shoes too. It is one of the best men's shoe brands in Pakistan.
4. Ielgy
IELGY is an international brand that is gaining traction in Pakistan. Their shoes are of great quality and offer a broad selection. Gents looking for trendy sneakers may find that the collection of IELGYs suits their wardrobe needs. If you appreciate fashionable clothing, explore the IELGY range to see if there might be a pair of shoes perfect for your look. It is one of the best men shoe brands in Pakistan due to its trendy sneakers and good quality.
5. Skechers
Skechers shoes are a prominent shoe brand in Pakistan. They boast quality construction and comfort that is understood as a signature of the brand. Footwear has gained immense popularity among men, earning it renown as one of the top best 10 men shoe brands in Pakistan. The wide array of sneakers Skechers offers makes them an attractive choice for those who prioritize longevity when purchasing shoes.
These products can often be found both online and in physical stores with a vast collection of sizes and styles available. If you're searching for reliable shoes, Skechers offers an option worth considering if your budget allows it.
6. Aerosoft
Aerosoft is a footwear brand in Pakistan, that produces shoes for men and women. With its vast range of options from informal to formal designs, the brand has become well-known in the country due to its comfortable and relaxed styles. It is so popular that many individuals have likely owned at least one pair of Aerosoft slippers in their lifetime.
It is one the best men shoe brands in Pakistan that not only offers high-quality products but also provides reasonable prices for its range of shoes, sandals, and moccasins.
7. Hush Puppies
Hush Puppies is an international footwear brand with a wide fan base in Pakistan. Widely available across 165 countries, the brand stays up-to-date with current trends and offers comfortable, quality men's shoes. Its collection includes modern designs and long-lasting soft materials for increased comfort when worn over extended periods of time. It is one of the best men shoe brands in Pakistan.
Prices span diverse society segments for greater affordability. Among its men's shoes, it is most renowned for its Peshawari Chappals which are popular throughout the country.
8. Ndure shoes
Ndure is a well-known and best men's shoe brand in Pakistan that offers shoes for both men and women. It carries casual chappals, moccasins, formal shoes, and many others. Customers laud the product for its high quality and durability backing customer satisfaction. The intention of Ndure has been to meet the footwear needs of those living in Pakistan through their great collection among numerous outlets.
There are countless styles, colors, and sizes available to customers wanting a specific look or something more versatile.
9. Borjan Shoes
Borjan is one of the best men shoe brands in Pakistan, ranging from under Rs. 1000 up to more premium pieces such as chappals, sneakers, and sandals. Different styles of Borjan shoes are suitable for both casual and formal wear. Additionally, they provide loafers and dress shoes which offer extra support and comfort.
The distinct design follows current trends while still remaining modern in style. These items can be found at physical stores as well as online shops.
10. Outfitters
Outfitter is a well-known apparel brand popular for its men's shoes. It offers trendy sneakers, but they may be costlier compared to other local brands. For people searching for fashionable footwear, Outfitters has some unique designs in its collection.
The shoes produced by this company bear resemblance to famous Nike Jordans and the price range starts from Rs 4,000 and can go up to Rs 10,000.
Conclusion
After reading this article, you now have a better understanding of the top 10 shoes brands in Pakistan for man. The list includes reliable and stylish options that offer quality and comfort, so you can make an informed decision when shopping for your next shoes. With these top 10 shoes brands in Pakistan for man at your disposal, you are sure to find the perfect pair for any occasion!
Also Read: Peshawari Chappal | Helmet in Pakistan | Best Men Sandals in Pakistan | 15 Best Men Perfume | Top Watch Brands in Pakistan | 10 Best Shirt Brands for men in Pakistan | Best Duvet Price in Pakistan | The Ordinary Glycolic Acid | Best Hand Cream | Best Whitening Cream | Best Glow Serum | Hand and Foot Whitening Cream | Best Cleanser in Pakistan | Best Retinol Cream | Best Acne Soap | Best Jacket Brands in Pakistan | The Ordinary Peeling Solution