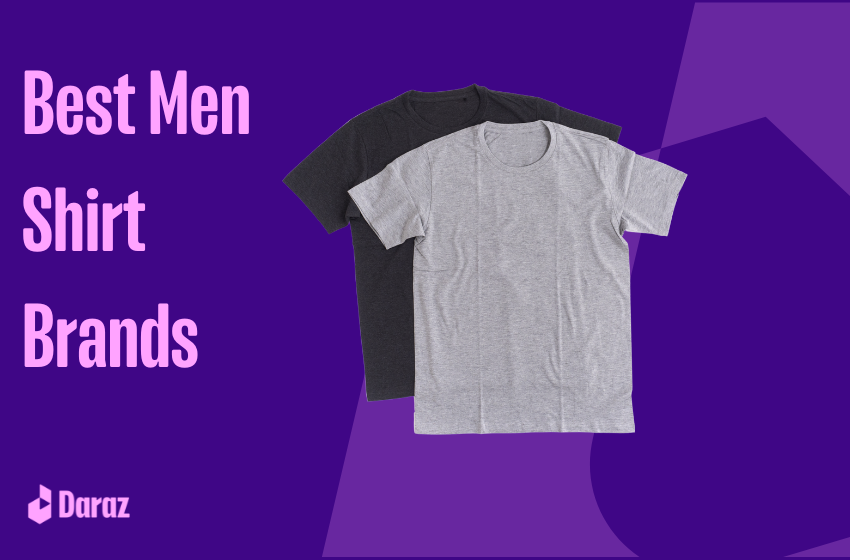 10 Best Men Shirts Brands in Pakistan (2023)
Looking for a statement shirt that can make you stand out? You have come to the right place! In this blog, we will discuss the 10 best men shirts brands in Pakistan that offer trendy, stylish, and comfortable clothing to give you a perfect look.
Whether you are looking for a casual or a formal shirt, these brands have something for everyone! So read on to find out which shirts brands you should be considering for your wardrobe.
Brands
POLO
The Gentlemen Club
Royal Tag
Levis
Breakout
Uniworth
Monark
Diners
Cotton & Cotton
Charcoal
1. POLO
Since its establishment in 1967, POLO has become a recognizable name in fashion and is renowned for its high-quality clothing and accessories. Its collection includes pieces for men, women, and children of all ages: from polo shirts to t-shirts, dress shirts to pants, sweaters to jackets – the brand provides something for everyone. With the classic preppy style and attention to detail in quality materials like cotton for their signature polo shirts, it's easy to understand why POLO remains a popular choice among shoppers who seek comfortability and versatility.
It is one the best shirt brands for men in Pakistan that has a huge selection of colors and styles that add even more personalization options, making these an ideal option for both casual outings as well as semi-formal gatherings.
2. The gentlemen club
The Gentleman Club is a well-known and best shirts brand for men in Pakistan. They offer an extensive selection of shirts for men, including hoodies and cufflinks, along with t-shirts and other types of shirts. Quality is highly regarded by the brand, as colors and designs are designed to make their formal styles stand out.
With their competitive pricing, customers can access quality garments that will add to any ensemble. The collection presented by the Gentlemen's Club offers various designs that will enhance your overall look with unique pieces tailored to every individual taste.
3. Royal Tag
Royal tag is a well-regarded brand in Pakistan that specializes in men's shirts. They offer an array of dress shirts for casual and formal occasions, combining colors and fabrics to create an attractive selection.
Quality is guaranteed, as the materials used are reliable and up-to-date with current trends. Furthermore, their range of clothing is fairly priced so customers can buy confidently without worrying about their budget. Shop now with the Royal tag today!
4. Levis
Levi's is a well-established and best shirts brand for men in Pakistan offering a broad range of clothing and accessories. It has been in the market since 1853, created by Levi Strauss who was the inventor of blue jeans. For over a century, Levi's has been producing high-quality and durable garments for men, women, and children alike. Levi's signature denim shirts are very popular among customers due to their classic yet casual style and comfortable fit.
Furthermore, these items come in several styles, colors, and washes allowing people to choose according to their individual preferences. Ultimately, Levi's reputation as a reliable source of quality apparel stands strong today.
5. Breakout
Breakout shirts have become a popular choice in recent years as it one the best shirts brands for men in Pakistan and can be found in varying colors, styles, and features. These garments are often made of breathable fabrics such as cotton or linen which make them comfortable to wear.
Certain models may include details like hoods, pockets, or drawstrings which add individual flair to the overall look. With their versatility and range of designs, breakout shirts offer an interesting option for any wardrobe and can be chosen according to personal preference.
6. Uniworth
Uniworth is a Pakistani shirts brand for men that has been around since the early 1990s and has become a leading name in men's fashion. They offer an extensive range of shirts for both casual and formal occasions, all crafted with quality materials.
Their shirts are stylishly designed, comfortable to wear, and are known for their durability – giving them the reputation of being smart investments when it comes to wardrobe additions.
7. Monark
Monark is a familiar clothing brand established in 1967, known for providing comfortable and stylish shirts. Their diverse range of styles, colors, and patterns makes it easy to find something that fits any sense of style. Monark offers an abundance of classic button-up dress shirts, casual button-downs, and trendy camp collars; perfect for going out or simply enjoying your weekend at home.
Upgrade your wardrobe with these unique designs devoid of compromising comfort for fashion. Discover Monark's collection today as it is one the best shirts brands for men in Pakistan; sure to make lasting impressions for many occasions to come.
8. Diners
Diners have a well-recognized collection of fashionable men's shirts. The brand has been met with approval in Pakistan and is praised for its stylish designs and quality materials. Their apparel often targets business persons or office-goers, but their variety of dress shirts remains popular regardless of demographic and current fashion trends. Diners are highly regarded for their clothing options, with many finding them to be up-to-date, comfortable, and easy to wear daily.
Among those searching for classy shirt options, Diners is one the best shirts brands for men in Pakistan that offer a unique range from which to choose and make an individual statement through their choice of clothing.
9. Cotton & cotton
Cotton & cotton is one of the best shirts brands for men in Pakistan that first opened its doors in 1992, founded by Mr. Syed Alam Najiullah. What started as a simple tailoring setup has grown to become an industry leader and international success story. Their line of high-quality dress shirts features attractive designs, quality materials, and reliability, all offered at competitive prices just like any other clothing brand in Pakistan.
Their collection is renowned for its unique structure and style which also demonstrate the emerging modern trends seen in the country today. Shop with confidence knowing that your purchase is backed by this brand's commitment to excellence.
10. Charcoal
The excellent and gorgeous dress shirts produced by Charcoal are well-known throughout the industry. It is one of the best shirts brands for men in Pakistan and you can discover the finest attire and accessories here for any significant events that you have coming up.
Charcoal won't let you down when it comes to the sophisticated jackets and attractive apparel that you should wear to your premium occasions.
Conclusion
Whether you're in the market for a casual or formal shirt, there is no shortage of amazing brands to choose from in Pakistan. The 10 best shirt brands for men discussed in this blog provide trendy, stylish, and comfortable clothing to give you an outstanding look. So make sure to check out these brands to find the perfect shirt for your wardrobe!
Also Read: Best Men Sandals in Pakistan | Top Shoe Brands in Pakistan | 15 Best Men Perfume | Top Watch Brands in Pakistan | Best Duvet Price in Pakistan | The Ordinary Glycolic Acid | Best Hand Cream | Best Whitening Cream | Best Glow Serum | Hand and Foot Whitening Cream | Best Cleanser in Pakistan | Best Retinol Cream | Best Acne Soap | Best Jacket Brands in Pakistan | The Ordinary Peeling Solution