10 Best Leather Jackets for Men in Pakistan with Prices
Leather jackets for men are a timeless fashion choice, and Pakistan offers a variety of quality brands to choose from. In this list, we'll highlight the 10 best brands and their price ranges.
Table of Content
Introduction
Why Every Man Needs a Leather Jacket
Factors to Consider When Buying a Leather Jacket
Top 10 Leather Jackets brands for Men in Pakistan with price ranges
Where to Buy Leather Jackets in Pakistan
Care and Maintenance Tips
FAQs
Conclusion
Why Every Man Needs a Leather Jacket
A leather jacket is a must for every man. It provides warmth in autumn evenings and adds a cool factor to your style. It's an iconic wardrobe essential, and color aside, every man should own one.
Factors to Consider When Buying a Leather Jacket
Below are the factors you can consider when buying a leather jacket:
Fit: The fit of a leather jacket is crucial. It should complement your body shape and offer comfortable movement.
Quality: Pay attention to the leather quality. Genuine leather or high-quality alternatives ensure durability and a timeless look.
Style: Choose a style that suits your personality and lifestyle, whether it's a classic biker, bomber, or a more contemporary design.
Top 10 Leather Jackets for Men in Pakistan with Price Ranges
1. Hub Leather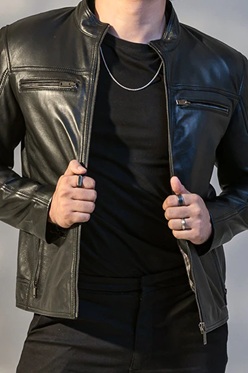 Hub Leather, founded by Mr. Farrukh Hussain Sheikh in 2001, is a leading retailer of high-end leather products and the flagship brand of Urban Brands with a rich heritage dating back to the early 1900s. Specializing in top-notch leather jackets for men, Hub offers a diverse range of meticulously crafted products, including office bags, smart wallets, handbags, accessories, and travel necessities.
Their offerings, such as the Bomber Jacket with Multiple Zipped Pockets and the Modern Bomber Jacket, showcase Full Grain Sheep Leather in Aniline and Semi-Aniline finishes, reflecting the brand's commitment to quality, style, and innovation.
2. Charcoal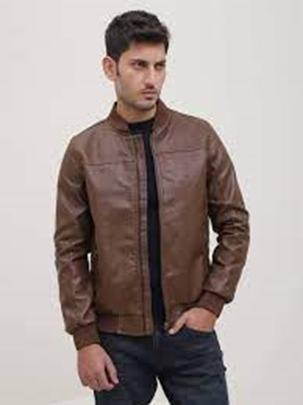 Established in 2008, Charcoal Menswear is a top seller of men's clothing and accessories in Pakistan. Originally known for casual and formal wear, it's now a major player in the market. While they offer various styles, their authentic leather jackets shine. Standouts include the Collar PU Leather Jacket (Brown), Jacket Full Sleeve PU Leather (Black & Brown), and PU Ban Jacket Full Sleeve (Black & Coffee Brown).
Catering to all sizes from Small to XXL, Charcoal Menswear sets the standard for stylish and versatile leather jackets for men.
3. Blackbird Leathers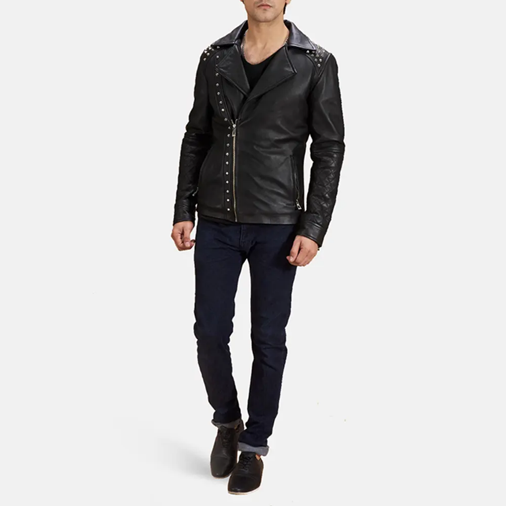 Blackbird Leathers is your go-to destination for premium leather jackets for men, specializing in crafting original pieces from the finest sheepskin and cowhide. Whether you're drawn to the rugged appeal of the Brown Beast Biker, the classic elegance of the Elegant Black Biker, or the edgy HeroPro Black Hooded Biker, Blackbird Leathers offers a diverse collection catering to various styles and preferences.
With sizes ranging from S to XXL, their jackets are not only meticulously detailed but also boast a quilted polyester lining for added comfort and warmth. The color palette, featuring Light Blue, Black, Brown, and Olive Green, ensures a versatile selection.
4. Outfitters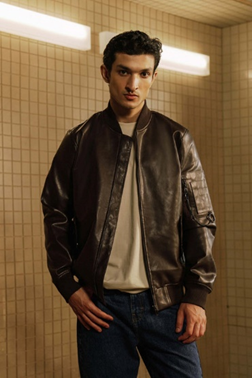 Outfitters, the acclaimed fashion brand established in 2003, is a go-to destination for stylish leather jackets in Pakistan. Their trendy designs, encompassing faux shearling, biker, hoodie, oversized, varsity bomber, blazer, and moto-racing styles, reflect the essence of Western wear. Offering a diverse range for men, women, and juniors, Outfitters stands out as a one-stop-shop for all Western wear needs.
With offline branches across Pakistan, their leather jackets, available in Teal, Black, Brown, Caramel, Coffee, Red, and Royal Blue, are crafted with 100% polyester for both comfort and style, ensuring a perfect fit in sizes S to XL.
5. Ultimate Leather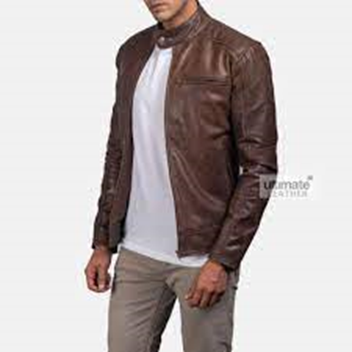 Ultimate Leather, a leading name in Pakistan, specializes in crafting top-notch leather jackets for both men and women. Renowned for durability, comfort, and budget-friendly options, they offer a diverse range of designs, including Men's Casual Black Leather Jackets, Maroon Biker Men's Leather Jackets, Men's Green Leather Jackets, and Men's Black & Yellow Cafe Racer Leather Jackets.
Their commitment to quality shines through the use of premium materials like full-grain leather, YKK zippers, and viscose lining. What sets them apart is not just their stylish offerings but also their swift and efficient nationwide shipping.
6. JILD New Leather Inn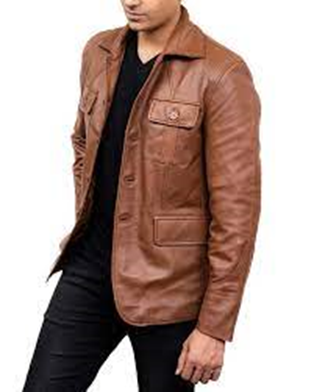 Discover the epitome of style and quality with JILD New Leather Inn, your destination for high-quality pure leather jackets, coats, and blazers. Enjoy Free Shipping as you explore their stylish collection, featuring iconic pieces such as the Mens Vintage Rust Leather Jacket, The Biker Mens Leather Jacket in Black, Mens Cow Leather Jacket with a stylish brown collar, Men's Casual Signature Diamond Lambskin Leather Jacket, and the sleek Black Mens Pure Sheep Leather Zipper Jacket.
Crafted with precision, their outer shell boasts real leather, while the inner shell is adorned with a comfortable polyester lining. Their range accommodates sizes from XS to 3XL.
7. Lawrencepur
Lawrencepur, a provider of luxury menswear since 1954, stands as an epitome of timeless elegance. Specializing in leather jackets, Lawrencepur brings forth a range that goes beyond mere attire—it's a statement of class and style.
The Plain-Brown and Black Leather Bomber Jacket, available in sizes S to XXL, exemplifies the brand's commitment to precision and perfection. With a focus on detailing and intricacy, Lawrencepur ensures that each piece leaves a lasting impression.
8. Diner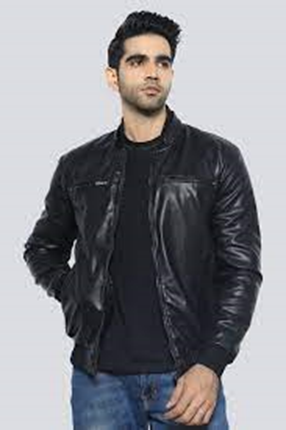 Diners, a prominent name in Pakistan's fashion scene, introduces a captivating range of leather jackets, including the Navy Blue and Olive options, available in sizes ranging from S to XXXL. Known for its trendsetting collections, Diners caters to the fashion needs of men, women, and kids, offering a versatile array of clothing and footwear.
When it comes to leather jackets, Diners excels in delivering the trendiest and finest options for men. Each piece reflects the brand's commitment to style, quality, and contemporary fashion.
9. Trisis Leather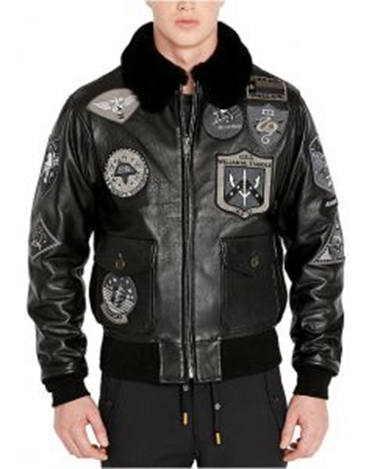 Founded in 2013 with a vision to modernize the leather clothing business, Trisis Leather specializes in crafting top-notch leather jackets for men. A dedicated team of specialists consistently generates fresh ideas in line with current trends. Through strategic tannery agreements, they source and finish bulk quantities of leather (sheep, goat, cow, and buffalo) to meet order requirements.
Proudly a design-driven company, Trisis Leather combines creativity with the resources and scale to stay abreast of the latest fashion trends, solidifying its position as a go-to destination for the best leather jackets for men.
10. One
With a focus on authenticity and style, One presents a captivating collection of leather jackets tailored for men who appreciate quality and craftsmanship. The Biker Jacket in Genuine Black Leather stands as a testament to their commitment to genuine materials, ensuring durability and a timeless appeal.
The Racer Leather Jacket, crafted with precision, adds a touch of sophistication to any ensemble. For those who prefer a cruelty-free option, the faux leather offerings in brown and black provide a sleek and ethical choice. Available in sizes ranging from small to 2XL.
Where to Buy Leather Jackets in Pakistan?
Find the best men's leather jackets in Pakistan by checking official brand retailers, websites, and local brands on Instagram. Daraz and Tango also offer diverse options for convenient online and in-store shopping.
Care and Maintenance Tips
Avoid Water and Heat: Keep your leather jacket away from water and direct heat to prevent damage.
Regular Conditioning: Use a leather conditioner to maintain moisture and prevent drying or cracking.
Proper Storage: Hang on a padded hanger, avoid folding, and store in a well-ventilated area to preserve shape and quality.
FAQs
1. How to choose the right size of leather jacket?
Choose the right size for your leather jacket by ensuring the shoulder seam sits on or slightly below your shoulder, and the chest is fitted but allows room for layers underneath
2. What is the best leather type for leather jackets?
The best leather types for jackets are cowhide and bison for heavy jackets, deerskin, and goatskin for less heavy jackets, and calfskin and lambskin for lightweight jackets. For the highest quality, opt for full-grain or top-grain leather.
3. How to clean a leather jacket?
To clean a leather jacket, promptly address stains with a damp cloth or leather cleaner. Wipe off dust regularly with a soft, dry cloth. For deeper cleaning, use a mild soap and water solution, avoiding saturation. Apply a leather conditioner to keep the material moisturized. Air dry naturally, steering clear of heat sources. Avoid harsh chemicals and consider professional cleaning for tough stains or a thorough clean.
Conclusion
From affordable to luxury, Pakistan's top leather jacket brands offer options for every style and budget, making it easy for men to find their perfect leather jacket.
Also Read: Best Heating Pad | Best Thermal Wear for Men | Best Raincoats for Men | Best Men's Clothing Brands in Pakistan (2023) | Best Pashmina Shawls | Best Electric Blanket in Pakistan | Best Sweat Shirts for Men | Best Hoodies for Men | 10 Best Shawls for Women in Pakistan | Best Women Shirts & Prices in Pakistan | 10 Best Ladies Perfume in Pakistan | 5 Best Trendy and Fashionable Women's Bag | Top 10 Best Long Coats for Ladies in Pakistan 2023