10 Best Raincoats for Men with Prices in Pakistan
Discover the ultimate protection against unpredictable weather with the best raincoat for men in Pakistan mentioned below.
From stylish designs to high-quality materials, these raincoats ensure you stay dry and fashionable in any downpour.
Table of Contents
Introduction
Factors to Consider When Buying a Raincoat for Men
Top 10 Raincoat brands for Men in Pakistan with price ranges
Details of the brands
Where to Buy Raincoats for Men in Pakistan
Care and Maintenance Tips for Raincoats
FAQs
Conclusion
Factors to Consider When Buying a Raincoat for Men
Below are the factors to consider when buying a raincoat:
Waterproof Material: Prioritize raincoats made from quality waterproof materials like Gore-Tex.
Comfortable Fit: Choose a raincoat with the right fit, adjustable features, and ventilation for comfort.
Versatile Style: Opt for a raincoat that blends practicality with style, suitable for various occasions and personal preferences.
Top 10 Raincoats for Men in Pakistan with Price Ranges
1. Snow Dome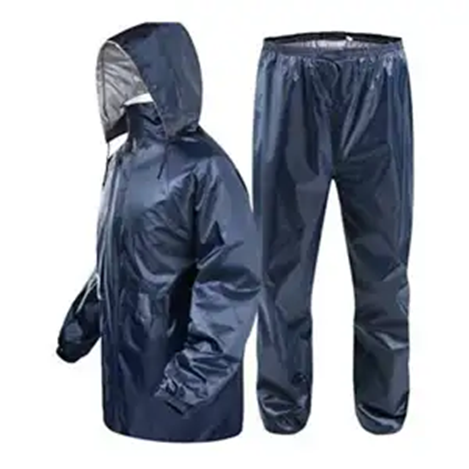 Discover the epitome of protection and style with Snow Dome, a leading brand available on Daraz, specializing in men's raincoats and trenches. Their collection boasts an array of high-quality products designed to shield you from the elements without compromising on fashion.
From the versatile Imported Ponch Raincoat, ideal for trekking with a backpack or motorbiking, to the sleek Imported Green PVC Rubber Coated Rain Coat Suit with Trousers, and the practical Imported Waterproof Raincoat Long Coat crafted for walking and trekking, each product ensures durability and waterproof functionality,
2. Dominance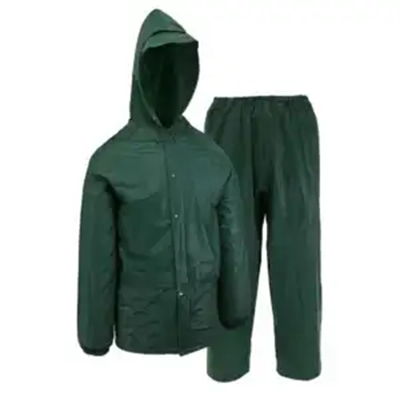 Explore the perfect fusion of functionality and style with Dominance, a distinguished brand available on Daraz, specializing in men's raincoats and trenches. Their range includes the Waterproof Rain Coat for Bike, a lightweight and eco-friendly rain suit crafted from high-grade polyester fabric, ensuring durability and breathability. The Lite Waterproof Rain Suit in Parachute Stuff, adorned in a vibrant green hue, showcases their commitment to both fashion and practicality.
With waterproof and lightweight features, their raincoats are designed for comfort and protection. The spacious and comfortable hood, along with pull-over convenience featuring velcro buttoning and side-closing metallic buttons, adds an extra layer of functionality to their products.
3. Arabian Sea
Discover the Arabian Sea, an exclusive Daraz brand, presenting their China PVC Raincoats for men—a 100% guaranteed waterproof solution. Crafted from high-quality PVC plastic meeting European standards, this rain protection suit boasts a modified design with added air space for summer comfort. Durable and fully waterproof, the PVC material outshines parachute alternatives.
The free-size suit, equipped with special light reflectors, ensures easy wear for everyone. With separate shirt and tourist suit kits, it's the go-to choice for bikers. Their prices are affordable, offering superior quality for those who won't compromise
4. Super Traders Pk
Super Traders PK, available on Daraz, specializes in high-quality, modern raincoats for men and women. Their lightweight and durable collection, including waterproof raincoats and ponchos with reflectors, ensures optimal performance and long-lasting use.
Crafted from 100% waterproof materials, these products are convenient, foldable, and portable, making them perfect for outdoor activities such as biking and camping. With a focus on practicality, Super Traders PK offers a reliable solution for staying dry in various weather conditions.
5. Baraka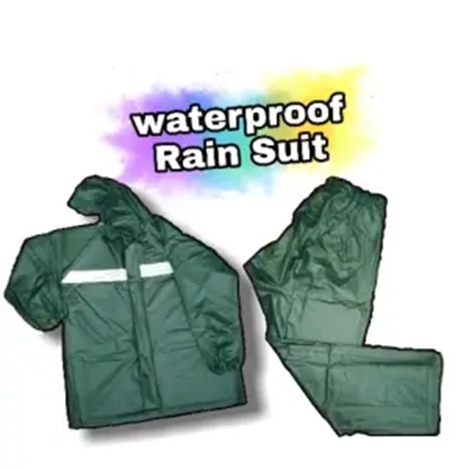 Baraka, available on Daraz, offers premium-quality PVC rubber-coated raincoats for men. Their collection features a unisex design with a comfortable fit, suitable for both males and females. Crafted with attention to detail, Baraka's raincoats come with trousers, providing a complete and stylish rainwear solution.
The use of high-quality PVC rubber ensures 100% waterproof protection, making these raincoats perfect for outdoor activities, motorcycle rides, and travel. The free-size design caters to adults, offering ease of wear and a lightweight, comfortable suit that prioritizes functionality without compromising style
6. Mobeen Traders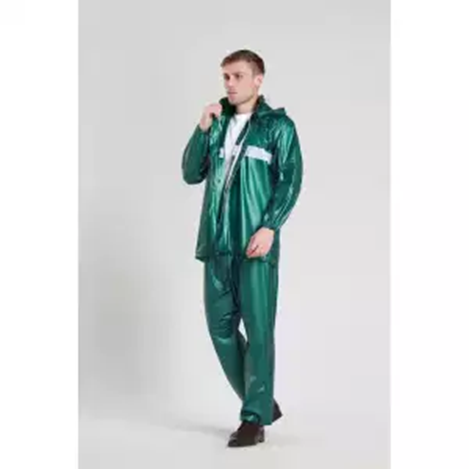 Mobeen Traders featured on Daraz, brings imported waterproof rain suits and coats designed for outdoor enthusiasts, bikers, and those seeking reliable protection during heavy rainstorms. Their China PVC rainsuits boast a 100% guaranteed waterproof feature, emphasizing the product's quality with a modified design tailored for the summer season. The free-size design ensures versatility for everyone.
These raincoats prioritize durability without compromising on comfort, featuring a full-cut hood, drawcord adjustment, and vents for optimal ventilation. Ideal for various activities, including camping, emergencies, work, and travel.
7. Hifazat Top Covers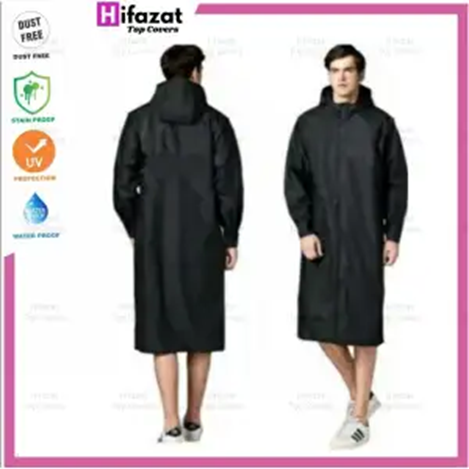 Hifazat Top Covers, featured on Daraz, introduces a line of top-quality rainwear designed for men, ensuring 100% waterproof protection during the rainy season. Their rain suits, complete with trousers, are perfect for motorcycle rides, traveling, camping, hiking, and fishing. Hifazat prioritizes functionality and comfort with its light rain suits, offering a portable tracksuit solution that allows men to enjoy outdoor activities without worrying about the weather.
The brand's dedication to keeping men dry is evident in their waterproof raincoats, tailored for versatility during travels, camping, hiking, and fishing adventures.
8. Tri Mart
Tri Mart, featured on Daraz, presents a range of men's rainwear, including outdoor sports and camping raincoats designed to meet the demands of various activities. Their raincoats, available in a vibrant green, are crafted with 100% high-quality fabric, distinguishing them from typical plastic alternatives.
Tri Mart prioritizes eco-friendliness, ensuring their raincoats are extremely water-resistant, quick-drying, and lightweight, providing a super waterproof and breathable experience.
9. WorkSafe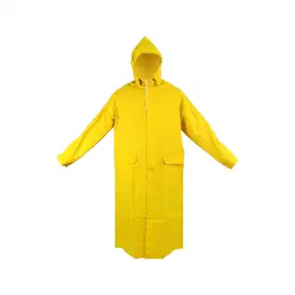 WorkSafe, available on Daraz, introduces their PVC Rain Coat Heavy Duty designed for men seeking robust protection against the elements. Their raincoat boasts a heavy-duty construction with features such as an attached hood equipped with a drawstring and storm stoppers, ensuring comprehensive coverage.
With their focus on durability and thoughtful design, WorkSafe delivers a reliable and heavy-duty raincoat for men navigating through demanding weather conditions.
10. Galeton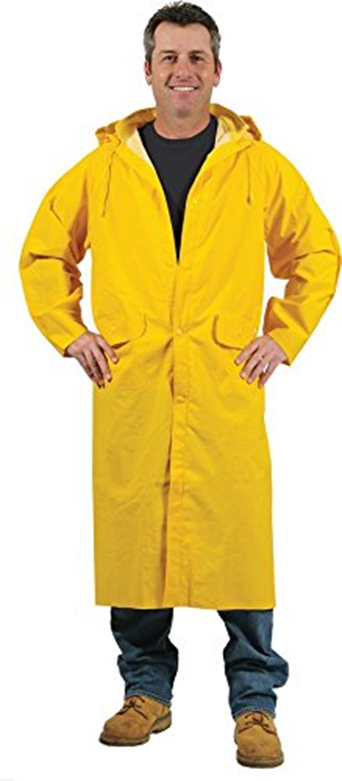 Galeton is your go-to destination for high-quality rainwear, specifically tailored for men. Offering a range of standard raincoats, Galeton ensures that men can face inclement weather with confidence and style.
Their collection features durable and reliable raincoats designed to keep you dry in various work and outdoor environments. From sleek designs to functional features, Galeton's men's raincoats prioritize both comfort and protection.
Where to Buy Raincoat for Men in Pakistan?
Find a variety of men's raincoats in Pakistan online at platforms like Daraz, OLX, Homazing, and Idealancy.pk, Apnabazaar, and Shoppingbag.pk. Additionally, explore local retail stores for convenient, in-person purchases to ensure you're ready to tackle the rainy season with style and practicality.
Care and Maintenance Tips for Raincoats
Cleaning: Wipe off dirt, follow care instructions, and use a gentle detergent.
Drying: Air-dry in a well-ventilated area, avoid direct sunlight.
Storage: Keep in a cool, dry place, use a hanger to maintain shape, and address wear promptly.
FAQs
1. How to choose the right size of a raincoat?
Choosing the right size for a raincoat depends on its style. Unisex raincoats typically have a loose fit, often half a size larger than your regular clothing. For women's raincoats, it's recommended to choose the size that matches your normal clothing size. However, individual fits may vary, so prioritize the largest measurement that accommodates your body for the most comfortable and functional fit. Always refer to the specific sizing chart provided by the manufacturer for accurate guidance.
2. What features should I look for in a raincoat?
When choosing a raincoat, prioritize durable water repellency for waterproof and breathable functionality. Consider a proper fit and length for extended coverage. Look for pockets, especially fleece-lined ones for added warmth, and ensure the presence of a collar and hood for enhanced protection
3. Which type of raincoat is best for heavy rain?
For heavy rain, opt for raincoats made from waterproof materials such as PVC, polyurethane, nylon, or Gore-Tex. These materials effectively repel water, preventing it from seeping through the fabric and ensuring optimal protection in heavy downpours.
4. How do I know if my raincoat is waterproof?
To determine if your raincoat is waterproof, look for features such as taped seams and waterproof zips. Additionally, check the fabric care label on the inside seam of the jacket. This label will specify the fabric composition and explicitly state whether the material is waterproof, providing confirmation of the jacket's water-resistant capabilities.
Conclusion
Embrace style and practicality with the best raincoat brands for men in Pakistan. These raincoats ensure both comfort and fashion, making them essential for staying dry in any weather.
Also Read: Best Heating Pad | Best Hoodies | Best Beard Trimmers in Pakistan | Best Thermal Wear for Men | Best Men's Clothing Brands in Pakistan (2023) | Best Pashmina Shawls | Best Electric Blanket in Pakistan | Best Sweat Shirts for Men | Best Hoodies for Men | 10 Best Shawls for Women in Pakistan | Best Women Shirts & Prices in Pakistan | 10 Best Ladies Perfume in Pakistan | 5 Best Trendy and Fashionable Women's Bag | Top 10 Best Long Coats for Ladies in Pakistan 2023